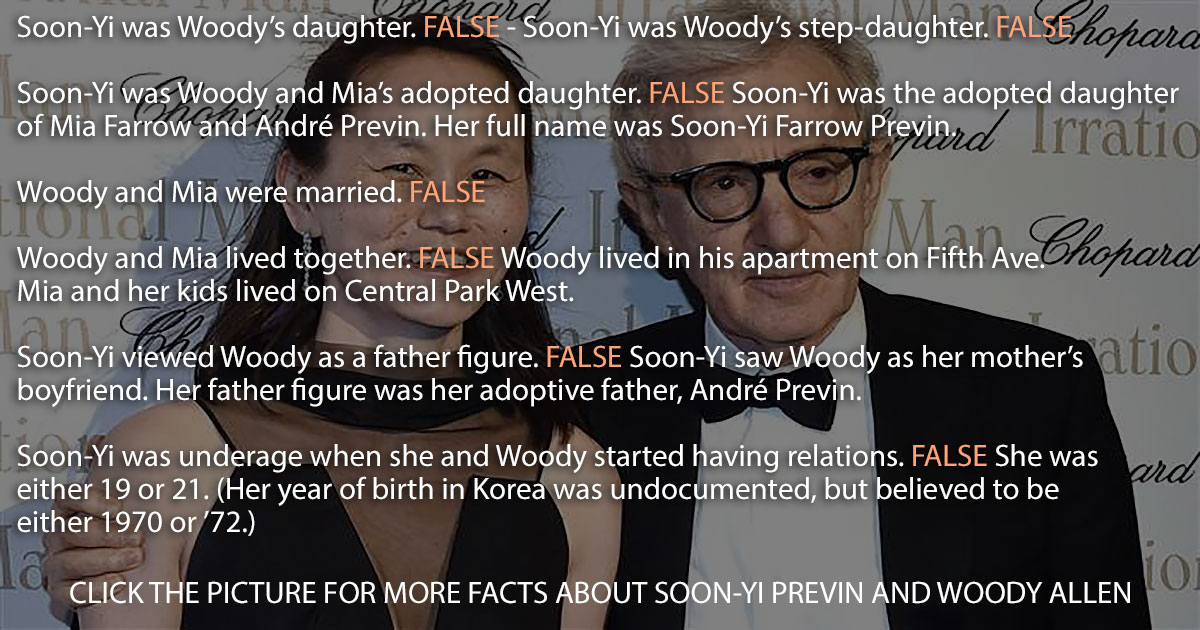 Everyday, thousand of sheep who know absolutely nothing about the Woody Allen's case come to bleat on social networks that he sexually abused Dylan Farrow because he married his (underage) (adoptive) (step)daughter.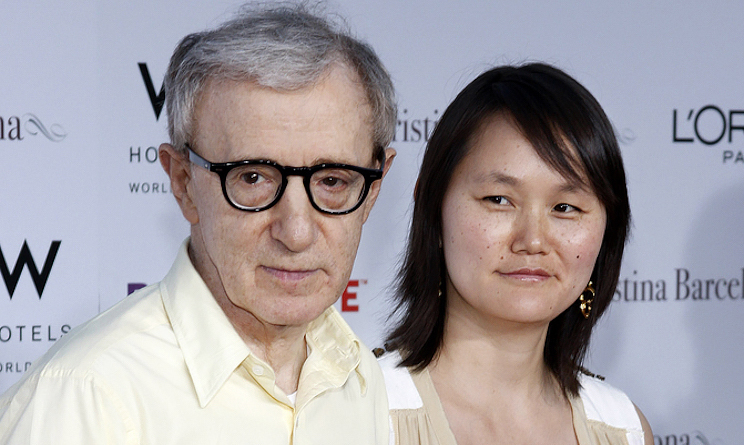 Not only these sheep, so proud to follow the herd, are, at least, silly – young women are not little girls, what do you think smart people should believe about somebody who cannot make the difference between an allegedly teenager and a 7 years old child? – but they are also completely wrong: Soon-Yi Previn was between 19 and 21 years old (her exact birthday year in Korea is unknown), and Woody Allen and Mia Farrow have never been married and never lived together.
And no, Woody Allen was never a paternal figure for Soon-Yi: her father was Andre Previn, as confirmed both by Soon-Yi…
Please don't try and dramatize my relationship with Woody Allen. He was never any kind of father figure to me. I never had any dealings with him. He rarely came to our apartment before his own children were born. Even then, he never spoke and the truth is I never cared that much for him. He was always preoccupied with work and never talked to me. Not really to any of us. Only when Dylan was born did he start visiting regularly and then only to play with the baby. My own father is Andre Previn, who came to visit pretty often and took us all out frequently. When I first got friendly with Woody, he and Mia were finished with their romance and were just friends. I think Mia would have been just as angry if he had taken up with another actress or his secretary.
…and the Supreme Court, Justice Wilk: "Until 1990, although he had little contact with any of the Previn children, Mr. Allen had the least to do with Soon-Yi."
According to Mia Farrow memoir, What Falls Away, when Soon-Yi was a child, his dislike for Woody has always been palpable and he didn't even take her for a walk or to buy an ice cream.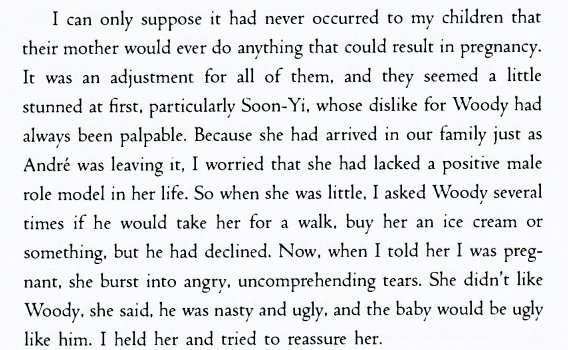 The list of following facts are from Robert B. Weide's article The Woody Allen Allegations: Not So Fast (you can fin more articles about Woody Allen by Robert Weide on this page).
Soon-Yi was Woody's daughter. False.
Soon-Yi was Woody's step-daughter. False.
Soon-Yi was Woody and Mia's adopted daughter. False. Soon-Yi was the adopted daughter of Mia Farrow and André Previn. Her full name was Soon-Yi Farrow Previn.
Woody and Mia were married. False.
Woody and Mia lived together. False. Woody lived in his apartment on Fifth Ave. Mia and her kids lived on Central Park West. In fact, Woody never once stayed over night at Mia's apartment in 12 years.
Woody and Mia had a common-law marriage. False. New York State does not recognize common law marriage. Even in states that do, a couple has to cohabitate for a certain number of years.
Soon-Yi viewed Woody as a father figure. False. Soon-Yi saw Woody as her mother's boyfriend. Her father figure was her adoptive father, André Previn.
Soon-Yi was underage when she and Woody started having relations. False. She was either 19 or 21. (Her year of birth in Korea was undocumented, but believed to be either 1970 or '72.)
Soon-Yi was borderline retarded. Ha! She's smart as a whip, has a degree from Columbia University and speaks more languages than you.
You can save this picture below on your computer – or bookmark this page – to use it as an answer on social networks or comments.
Click on the picture to enlarge it BEFORE to save it on your computer
(Right Click or Ctrl + Left Click)

Please follow and like us: