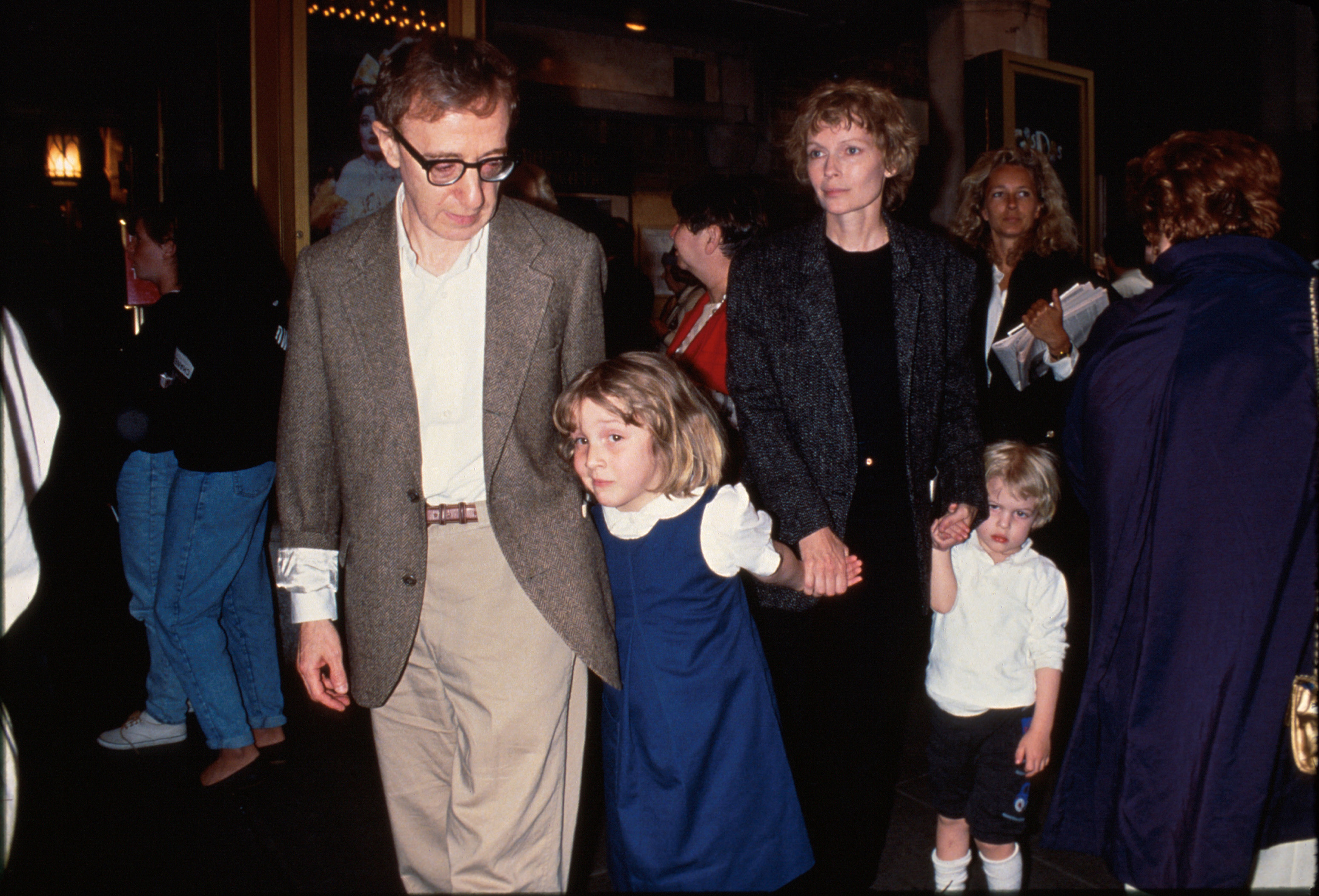 Last update: March 12, 2018
The links are classed by categories. Some links can be present in more than one category.
Links in bold are a must read.
Woody Allen and Dylan Farrow
Woody Allen defends himself – A 15 minutes video with Steve Kroft, 1992
An Open Letter From Dylan Farrow – The New York Times, February 1, 2014
Woody Allen speaks out (an answer to Dylan Farrow open letter) – The New York Times, February 7, 2014
Why has the MeToo revolution spared Woody Allen? – Dylan Farrow, Los Angeles Times, December 7, 2017
Dylan Farrow details her sexual assault allegations against Woody Allen – CBS News, January 18, 2018
Woody Allen answer to Dylan Farrow CBS interview – CBS News, January 18, 2018
Essential (Robert Weide, Cathy Young)
The Woody Allen Allegations: Not So Fast – Robert Weide, January 2014
Hard Questions for Ronan Farrow, An Open Letter – Robert Weide, May 2016 (we're still waiting Ronan answer)
Q & A with Dylan Farrow – Robert Weide, an answer to Dylan Farrow's December 7, 2017 publication
Woody Allen's Innocence Should Be A Feminism Cause – Cathy Young, Forward, February 28, 2018
I Don't Believe Dylan Farrow – Cathy Young, Forward, February 6, 2018
Woody Allen, Feminism and "Believing the Survivor" – Cathy Young, Time, February 12, 2014
Facts
A Timeline
If you never did it, you should read at least one Timeline:
Woody Allen, Mia Farrow, Dylan Farrow: A Timeline – The New York Times, January 31, 2018
Woody and Mia: A Modern Family Timeline – The Nation, February 26, 2014
Mia Farrow and Woody Allen Timeline – Planet & Epoch, August 2, 2014
Why Woody Allen Wasn't Charged: a Timeline of Dylan Farrow's Accusations – The Wrap, February 10, 2018
Moses Farrow
Moses Farrow is Woody Allen and Mia Farrow adopted son. He was 14 years old when Mia Farrow accused Woody Allen to have sexually abused Dylan, 7 years old.
"Of course Woody did not molest my sister. She loved him and looked forward to seeing him when he would visit. She never hid from him until our mother succeeded in creating the atmosphere of fear and hate towards him"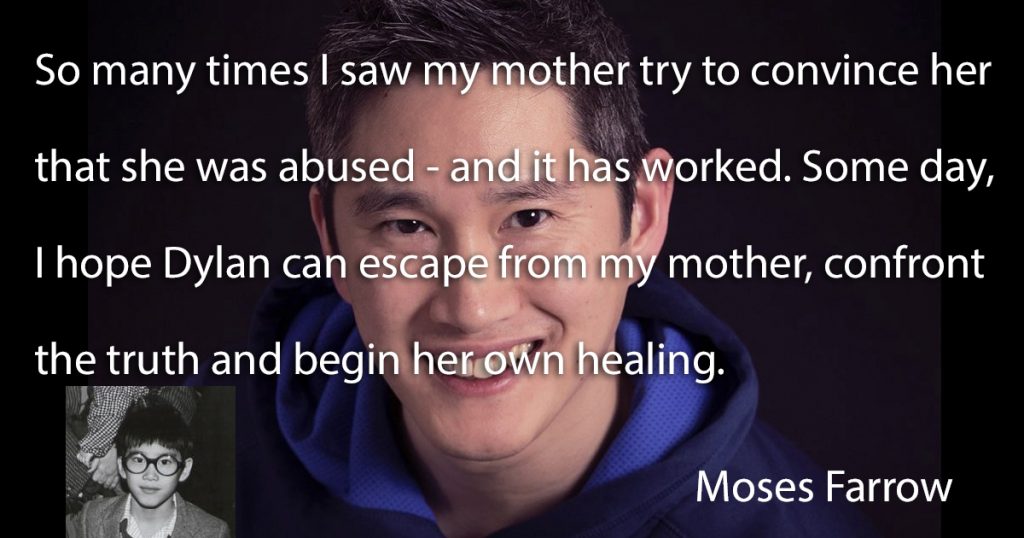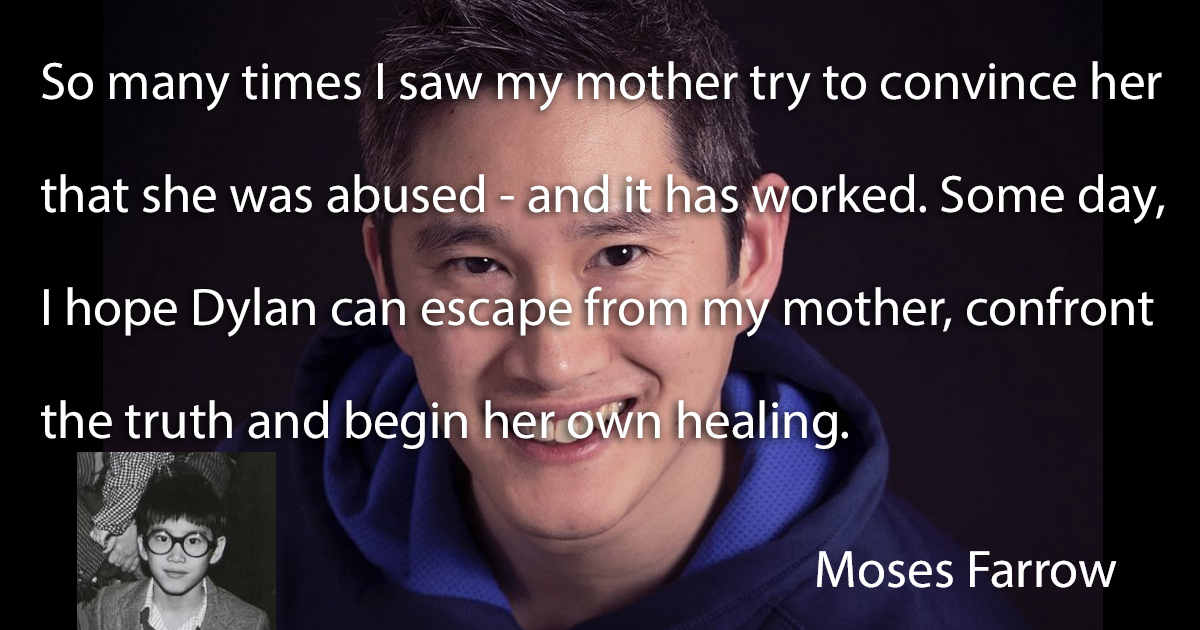 There is a post about Moses Farrow on Woody Allen Mob Lynching.
Moses Farrow Speak Out – MAIN ARTICLE – This Mortal Coil, Eric Lax, January 4, 2018
Nanny says Moses have reservations about the sexual abuse allegation – Los Angeles Times, February 2, 1993
Woody Allen's Adopted Son Claims Mia Farrow 'Brainwashed' Him and Was Physically Abusive – People, September 29, 2017
Dylan Farrow's Brother Moses Defends Woody Allen – People, Alicia Denis, February 5, 2014
Dylan Farrow Continues to Attack Woody Allen Despite Her Brother Disagreeing – Showbiz 411, Roger Friedman, January 9, 2018
Moses Farrow defends Woody Allen over child abuse accusations – The Guardian, Andrew Pulver, February 5, 2014
New Book About Woody Allen Alleges Abusive Parenting by Mia Farrow – The New York Times, Sopan Deb, September 29, 2017
Trial about custody – Sexual abuse investigations
Even if the evidence suggested that it was unlikely that Woody Allen could be successfully prosecuted for sexual abuse, he lost custody against Mia Farrow and lost all the appeals.
Yale-New Haven Hospital
According to the report by the Yale-New Haven hospital, Dylan Farrow was not sexually abused by Woody Allen and her statements on videotape didn't refer to actual events who occurred to her on August 4, 1992.
The report suggests that Dylan Farrow was influenced or coached by Mia Farrow.
Child Sexual Abuse Clinic Evaluation of Dylan Farrow – Original document, March 17, 1993
Doctor Cites Inconsistencies in Dylan Farrow's Statements – The New York Times, 1993
Child Sexual Abuse Clinic Evaluation of Dylan Farrow, excerpts commented – Radar Online, February 6, 2014
Yale Study About Allen Flawed, Expert Testifies – The New York Times, Peter Marks, 1993
Allen v. Farrow (1993) – Justice Wilk
On August 13, 1992, seven days after he learned that his seven-year-old daughter Dylan had accused him of sexual abuse, Woody Allen began an action against Mia Farrow to obtain custody of Dylan, their five-year-old son Satchel, and their fifteen-year-old son Moses.
Because of Woody Allen celebrity and because he wasn't showing remorse about his love relationship with Mia Farrow 's 19 years old daughter, Soon-Yi Previn, Judge Wilk's conclusions are skewed by barely concealed revulsion toward him. Worst, as if that was not enough to make it biased, he was married to an attorney who advocates for abused women and children and "believes the victim".
Nanny testimony ignored by Justice Wilk – Los Angeles Times, February 2, 1993
Doctor Recounts Threats By Farrow Against Allen – The New York Times, March 30, 1994
Digital copy of the original court document -Alphabetti Spaghetti, March 19, 2014
Justice Wilk's widow believes the children "victims" of sexual abuse" – Alternet, March 6, 2014
Judge Critical of Dual Inquiries Into Allegations of Abuse by Allen – The New York Times, April 20, 1994
Farrow lawyers demanded $7 million, Allen says – The Baltimore Sun, August 19, 1992
Judge Won't Look at Nude Photos by Allen – Los Angeles Times, August 26, 1992
Woody Allen Wins Right to See Videotape – Los Angeles Times, December 16, 1992
Prosecutor John Maco
Woody Allen Asks Connecticut to Discipline Prosecutor – The New York Times, 1993
Statement of Decision – State of Connecticut, September 24, 1993
Statue of limitations for Dylan Farrow's case
Not only Dylan Farrow can take Woody Allen to civil court but she could also take him to penal court if she didn't changer her story.
Dylan Farrow attacks Cate Blanchett by misleading her followers – Woody Allen Mob Lynching, March 30, 2018
Sexual Assault Statute of Limitations – James Orlando, Chief Attorney, March 15, 2017
Mob Justice
You don't know that Woody Allen is guilty – Spiked, Sean Collins, February 13, 2014
In defence of Woody Allen – Spiked, Christian Butler, January 29, 2018
In the case of Woody Allen, here's what we know to be true – New Daily, Tom Ryan, January 25, 2018
Is Woody Allen Guilty or Innocent of Child Sexual Abuse? – Huffington Post, Andy Ostroy, November 2, 2014
McCarthyism Returns with MeToo's Blacklisting of Woody Allen – Breitbart, John Nolte, January 18, 2018
Woody Allen and The Media Mob – Psychologie Today, Janice Harper, February 8, 2014
Videos
Woody Allen defends himself – A 15 minutes interview with Steve Kroft, 1992
Doris Previn, Daddy In The Attic – Learn and listen to the song Woody Allen blames for Dylan Farrow's accusations
Stacey Nelkin about Mia Farrow – She was asked to say she was underage when dating Woody Allen, Inside Edition, 2014
Linda Fairstein's take on Dylan Farrow's open letter – Linda Fairstein was director of the first sex crimes unit in the US, Fox Business, February 4, 2014
Dylan Farrow's Brother Moses Defends Woody Allen – People, Alicia Denis, February 5, 2014
Opinions
Please follow and like us: