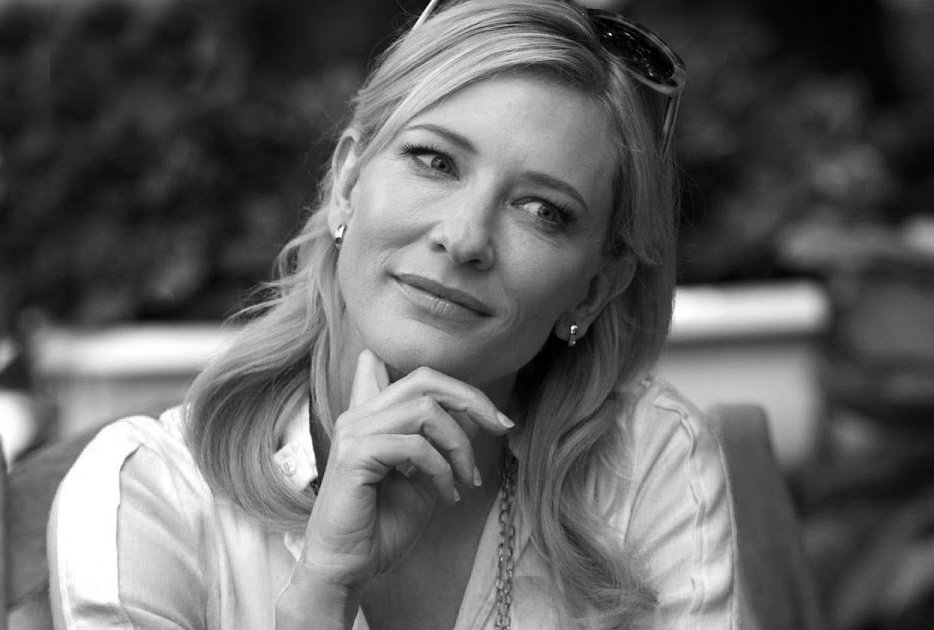 During an interview, CNN's Christiane Amanpour questioned Cate Blanchett, saying: "How do you juxtapose being a #MeToo proponent, a Time's Up proponent, and staying silent or having worked with Woody Allen?" Cate Blanchett answer was smart and measured:
"…if these allegations need to be re-examined which, in my understanding, they've been through court, then I'm a big believer in the justice system and setting legal precedents. If the case needs to be reopened, I am absolutely, wholeheartedly in support of that. Because I think that there's one thing about—social media is fantastic about raising awareness about issues, but it's not the judge and jury."
Of course, this answer didn't please to Dylan Farrow who always try to shame actors who have worked with Woody Allen. But when she's always prompt to thank people who say they won't work again with her father, this time Dylan, maybe a sign she was embarrassed and was hesitant about how to comment on Cate's statement, waited one week before to tweet:
Perhaps Ms. Blanchett is unaware of the statute of limitations that prevents my case (and so many others) from being reopened, but if she is looking for a legal perspective, there is plenty of that publicly available in both Justice Wilk's and the NY Appellate Court's judgments. https://t.co/ut1eD4q31V

— Dylan Farrow (@RealDylanFarrow) March 29, 2018
It wasn't long before educated people remember her that the statue of limitations DOESN'T prevent her to take Woody Allen in civil court. One smart voice was Samantha Geimer who was raped by Roman Polanski when she was 13 years old and who has previously denounced how she felt used by Mia Farrow pursuing her own vendetta against Woody Allen:
The statue of limitations is 30 years. You could still take him to civil court. You cannot refuse to use the legal system in the decades you had as an adult and then shame those who respect the rule of law and innocent until proven guilty. She owes you nothing.

— Samantha Geimer (@sjgeimer) March 29, 2018
I object to those using the #MeToo only for their narrow interests when it is for all of us, about all of use, to support all our choices. We all should be reaching down pulling others up, not reaching up to pull people down.

— Samantha Geimer (@sjgeimer) March 29, 2018
There was also an interesting answer by Robert Weide who has written many articles about Woody Allen innocence:
Good news, @RealDylanFarrow. Even though your Mom's accusation didn't hold enough water for charges to be filed against Woody 25 years ago, the statute of limitations in CT civil court won't expire until you're 48. Big money awaits! GO GET HIM! https://t.co/IExfC75zpE pic.twitter.com/2UP8tKV85X

— Bob Weide (@BobWeide) March 29, 2018
A tweet by Justin Levine – who has written Rage & Debasement, an interesting article about Dylan Farrow's sexual allegation videotape made by her mother Mia Farrow – was reminding that it is easier to win in a civil court:
As others have mentioned here, the statute of limitations on a CIVIL case doesn't expire until you are 48, AND there is an EASIER standard of proof required in a civil suit. Good news! So what are you waiting for?

— Justin Levine (@levine2001) March 29, 2018
Some others people remembered Dylan that if she had not changed her story regarding allegations of sexual abuse, criminal prosecution could even still be an option:

Perhaps criminal liability wouldn't have been foreclosed had you not changed your story regarding sexual penetration, since 1st Degree Sexual Assault, under CGS Sec.53a-70, can be prosecuted "at any time". Perhaps…

— Phil Renzulli (@phil_renzulli) March 29, 2018
Perhaps you should consult with an attorney first to discuss your existing legal options before tweeting (incorrectly) that you don't have any. Perhaps

— Phil Renzulli (@phil_renzulli) March 29, 2018
Perhaps you thing we didn't look up the original accusations and realize that you changed aggravated sexual asault (finger penetration, no evidence) to sexual asault (just touching). No statute of limitations.
What about a civil case? Right, made up accusations leave no evidence pic.twitter.com/0Er3ANGC1m

— La Tur (@Maeret) March 29, 2018
To be fair, people staying on Dylan Farrow's side have also very very strong arguments:
Court or no court: the most important is #ibelieveher

— Ellen Tomlinson (@TomlinsonEllen1) March 29, 2018
I believe you Dylan.

— Colleen Canadian #Stargatenow (@dr2red) March 29, 2018
Oh Cate. Be smarter.

— Monica Byrne (@monicabyrne13) March 29, 2018
Cate dear, I love your acting! But please educate yourself before speaking out on such a sensitive & critical topic.

— Donna (@DawnasNewDay) March 29, 2018
So Dylan, how is it possible that you don't know that you can take Woody Allen in civil court? Isn't it legitimate for people to think that you know it very well but that you're lying as you have already lied many times before?
And please, remember that if your brother Moses Farrow is dead for you, he's still alive and cares for you:
What breaks my heart the most is while I know that my sister, Dylan, believes what she says, I also know from my own experience, that it simply never happened. #truthislouder

— Moses Farrow (@MosesFarrow) January 18, 2018
Please follow and like us: