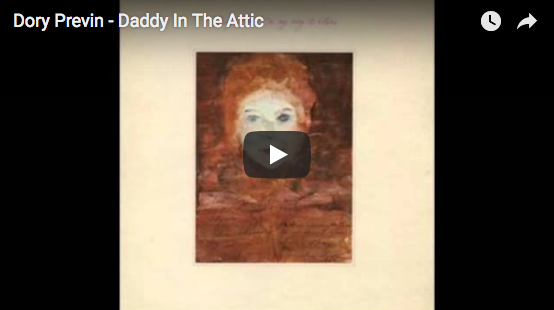 On February 1, 2014, thanks to columnist Nicholas Kristof, Mia Farrow's close friend, Dylan Farrow published an open letter in The New York Times:
"…when I was seven years old, Woody Allen took me by the hand and led me into a dim, closet-like attic on the second floor of our house. He told me to lay on my stomach and play with my brother's electric train set. Then he sexually assaulted me."
In February 7, 2014, Woody Allen wrote an answer and said about the attic:
Even the venue where the fabricated molestation was supposed to have taken place was poorly chosen but interesting. Mia chose the attic of her country house, a place she should have realized I'd never go to because it is a tiny, cramped, enclosed spot where one can hardly stand up and I'm a major claustrophobe. The one or two times she asked me to come in there to look at something, I did, but quickly had to run out. Undoubtedly the attic idea came to her from the Dory Previn song, "With My Daddy in the Attic." 
Dory Previn's husband, composer and director Andre Previn, left her for Mia Farrow. Previn and Farrow married in 1970, the same year Dory Previn released "With My Daddy in the Attic," which appears to be about incest.
Ba ba ba ba
Ba ba ba ba…
With my Daddy in the attic
With my Daddy in the attic

That is where my being wants to bed
With the mattress ticking showing
And the tattered pillow slip
And the pine unpainted rafters overhead
With the door closed on my mama
And my sibling competition
And my Shirley Temple doll that truly cries
And my essay on religion
With the pasted paper stare
Proving tangibly I'd won the second prize
With my Daddy in the attic
With my Daddy in the attic
That is where my dark attraction lies
With his madness on the nightstand
Placed beside his loaded gun
In the terrifying nearness of his eyes
With no window spying neighbours
And no husbands in the future
To intrude upon our attic past the stair
Where we'll live on peanut butter
Spread across assorted crackers
And he'll plays his clarinet
When I despair
With my Daddy in the attic
With my Daddy in the attic
With my Daddy in the attic
Passed the stair
Where we'll live on peanut butter
Spread across assorted crackers
And he'll plays his clarinet
When I despair
Ba ba ba ba
Ba ba ba ba…
With my Daddy in the attic
With my Daddy in the attic
With my Daddy in the attic
Passed the stair
With my Daddy in the attic
With my Daddy in the attic
With my Daddy in the attic
Passed the stair
And Woody Allen precises:
It was on the same record as the song Dory Previn had written about Mia's betraying their friendship by insidiously stealing her husband, André, "Beware of Young Girls."
Beware of young girls
Who come to the door
Wistful and pale of twenty and four
Delivering daisies with delicate hands
Beware of young girls
Too often they crave to cry
At a wedding and dance on a grave
She was my friend, my friend
My friend, she was invited to my house
Oh yes, she was and though she knew
My love was true and no ordinary thing
She admired my wedding ring
She admired my wedding ring
She was my friend, my friend
My friend, she sent us little silver gifts
Oh yes, she did, oh, what a rare
And happy pair
She inevitably said as she glanced
At my unmade bed
She admired my unmade bed, my bed
Beware of young girls
Who come to the door
Wistful and pale of twenty and four
Delivering daisies with delicate hands
Beware of young girls
Too often they crave to cry
At a wedding and dance on a grave
She was my friend, my friend
My friend, I thought her motives were sincere
Oh yes, I did, ah, but this lass
It came to pass
Had a dark and different plan
She admired my own sweet man
She admired my own sweet man
We were friends, oh yes, we were
And she just took him from my life
Oh yes, she did, so young and vain
She brought me pain
But I'm wise enough to say
She will leave him, one thoughtless day
She'll just leave him and go away, oh yes
Beware of young girls
Who come to the door
Wistful and pale of twenty and four
Delivering daisies with delicate hands
Beware of young girls
Too often they crave to cry
At a wedding and dance on a grave
Beware of young girls
Beware of young girls, beware
Please follow and like us: