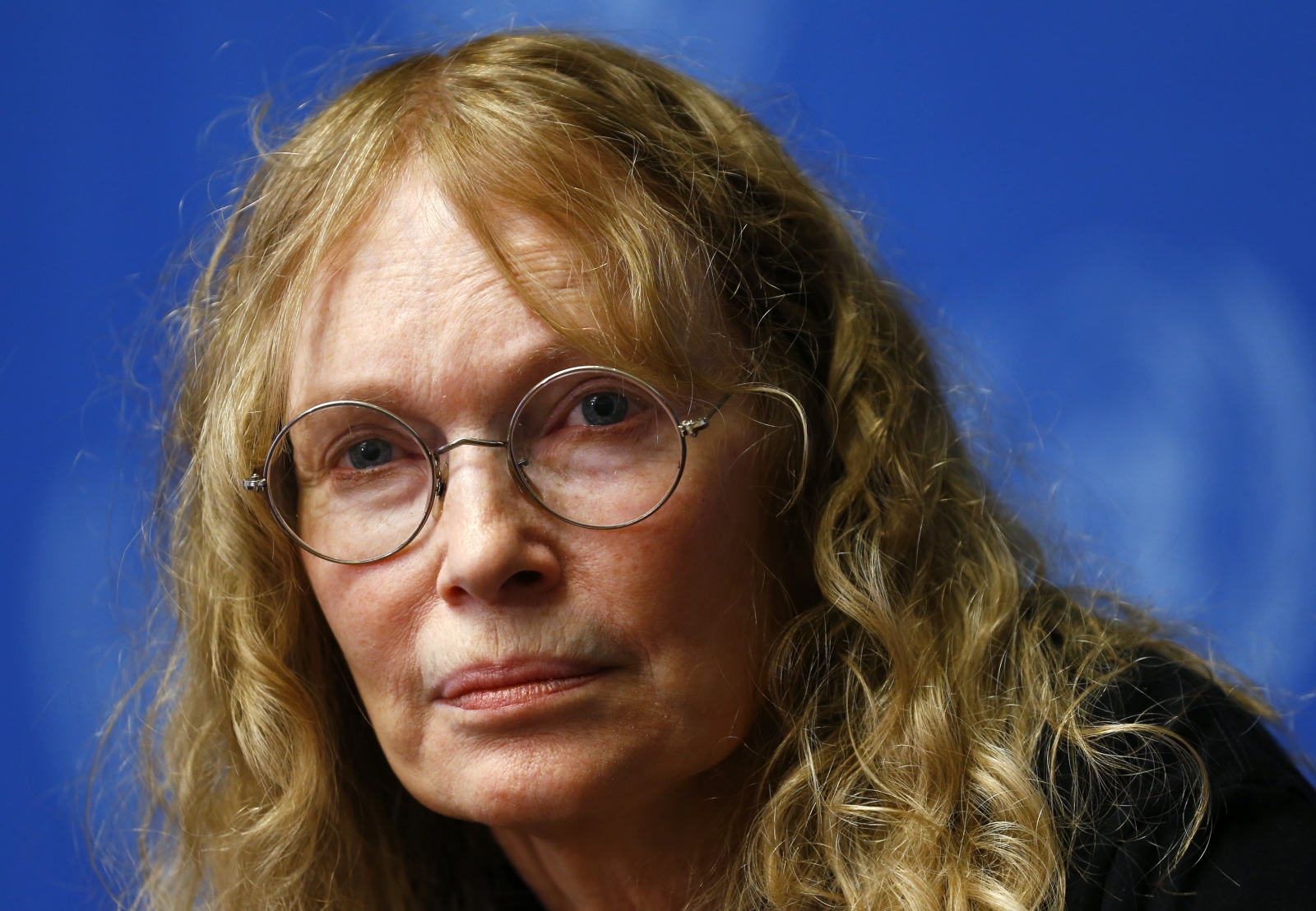 Mia Farrow (María de Lourdes Villiers Farrow) was born on February 9, 1945. Her mother, Maureen O'Sullivan, was an actress, best known for playing Jane in the Tarzan series of films starring Johnny Weissmuller.
Mia Farrow worked as a fashion model before she became famous as an actor in 1964, with the popular primetime soap opera, Peyton Place, as naive, waif-like Allison McKenzie.
1. Mia Farrow was 19 and Frank Sinatra 50 when they began seeing each other, two years before they were married.
"She said she was 19 and Mr. Sinatra 50 when they began seeing each other, two years before they were married."
On July 19, 1966, Mia Farrow married Frank Sinatra: she was 21 years old and Frank Sinatra 50. In November 1967, while she was filming Rosemary's Baby directed by Roman Polanski, her first leading film role, Sinatra's lawyer served her with divorce papers. They remained friends until Sinatra's death.
2. Mia Farrow became pregnant by Andre Previn when he was still married with her friend Dory Previn
In 1968 Mia Farrow began an affair with conductor André Previn who was married with her friend, the singer-songwritter Dory Previn.
In 1969 Dory Previn discovered that Mia Farrow had become pregnant by her husband, which led to their separation. Dory Previn, who had a history of emotional fragility and mental illness, fell apart. Fearful of traveling in general and of flying in particular, she had a breakdown on an airplane that was waiting to take off, shouted unintelligibly and tore at her clothes, and spent several months in a psychiatric hospital.
In 1970, Dory Previn wrote the song Beware of young girls, about Mia Farrow:
……………………………………………
She was my friend, my friend
My friend, she was invited to my house
Oh yes, she was and though she knew
My love was true and no ordinary thing
She admired my wedding ring
She admired my wedding ring
Andre Previn filed for divorce. Farrow gave birth to twin sons in February 1970 and on September 10, 1970, Mia Farrow married him in London; she was 25 and he was 41.
3. Mia Farrow lied in court that Dory Previn was estranged from her husband Andre Previn when she became pregnant by him
"Did you become pregnant by Mr. Previn while he was still married?" Mr. Abramowitz asked.
"He was estranged from his wife," she answered.
He asked about the song, "Beware of Young Girls," released in 1970 by Mr. Previn's previous wife, the songwriter Dory Previn. "I know that it referred to me," Ms. Farrow said.
4. Mia Farrow and Woody Allen never married and never lived together
Mia and her kids lived on Central Park West. Woody lived in his apartment on Fifth Ave. In fact, Woody never once stayed over night at Mia's apartment in 12 years.
5. During his twelve years relationship with the director, Mia Farrow appeared in thirteen Woody Allen's films:
1982 – A Midsummer Night's Sex Comedy
1983 – Zelig
1984 – Broadway Danny Rose
1985 – The Purple Rose of Cairo
1986 – Hannah and Her Sisters
1987 – Radio Days
1987 – September
1988 – Another Woman
1989 – New York Stories (Oedipus Wrecks)
1989 – Crimes and Misdemeanors
1990 – Alice
1991 – Shadows and Fog
1992 – Husbands and Wives
6. In December 1987, Mia Farrow gives birth to Satchel (Ronan), Woody Allen's son… or is it Frank Sinatra's son?
Ronan Farrow should be Woody Allen only biological child. But in a October 23, 2013 Vanity Fair article, Maureen Orth who has obediently reported Mia Farrow words and lies since her 1992 biased article, Mia Story, has written:
"I asked Mia point-blank if Ronan was the son of Frank Sinatra. "Possibly," she answered. (No DNA tests have been done.)"
7. Mia Farrow cheated on Woody Allen with Frank Sinatra
In February 7, 2014, following Dylan Farrow's open letter published in The New York Times – thanks to columnist Nicholas Kristof, Mia Farrow's close friend – Woody Allen wrote an answer. About Ronan Farrow, he said:
"I pause here for a quick word on the Ronan situation. Is he my son or, as Mia suggests, Frank Sinatra's? Granted, he looks a lot like Frank with the blue eyes and facial features, but if so what does this say? That all during the custody hearing Mia lied under oath and falsely represented Ronan as our son? Even if he is not Frank's, the possibility she raises that he could be, indicates she was secretly intimate with him during our years. Not to mention all the money I paid for child support. Was I supporting Frank's son? Again, I want to call attention to the integrity and honesty of a person who conducts her life like that."
8. Mia Farrow hit Soon-Yi on the face and the shoulders and cut up her clothing
According to the Supreme Court document, Justice Wilk:
On January 13, 1992, Mia Farrow finds naked pictures of her adoptive daughter, Soon-Yi Previn, age 20, in Woody Allen's apartment. She returned home, showed the photographs to Soon-Yi and said, "What have you done?" She left the room before Soon-Yi answered.
During the following weekend, Mia Farrow hugged Soon-Yi and said that she loved her and did not blame her. Shortly thereafter, she asked Soon-Yi how long she had been seeing Woody Allen and when Soon-Yi referred to her sexual relationship with him, Mia Farrow hit her on the side of the face and on the shoulders. Mia Farrow also told her older children what she had learned.
According to Soon-Yi, Mia Farrow also cut up her clothing.
In an interview, Soon-Yi said, "When I first got friendly with Woody Allen, he and Mia were finished with their romance and were just friends. (…) Mia was always very hot-tempered and given to rages which terrified all the kids. They can't speak freely because they're still dependent on her. But they could really tell stories and I'm sure one day will. It's true Mia was violent with me and I have conclusive proof…"
9. Mia Farrow gave a creepy Valentine Card to Woody Allen
On February 1992, Mia Farrow gives Woody Allen a Valentine card, a family photograph with the children pierced by trussing skewers, and herself pierced by a steak knife wrapped in a photo of Soon-Yi:
Woody Allen has mentioned it in his 1992 interview (the video directly begins with Woody Allen speaking about Mia Farrow's Valentine card):
10.
Mia farrow wrote a note to Woody Allen accusing him of abusing Soon-Yi and wanting to abuse Dylan
On July 11, 1992, while attending Dylan's birthday party, Allen finds the following note (confirmed in her book by nanny Kristi Groteke to have been written by Mia Farrow) attached to the door of a bathroom near the guest room where he slept (more accurately, the door of a bathroom near the guest room where he slept):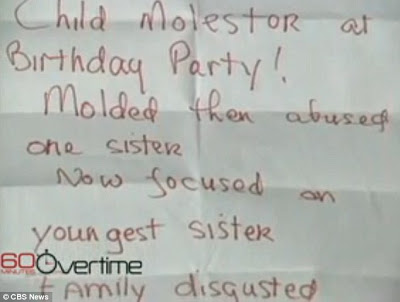 The note is also mentioned in the interview given by Woody Allen to Steve Kroft in 1992 (the video below begins directly by talking about the note):
11. Mia Farrow has always used Woody Allen relationship with Soon-Yi Previn to a potential sexual abuse of Dylan
On January 13, 1992, Mia Farrow discovers nude photographs of his 19/21 years old adoptive daughter, Soon-Yi Previn in Woody Allen's apartment.
On her memoir, Mia Farrow writes:
"After January 13, I didn't leave him alone with any of my kids."
Mia Farrow. A Memoir. What Falls Away – Page 283
Now I viewed his [Woody Allen] behavior with Dylan in a complete different light. I no longer believed he could control himself. I no longer believed he was dealing with his problems responsibly. I was no longer sure that his "inappropriate" and "intense" behavior with Dylan was not sexual. At exactly what point does it become child abuse?
Mia Farrow. A Memoir. What Falls Away – Page 281
This is confirmed by the Dr. Leventhal who headed the hospital team that was asked by the Connecticut State Police to investigate the claim that Mr. Allen molested Dylan.
Even before the claim of abuse was made last August, he said, "The view of Mr. Allen as an evil and awful and terrible man permeated the household. The view that he had molested Soon-Yi and was a potential molester of Dylan permeated the household."
12. Mia Farrow was agree to show in court the nude photographs of Soon-Yi Previn taken by Woody Allen
Farrow's attorney, Eleanor Alter, attempted to get a judge to look at nude photographs that Woody Allen took of Mia Farrow's 21-year-old adopted daughter, Soon-Yi Previn. "These are not modeling photographs," she said. "They are pornographic. They indicate the mental instability of the man (Allen) in question."
But state Supreme Court Justice Phyllis Gangel-Jacob, refused to look at the photographs.
13. Dershowitz says Mia Farrow told him that Soon-Yi could be anywhere between 17 and 19 when she was between 19 and 21
According to Alan Dershowitz's book, My Life in the Law, Mia Farrow told him that Soon Yi was between 15 and 17 years old when she was between 17 and 19 years old.
14. Mia Farrow representatives asked to Stacey Nelkin to say she was 15 years old when she was dating Woody Allen
"I said: Absolutely not! I was not fifteen."
15. Four days before the sexual abuse allegation, Mia Farrow described Woody Allen as satanic and evil and pleaded to find a way to stop his relationship with Soon-Yi
According to Dr. Susan Coates testimony:
On Aug. 1 of 1992, Mia Farrow called her after having learned that the affair with Ms. Previn was continuing and described Woody Allen as "satanic and evil," (The 1980s and early 1990s, have seen the day-care sex-abuse hysteria, a moral panic over alleged Satanic ritual abuse.) and pleaded with her to "find a way to stop him."
Four days after that conversation, the psychologist testified, that Mia Farrow phoned again, saying that Dylan had begun complaining that Mr. Allen had abused her. Dr. Coates characterized Mia Farrow as having been extremely calm during the call, in contrast to her agitated state in other calls.
16. Mia Farrow videotaped Dylan's sexual abuse allegations in many segments and many days
Mia Farrow videotaped Dylan's sexual abuse allegation by Woody Allen and turned the tape over to Connecticut authorities who were investigating charges of child abuse against Allen.
Nanny Thompson said in a deposition that it took the actress two or three days to videotape Dylan making the accusations. At times the youngster appeared not to be interested in the process, the nanny said in sworn affidavits taken by Allen's attorneys.
"I know that the tape was made over the course of at least two and perhaps three days," Thompson said. "I was present when Ms. Farrow made a portion of that tape outdoors. I recall Ms. Farrow saying to Dylan at that time, 'Dylan, what did daddy do . . . and what did he do next?'
"Dylan appeared not to be interested, and Ms. Farrow would stop taping for a while and then continue."
Linda Fairstein was director of the first sex crimes unit in the US. Until 2002 she oversaw the investigation of thousand of allegations of child and sexual abuse:
"When the story came out that Mia had videotaped Dylan"—in eleven segments shot at different times in different places, one nude in a bathtub, others outside showing her topless—"it sounded to me like one of the craziest things I'd ever heard. On every level, it's the last thing you would do. First of all, videotaping her naked while asking again and again about what happened. Why are you exposing your child to these videos that someday will possibly be in the hands of the public or in the courtroom? That fact alone set off every alarm." (Moses Farrow Speaks Out by Eric Lax)
17. When she videotaped Dylan allegations in many segments and many days, Mia Farrow made a splice in the videotape
Kristine Groteke, was in college when she was hired by Mia Farrow as a nanny. She was at Mia Farrow's house in Connecticut on August 4, day of the sexual abuse allegation.
In 1994, she wrote Mia & Woody: Love and Betrayal. Groteke admits that she praises Farrow as a devoted parent while disparaging Allen as rude and antisocial.
In Mia & Woody, Love and Betrayal, Groteke says, about the videotape:
"There was a splice, Mia explained, that cut out some tape inadvertently capturing Dylan's private parts, and which, Mia felt, was "inappropriate" to show. The tape had undeniably, however, been stopped and restarted several times."
Kristine Groteke, Mia & Woody: Love and Betrayal – Page 127
18. When a copy of the videotape landed at a television station, Mia Farrow and the police were the only ones who had copies
"I was not surprised that Mia made a videotape of Dylan saying these terrible things as I think the motive is obvious, but I was stunned that the tape would somehow find its way to the TV news." – Soon-Yi Previn, Let's Not Get Hysterical
A copy of the videotape with Dylan landed in the hands of producers at a local television station, who considered airing it but were stopped by lawyers representing both feuding parents, said John Springer, a spokesman for Farrow.
Springer said he didn't know how the local Fox affiliate got the video of Dylan. But Leslee Dart, Allen's spokeswoman, said the tape must have come from either Farrow's attorneys or Connecticut police, the only ones who had copies. Police would not comment.
According to Justin Levine article, "the timeline of events, witness testimonies and actions of the participants all point to Farrow as the one who engineered the leak."
Allen eventually won the right in State Supreme Court to view the video.
19. Mia Farrow refused to take a polygraph, Woody Allen took one and passed
Soon after Mia made her accusation, Allen voluntarily submitted to a polygraph test by an independent and highly respected man in the field: according to The Washington Post, Paul Minor (1940-2015) was the former Chief Polygraph Examiner for the Federal Bureau of Investigation (FBI).
Woody Allen passed the test and asked to Mia Farrow to take one: she refused.
This fact has always been a big problem for the Farrow's clan, forcing them to lie and to say that Woody Allen refused to take a polygraph administered by the Connecticut state police. Dylan Farrow herself, writes in the Los Angeles Time: Allen refused to take a polygraph administered by the Connecticut state police.
But Allen's lead attorney at the time, Elkan Abramowitz, said to Cathy Young (Woody Allen's Innocence Should Be A Feminist Cause) that Allen was neither asked, nor did he refuse, to take a polygraph test administered by the Connecticut State Police. This lie seems to have been invented with many others by Maureen Orth for her 2014 listicle of "10 Undeniable Facts About the Woody Allen Sexual-Abuse Allegation": contacted by Cathy Young to ask for the source of the information, she replied in an email that it "came from multiple sources and was fact checked (sic) by Vanity Fair."
So, there was so many sources that Maureen Orth couldn't even give one. And to consolidate her lie and hide that Mia Farrow was asked to pass a polygraph test by Woody Allen's lawyers and refused, Maureen Orth declares that Mia Farrow was never asked by the Connecticut Police to pass one.
20. Mia Farrow knew the song Daddy In The Attic
In her open letter in The New York Times, Dylan has written: "Woody Allen took me by the hand and led me into a dim, closet-like attic on the second floor of our house."
In February 7, 2014, Woody Allen wrote an answer and said about the attic:
Undoubtedly the attic idea came to her from the Dory Previn song, "With My Daddy in the Attic." It was on the same record as the song Dory Previn had written about Mia's betraying their friendship by insidiously stealing her husband, André, "Beware of Young Girls."
With my Daddy in the attic
With my Daddy in the attic

That is where my being wants to bed
……………………………………….
Where we'll live on peanut butter
Spread across assorted crackers
And he'll plays his clarinet
When I despair
Read the full lyrics and watch and listen Woody Allen playing clarinet.
21. When Woody Allen officially adopted Moses Farrow and Dylan Farrow in December 1991, Mia Farrow filled an affidavit praising his parenting skills
It's really strange that Mia Farrow was agreed to let Woody Allen being officially Dylan's adoptive father, if, as she has never stopped to claim later, she suspected him to have a sexual attraction to his adopted daughter.
Mia Farrow filed an affidavit saying he was a good father, better than most natural fathers, calling him a "loving, caring and nurturing father."
The affidavit is mentioned in the court document: "Mr. Allen's reliance on the affidavit which praises his parenting skills, submitted by Ms. Farrow in connection with his petition to adopt Moses and Dylan, is misplaced. Its ultimate probative value will be determined in the pending Surrogate's Court proceeding. In the context of the facts and circumstances of this action, I accord it little weight. "
Why the affidavit was misplaced and why Justice Wilk accorded it little weight, he didn't say. But anybody reading the full court document can check how Justice Wilk was biased in favor of Mia Farrow: because of Woody Allen celebrity and because he wasn't showing remorse about his love relationship with Mia Farrow 's 19 years old daughter, Soon-Yi Previn, Judge Wilk's conclusions are skewed by barely concealed revulsion toward him.
22. Mia Farrow supported Roman Polanski when he was charged with raping Samantha Geimer, who was not yet 14 years old
"Roman Polanski is a loyal friend, important to me, a distinguished director, important to the motion picture industry, and a brave and brilliant man, important to all people."
This statement by Mia Farrow appears in the probation report of Roman Polanski, written after the director had been charged with statutory rape of a 13-year-old girl, Samantha Geimer.
As pointed out by Robert Weide in his excellent article, Hard questions for Roman Farrow, "Mia Farrow's statement in Polanski's probation report seems to imply the director's artistic talent outweighed the damage he may have caused to the young girl who was then struggling for credibility, even after Polanski's admission of guilt."
23. Samantha Geimer felt used by Mia Farrow pursuing her own vendetta against Woody Allen
On January 7, 2018, Mia Farrow tweeted to Samantha Geimer:
Dear Samantha, I need to tell you how very very sorry I am that I ever defended Polanski. I send you my respect and love

— Mia Farrow (@MiaFarrow) January 7, 2018
Samantha Geimer answered to Mia Farrow:
You need not be sorry. People support their friends. I understood that at 14 and took no offense to the many letters. I never needed the belief of strangers to validate my truth. Roman and my family reconciled long ago, I wish he and his family nothing but happiness.

— Samantha Geimer (@sjgeimer) January 7, 2018
Samantha answer was polite but in an interview, Nobody's Victim, she said she "felt used" by Mia Farrow:
Mia's public apology was offered as a reply to a random twitter post, and arrived on the day of the Golden Globes. I didn't need it and I don't want it. I felt used by someone pursuing their own vendetta against Woody Allen. After 40 years Mia Farrow has now turned on her friend Roman, who I forgave decades ago. I'll leave people to make of that what they will.
24. The Yale-Haven hospital team concluded that Mia Farrow could have coached or influenced Dylan Farrow to accuse Woody Allen
Dylan Farrow was referred to the Child Sexual Abuse Clinic of Yale-New Haven Hospital in September 1992. The referral was made by the Connecticut State Police.
The Child Sexual Abuse Clinic Evaluation of Dylan Farrow report, dated March 17, 93, specifies in the chronology of evaluation that not only Dylan, but Mia Farrow has been interviewed :
9/18/92, 9/25, 10/2, 10/9, 10/16, 10/23, 10/30, 11/6, 11/13 – Interviews of Dylan alone and interview with Ms. Mia Farrow alone by Ms. Sawyer and Dr. Hamilton
12/04/92 – Interview by Ms. Farrow by Ms. Sawyer, Dr. Hamilton and Dr. Leventhal (videotape reviewed with Ms. Farrow).
The report concludes:
"It is our expert opinion that Dylan was not sexually abused by Mr. Allen. (…) We considered three hypotheses to explain Dylan statement: (…) and third, that Dylan was coached or influenced by her mother, Ms. Farrow."
Follow this link to read the full report.
25. Mia Farrow's adoptive son, Moses Farrow, says her mother convinced his sister Dylan Farrow that she was sexually abused by Woody Allen
In 1980, Moses was a two-year-old orphan with cerebral palsy from Korea when he was adopted by Mia Farrow as a single mother. He was later adopted by Woody Allen in 1991. Read our full post about Moses Farrow.
Moses was 14 years old in 1992, when Mia Farrow accused Woody Allen to have sexually abused Dylan, 7 years old (Ronan Farrow was only 5 years old).
According to the nanny Monica Thompson's testimony, in 1992, on one occasion almost immediately after the alleged sexual abuse, Moses, who was 14, indicated doubts about what, if anything, had taken place: "Moses came over to me and said that he believes that Ms. Farrow had made up the accusation that was being said by Dylan."
As an adult, Moses has confirmed that Dylan Farrow has been brainwashed by Mia Farrow since she's 7 years old:
So many times I saw my mother try to convince her that she was abused – and it has worked. Some day, I hope Dylan can escape from my mother, confront the truth and begin her own healing. #truthislouder

— Moses Farrow (@MosesFarrow) January 18, 2018
What breaks my heart the most is while I know that my sister, Dylan, believes what she says, I also know from my own experience, that it simply never happened. #truthislouder

— Moses Farrow (@MosesFarrow) January 18, 2018
On May 23, 2018, Moses has written a new essay where he has confirmed that Woody Allen didn't abuse his sister Dylan Farrow: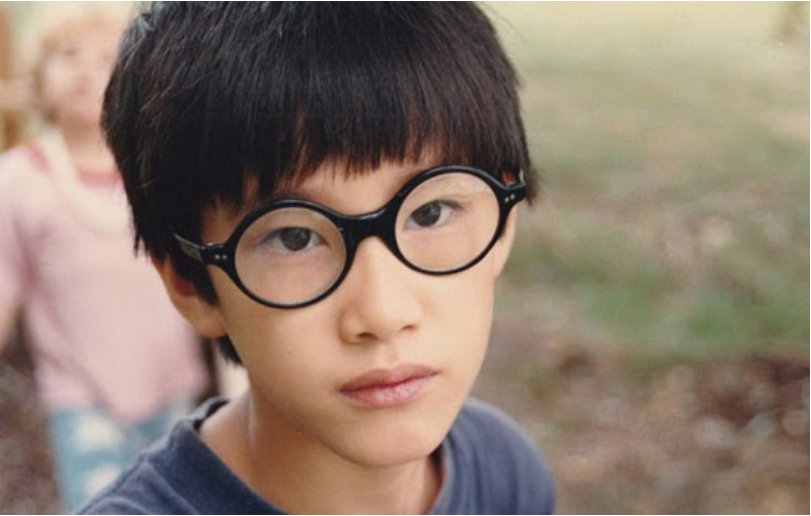 I'm a very private person and not at all interested in public attention. But, given the incredibly inaccurate and misleading attacks on my father, Woody Allen, I feel that I can no longer stay silent as he continues to be condemned for a crime he did not commit.
I was present for everything that transpired in our house before, during, and after the alleged event. Now that the public hysteria of earlier this year has died down a little and I have some hope that the truth can get a fair hearing, I want to share my story.
26. Moses Farrow says his mother Mia Farrow was abusive with him and her others children
In an interview with Eric Lax, Moses has described some of the abuse by Mia Farrow he had to endure when he was a child:
"She asked why it was on my bed. I told her I didn't know, that perhaps the workman left it there. After a couple more demands for the answer she wanted, she slapped my face, knocking off my glasses."
"I was given a new pair of jeans. I thought they would look cool if I cut off a couple of the belt loops. When my mother found I had done this, she spanked me repeatedly—as was her way—and had me remove all my clothes saying, 'You're not deserving of any clothes.' Then she had me stand naked in the corner of her room."
Seeing Dylan walking down the driveway at our mother's house during her interview, I'm faced with my own childhood abuse. https://t.co/CszYErxw0c #truthislouder

— Moses Farrow (@MosesFarrow) January 18, 2018
On May 23, 2018, Moses has written a new essay where he has confirmed that Mia Farrow was abusive:
For all of us, life under my mother's roof was impossible if you didn't do exactly what you were told, no matter how questionable the demand.
The summer between first and second grades, she was having new wallpaper installed in the bedroom I slept in, across the hall from hers on the second floor of the Connecticut house. I was getting ready to go to sleep, when my mother came over to my bed and found a tape measure. She gave me a piercing look that stopped me in my tracks and asked if I had taken it, as she had been looking for it all day. I stood in front of her, frozen. She asked why it was on my bed. I told her I didn't know, that perhaps a workman had left it there. She asked again and again and again.
When I didn't give the answer she wanted, she slapped my face, knocking off my glasses. She told me I was lying and directed me to tell my brothers and sisters that I had taken the tape measure. Through my tears I listened to her as she explained that we would rehearse what should have happened. She would walk into the room and I would tell her I was sorry for taking the tape measure, that I had taken it to play with and that I would never do it again. She made me rehearse it at least a half-dozen times.
In an interview from 1992, Soon-Yi said: "Mia was always very hot-tempered and given to rages which terrified all the kids. They can't speak freely because they're still dependent on her. But they could really tell stories and I'm sure one day will."
27. Mia Farrow 's younger brother is in jail for sexual abuse
John Charles Villiers-Farrow, 67, was sentenced to 25 years in prison, with 15 years suspended.
The 67-year-old businessman, husband and father was indicted after two men accused him in 2012 of sexually abusing them between 2000 and 2008 when they were children. Prosecutors say Villers-Farrow began abusing one boy when he was 9 years old and the second when he was 8.
Villiers-Farrow made headlines in 1992 when he commented on the controversy surrounding sister Mia's custody battle with Woody Allen, and Allen's relationship with Farrow's adopted daughter Soon-Yi. At the time, Villiers-Farrow told People magazine, Allen "is going to be indicted, and he's going to be ruined. I think when all of it comes out, he's going to go to jail."
In his article, Hard questions for Ronan Farrow – An open letter, Robert Weide said: "What about the child victims of Mia's brother, John Villers-Farrow, who is currently doing prison time for multiple counts of molestation against two young boys? I don't remember you speaking out when Uncle John had part of his sentence suspended."
28. Mia Farrow has multiplied the signs of trust to Kristine Groteke, responsible for the alleged sexual abuse of Dylan
Kristine Groteke, Dylan's nanny, was asked by Mia Farrow to never left Woody Allen alone with Dylan the day – August 4, 1992 – when the alleged abuse happened. But Groteke didn't take care, could have lost Dylan's track for around 15 to 20 minutes and the alleged sexual abuse occurred during this period.
Was Mia Farrow angry that her daughter has been sexually abused because Groteke didn't do her work properly?
As pointed by Nadie with a tweet series…
Thinking about the allegued sexual abuse (Woody Allen, Dylan Farrow)

What do you do with the nanny who has neglected your daughter allowing someone to sexually abuse her and not even notice?

5/ Do you sing "Happy Birthday" to her, give her gifts and a generous check? pic.twitter.com/Sx71jf27NY

— Nadie (@Nadie_lo_dijo) March 10, 2018
…Mia Farrow seems to have been almost grateful to Groteke that his negligence has allowed her daughter to be sexually abused. Mia Farrow:
29. Mia Farrow has adopted too many children to take care about them
"I don't think you can raise 11 (and soon she will have 13) children with sufficient love and care. Take it from one who's lived through it-it can't be done. Some of us got neglected, some got smothered." – Soon-Yi Previn, Let's Not Get Hysterical
According to nanny Monica Thompson, hired in 1985 when Dylan was just 2 months old, the household "was more like a foster home … with all these kids." She testified that Mia Farrow favored her biological children, loading up the adopted ones with chores, and once slapped Moses across the face when she thought he'd lost a dog's leash.
For a quick reference list of all children, you can find it here. For more detail to events surrounding Farrow's desire and motivations for her large family, as well as the nature of her relationship with her children as well as Woody Allen, read A Closer Look At Mia Farrow's Adoption Addiction (Or, The Perils of Using Adoption as an Emotional Salve)
30. Mia Farrow's adoptive daughter Lark Previn

was arrested for theft, struggled with a drug problem and died in poverty from AIDS at age 35
In 1973, Mia Farrow and André Previn adopted a little Vietnamese girl named Lark. Jane Read Martin, who for six years served as Allen's personal assistant said Mia Farrow forced her adopted daughter Lark to baby-sit, cook and clean "like a little scullery maid" and schlep strollers and diaper bags "like a pack horse," Martin recalled, to which, she said, Lark responded with resentful complaints and "an unpleasant hand gesture" when her mother left the room.
In 1991, Lark and her sister Daisy were arrested for shoplifting hundreds of dollars' worth of Christian Dior lingerie from a store in Danbury, CT.
Lark married Christopher McKenzie, a furniture mover with a criminal record. The couple have been making ends meet on McKenzie's earnings, and on money Lark earns from cleaning houses.
Lark reportedly struggled with a drug problem. She contracted AIDS and died on Christmas Day in 2008 at age 35, leaving Mia's granddaughters, aged 12 and 13, born with the virus, without a mother and only a wayward father they hardly see.
31. Mia Farrow's son, Thaddeus Wilk Farrow, died from suicide gunshot wound at 27
On September 21, 2016, Connecticut law enforcement discovered Thaddeus Farrow inside his vehicle suffering from a life-threatening injury. He was transported to Danbury Hospital and pronounced dead at 2:30 p.m.
On Thursday 22,Connecticut authorities ruled the death a suicide, saying he shot himself in the torso. The state medical examiner's office determined the cause of death after an autopsy.
32. Thaddeus Farrow full name was Thaddeus Wilk Farrow to thank Justice Wilk
According to The New York Times, Justice Wilk who ruled the custody dispute in favor of Mia Farrow "was scathing about Mr. Allen's relationship with one of Ms. Farrow's adopted children, Soon-Yi Previn, who later became Mr. Allen's wife. Ms. Farrow expressed her gratitude in 1995 by naming a child she adopted Gabriel Wilk Farrow. Gabriel was later changed in Thaddeus.
33. Mia Farrow's daughter, Tam Farrow, died from suicide at 21 after one final fight with her mother
According to Moses Farrow testimony in his essay, A Son Speaks Out:
Most media sources claim my sister Tam died of "heart failure" at the age of 21. In fact, Tam struggled with depression for much of her life, a situation exacerbated by my mother refusing to get her help, insisting that Tam was just "moody." One afternoon in 2000, after one final fight with Mia, which ended with my mother leaving the house, Tam committed suicide by overdosing on pills. My mother would tell others that the drug overdose was accidental, saying that Tam, who was blind, didn't know which pills she was taking. But Tam had both an ironclad memory and sense of spatial recognition. And, of course, blindness didn't impair her ability to count.
34. Mia Farrow's adoptive daughter Quincy has asked for help on GoFundMe
On June 1, 2017, Quincy Farrow created a campaign on GoFundMe, asking for $3000 (on May 29 2018, she got $125 of $3000 goal)
"I never thought I would do something like this, but sometimes one of the bravest things you can do is ask for help. God bless you all."
The campaing was still active on June 2, 2018, when Mia Farrow tweeted about the birth of Coretta
Meet my granddaughter, Coretta 🧡@BerniceKing ❤️ pic.twitter.com/F7a9KO5iKX

— Mia Farrow (@MiaFarrow) 2 juin 2018
In July 2018 the campaign had been deleted.
35. According to Celebrity Net Worth, Mia Farrow Net Worth is $60 Million
In 2018, according to Celebrity Net Worth, Mia Farrow Net Worth was estimated to 60 million dollars.
According to the same source, Woody Allen Net Worth is $80 Million.
36. Mia Farrow's older brother, Patrick Farrow, committed suicide
In June 2009, two days after Mia Farrow's brother was found dead in his Vermont home, the coroner determined that Patrick Farrow died of a self-inflicted gunshot to the head.
Patrick Farrow, 66, a sculptor, was the older brother of Mia Farrow.
37. Nicholas Kristof who published Dylan Farrow's open letter in The New York Times is Mia Farrow's very close friend
On February 1, 2014, Nicholas Kristof used his personal blog in the NYT to publish an open letter from Dylan Farrow where she accuses his adoptive father, Woody Allen, to have sexually abused her in 1992 (Woody Allen was investigated for months by 2 different states and cleared 2 times, the Yale report suggested that Dylan was influenced or coached by her mother Mia Farrow and Moses Farrow, Dylan's brother has now confirmed that his sister was coached by their mother).
Kristof and Farrow aren't just 'friends.' They are close friends. Farrow and Kristof have traveled together to the Sudan, they've appeared together often, there are numerous accounts of them together that can be found easily. Learn more by reading Mia Farrow Uses Close Pal Journalist in Woody Allen War: Writer of Latest Piece is Close Friend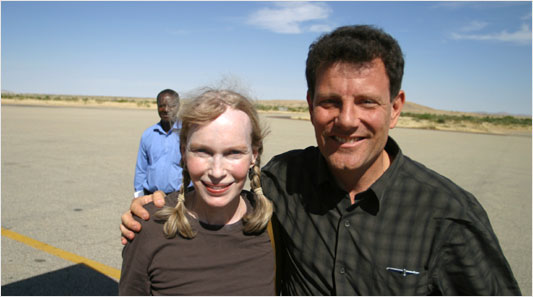 On February 3, 2018, Nicholas Kristof has published a biased article in The New York Times where he has himself confirmed that he's a friend of Mia and her family: "I'm a friend of Dylan and her family, so I'm not an unbiased observer."
Of course, as Dylan Farrow as said that his brother is "dead" for her, Nicholas Kristof's article didn't mention Moses Farrow…
Nicholas Kristof credibility has always been challenged by the past: read Nicholas Kristof On Somaly Mam, Anti-Sex Slavery Activist: I Wish I 'Had Never Written About Her'
38. Mia Farrow's close friend, Nicholas Kristof, lied on Twitter about Moses Farrow
Moses Farrow has confirmed the Yale report suggesting that his sister Dylan was coached by Mia Farrow to falsely accuse Woody Allen (see facts 25 and 26 and our post about Moses Farrow). People lying or manipulating the facts for Mia Farrow and Dylan Farrow, like Nicholas Kristof, are extremely embarrassed and always "forget" to mention Moses.
Eventually Nicholas Kristof has decided to post a huge lie on Twitter to try to discredit Moses:
Moses claims that Dylan Farrow testified against Woody Allen in 1993 because she was promised a Magic Attic Kids doll if she did. But those dolls didn't exist then. They were launched more than a year later: https://t.co/K2qiZlY3IY https://t.co/YTM5v7dmmK https://t.co/UF6pEIsh0A

— Nicholas Kristof (@NickKristof) 10 février 2018
This is really silly, because everybody can immediately check that he's lying, by checking the source:
"Around the time of the custody trial in 1993, a person who went often to the Farrow home found Dylan crying one day. The story has been confirmed with someone else who often visited. "Dylan asked me, 'Is it okay to lie?' She felt she didn't want to lie and wondered, What would God think? She wanted an Attic Kids doll, but Mia forbade it. This was shortly before Dylan was to speak with someone connected with the trial. She said, 'Mom wants me to say something I don't want to say.' Then the next week she had the Attic Kids doll with a yellow dress. I asked, 'What happened?' She said, 'I did what my mom asked.'"
The story does not surprise Moses, who adds, "This, I can speak to with confidence. Mia's ability and intent to mold her children to do her bidding was matched by her living in constant fear her secrets of abusive parenting would be divulged and the reputation she built as the loving mother of a large brood of adopted kids would be destroyed."
So, it was NOT MOSES but A PERSON, not at the 1993 trial but around the time of the trial, not a testimony but to speak with somebody connected with the trial (journalist, sibling, friend…) so it could be after the trial, in 94 or 95.
But even there is all the evidences that her mother's friend tweet was a despicable lie, Dylan Farrow didn't hesitate to re-tweet it:

39. Since 1992, Maureen Orth is obediently reporting Mia Farrow's words in Vanity Fair and is grossly lying about Woody Allen
In November 1992, Vanity Fair publishes "Mia's Story" by Maureen Orth: Mia Farrow, her friends and her family present Woody Allen as a child molester.
In October 2013, Vanity Fair publishes "Momma Mia" by Maureen Orth where, again, Woody Allen is presented as a child molester. The article try to discredit the Yale-Haven Hospital report asked by the Connecticut Police who exonerated Woody Allen and affirms that Woody Allen was in therapy for inappropriate behavior toward Dylan: "With a hiatus here and there, Woody Allen has famously been in therapy for most of his adult life for any number of neuroses. The idea that he was in therapy specifically for inappropriate feelings or conduct toward Dylan is a canard of the highest order, and no one has ever offered any evidence that this was the case." (Q&A With Dylan Farrow by Robert Weide). Maureen Orth interviews also Dylan Farrow who for the first time as an adult affirms that Woody Allen sexually abused her in the attic.
In February 2014, Vanity Fair publishes "10 Undeniable Facts About the Woody Allen Sexual-Abuse Allegation" by Maureen Orth. In the 10th fact, Maureen Orth try to convince her readers that she's an independent journalist: "I am not a longtime friend of Mia Farrow's, and I did not make any deal with her."  As usual, she lies or manipulates the facts about Woody Allen being in therapy for inappropriate behavior toward Dylan (false), refusing to take a polygraph (false, it was Mia Farrow who refused, see 19.), the credibility of the Yale-Haven report, etc. The truth about the ten "Undeniable Facts" of Vanity Fair.
40. Mia Farrow used Twitter and her friends in the medias to resurrect Woody Allen molestations accusation and to publish Dylan open letter then said she didn't want Dylan to resurrect the allegations
On October 23, Vanity Fair published a new Maureen Orth's article Momma Mia, where the allegations of sexual abuse are widely discussed (and as always with Maureen Orth and Mia Farrow's friends, incomplete and manipulated) and on October 26, 2013, Mia Farrow tweeted:
A sad day in journalism when damage to a child is ignored in favor of celebrity sensationalism. The truth: http://t.co/B0lDSuARRy

— Mia Farrow (@MiaFarrow) October 25, 2013
In January 13, 2014, she tweeted:
Is he a pedophile ? Read this VanityFair article and make up your own mind. http://t.co/k2nyrMpjAt

— Mia Farrow (@MiaFarrow) January 13, 2014

Then, Mia Farrow used her very close friend and columnist at The New York Times, Nicholas Kristof, to help his daughter Dylan to publish on February 1, 2014, her open letter where she accuses Woody Allen of sexual abuse.
And then on April 2018, she said she didn't want Dylan to 'resurrect' Woody Allen molestation accusations:
"I did not want to resurrect — it was a horrible chapter for all of us, but I also understood and respected that she needed to do that and she wanted to be part of the Me Too movement and have her voice heard."
41. Ronan Farrow was 4 years old in 1992 and knows absolutely nothing about Dylan Farrow sexual abuse allegation, except what his mother Mia Farrow told him
In 2018, Ronan Farrow and The New Yorker has been awarded the Pulitzer Price in Public Service "For explosive, impactful journalism that exposed powerful and wealthy sexual predators, including allegations against one of Hollywood's most influential producers, bringing them to account for long-suppressed allegations of coercion, brutality and victim silencing, thus spurring a worldwide reckoning about sexual abuse of women."
Ronan Farrow is supporting his sister Dylan Farrow and "believe" her. It seems impossible that the man who believed so many women who told him that they have been sexually abused, doesn't believe his own sister. But Ronan Farrow, who was born on December 19, 1987, and was 4 years in 1992 when the sexual abuse allegation was leaked,  cannot know nothing, except what her mother who has raised him in the hate of Woody Allen, said to him.
42. Mia Farrow wanted to work in Woody Allen next movie even after she accused him to have sexually abused Dylan
The day after she allegedly learned of her child's molestation, Mia Farrow made a date with the costume designer of Allen's next film (Manhattan Murder Mystery).
She accused me of child molestation on August 4th, right?" Allen told "60 Minutes" that November. "And August 5th, 6th, 7th, 8th, 9th — you know, the week after, she's fully saying, 'When do we begin our new movie? I'm going for my costume fitting next week' . . . And I said, 'Are you kidding? You're accusing me of child molestation, and you think we're just going to go on with the movie? . . . This is insane.' "
Eventually, Woody Allen told his lawyer to inform her that she has been replaced by an other actress (Diane Keaton)
43. Mia Farrow's attorney, Eleanor Alter, said she doesn't know if Woody Allen abused Dylan or if she fantasized
Interviewed by Charlie Rose, in June 7, 1993, Eleanor Alter was Mia Farrow's lawyer for the custody battle. It is not possible to find someone more predisposed to interpret the facts in favor of Mia Farrow. Still, she said she doesn't know if Dylan Farrow was sexually abused by Woody Allen or if she fantasied due to Woody Allen's behavior with Soon-Yi.
Charlie Rose: Let me jus tie up one point, there is no question in your mind that there was child abuse of Dylan?
Eleanor Alter: No, that's not what I was saying. (…) Whether the ultimate things Dylan accuses him actually happened or whether of his behavior with her, or his behavior with his sister, some of which she witnessed, caused Dylan to fantasize, I don't know
Please follow and like us: