Blue Jasmine is a 2013 American black comedy-drama film written and directed by Woody Allen. and starring Cate Blanchet, Alec Baldwin, Sally Hawkins, Bobby Cannavale, Andrew Dice Clay. The story is about a formerly rich Manhattan socialite who falls on hard times and has to move into her working class sister's apartment in San Francisco.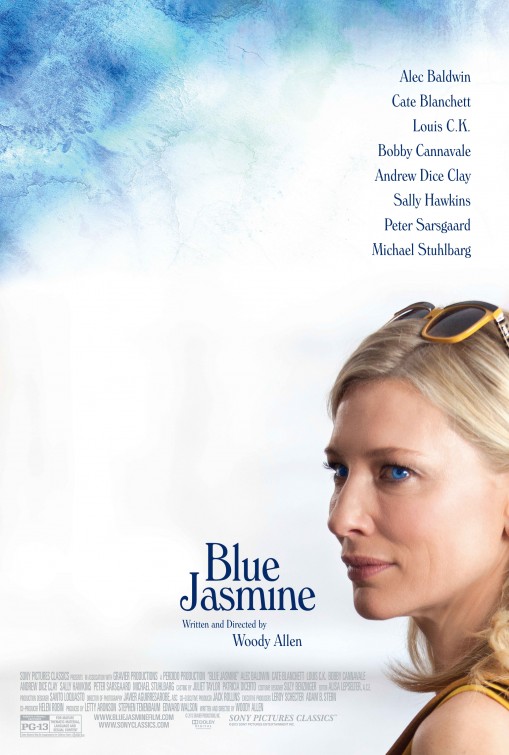 Trailer
Cast
Clips
Soundtrack
Blue Moon
A Good Man is Hard to Find
Playlist on Youtube
Blue Jasmine : Critical Response
The film received critical acclaim, particularly for Blanchett's performance. Blanchett won the Academy Award for Best Actress, and Hawkins and Allen were nominated for Best Supporting Actress and Original Screenplay, respectively. Blanchett also won the Golden Globe Award, the SAG Award, and the BAFTA Award for Best Actress in a Leading Role.
IMDB
"Loved the script, loved the cast, loved all the performances, but dear God, Cate Blanchett was so incredible I couldn't catch a breath. What a performance!"
Rotten Tomatoes
On Rotten Tomatoes, the film holds an approval rating of 91% based on 228 reviews and an audience score of 77% based on 49089 rating. The website's critical consensus states, "Woody Allen's Blue Jasmine finds the director in peak late-period form—and benefiting from a superb cast led by Cate Blanchett."
Metacritic
Metacritic reported the film had an average score of 78 out of 100, based on 47 reviews and an user score of 7.7 based on 387 ratings.
AlloCiné
On French AlloCiné, it gets 4.2/5 (press, 31 reviews) and 3.7/5 (spectators, 7676 ratings).
Box Office
Worldwide: $99,104,804 – Domestic: $33,405,481 – International: $65,699,323
Quotes
Jasmine
Jasmine: "Anxiety, nightmares and a nervous breakdown, there's only so many traumas a person can withstand until they take to the streets and start screaming."
Augie
Augie: "Some people, they don't put things behind so easily."
Cate Blanchett Winning Best Actress for "Blue Jasmine"
Woody Allen on insanity and Cate Blanchett
Woody Allen's Next and Previous Movies
Previous: To Rome With Love – Next: Magic in the Moonlight