Bullets Over Broadway is a 1994 American black comedy crime film directed by Woody Allen, written by Allen and Douglas McGrath. In order to gain financing for his play, an idealistic young playwright newly arrived on Broadway agrees to hire actress Olive Neal, the girlfriend of a gangster.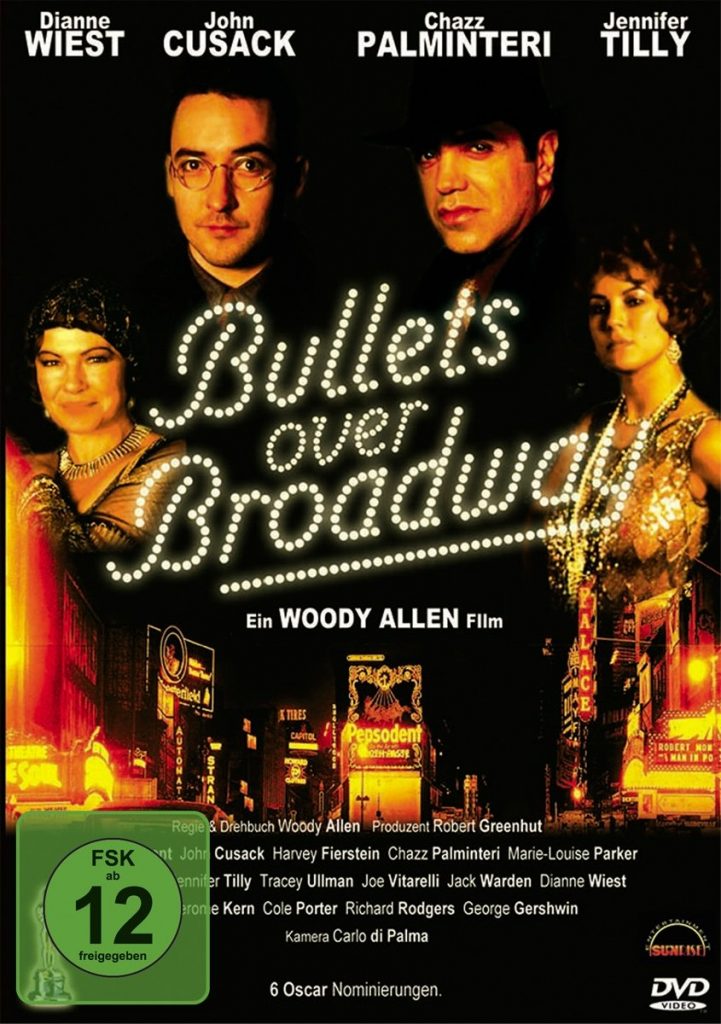 Trailer
Cast
Bullets Over Broadway full cast.
Clips
Clip 1
Olive & Cheech
Don't Speak!
Soundtracks
Toot Toot Tootsie Goodbye
You Took Advantage of Me
Playlist on Youtube
Bullets Over Broadway soundtracks.
Bullets Over Broadway : Critical Response
The film was nominated for seven Academy Awards, including Allen and co-writer Douglas McGrath for Original Screenplay, Allen for Director and Tilly and Palminteri for Supporting Actress and Supporting Actor, respectively. Wiest won Best Supporting Actress for her performance, the second time Allen directed her to an Academy Award.
IMDB
"Woody Allen is a genius indeed. Once more in this movie he presents us with a mixture of intelligence and humour conveyed by his famous witty dialogues where the characters seem to play with serious things but are indeed giving us through humour an image of what people think and feel about life nowadays and about the relationships that spring among them."
Rotten Tomatoes
On Rotten Tomatoes, the film holds an approval rating of 97% based on 58 reviews and an audience score of 83% based on 17017 ratings.
AlloCiné
On French AlloCiné, it gets  3.7/5 (spectators, 387 ratings).
Box Office
Worldwide: $13,383,747 – Domestic: $13,383,747 – International:
Quote
Rita: "For me, love is very deep, sex only has to go a few inches."
Dianne Wiest
Dianne Wiest Wins Supporting Actress
Dianne Wiest Supports Woody Allen Innocence
Dianne Wiest was in five Woody Allen's movies (The Purple Rose of Cairo, Hannah and Her Sisters (won the Academy Award for Best Supporting Actress), Radio Days, September, Bullets Over Broadway (won her second Academy Award for Best Supporting Actress).  There was no hesitation in her answer: "People often ask me (would she work with him again) and I say, "Oh, my God, in a second." When asked if she felt any professional uneasiness about her association with Allen after the scandals with Farrow and the children, she made clear where her loyalty lies. She says she doesn't believe the evidence supports the allegation that Allen sexually abused Dylan Farrow, thinks the media has "obscured" the truth and doesn't see this as having anything to do with the #MeToo movement.
Woody Allen Speaks About Bullet Over Broadway
10 Things About Bullets Over Broadway
Woody Allen's Next and Previous Movies
Previous: Manhattan Murder Mystery – Next: Mighty Aphrodite