Small Time Crooks is a 2000 American crime-comedy film. Written and directed by Woody Allen, the film's plot has some similarities to that of the 1942 comedy Larceny, Inc.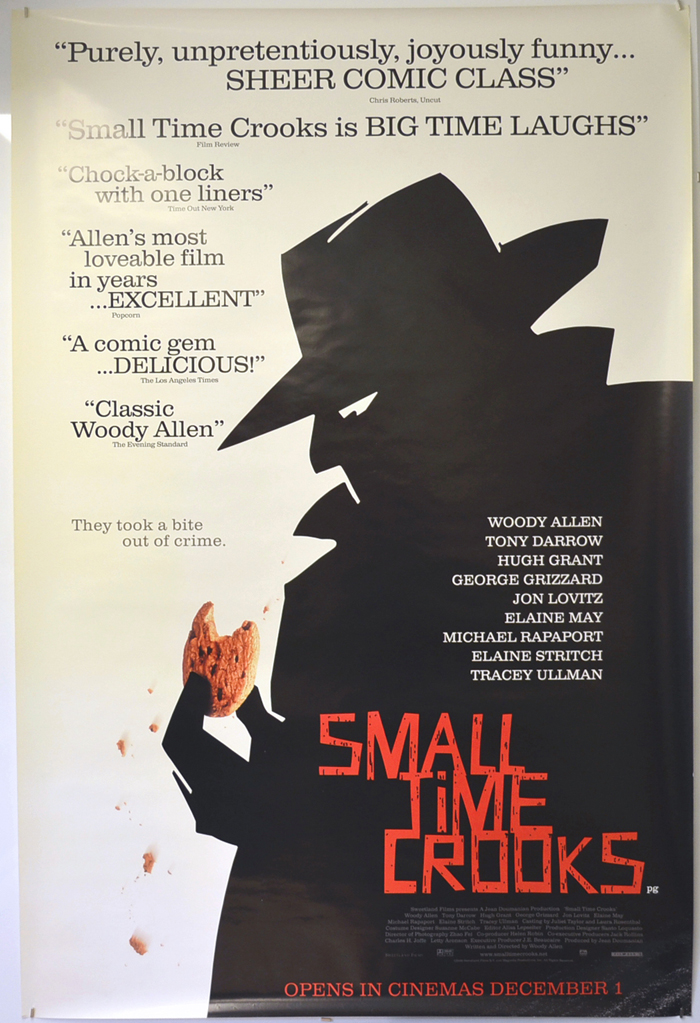 Trailer
Cast
Clips
Soundtracks
With Plenty of Money
Stompin' at the Savoy
Small Time Crooks: Critical Response
IMDB
"I doubt if many people share this sentiment, but this is my favorite Woody Allen movie simply because it does what Allen usually sets out to do: makes me laugh. I'm not a big fan of Allen's films but he and Tracey Ullman make a great pair in this 95-minute farce."
Rotten Tomatoes
On Rotten Tomatoes, the film holds an approval rating of 66% based on 123 reviews and an audience score of 57% based on 15669 ratings.
Metacritic
Metacritic reported the film had an average score of 69 out of 100, based on 32 reviews and an user score of 6.6 based on 35 rating.
AlloCiné
On French AlloCiné, it gets 3.4/5 (press, 26 reviews) and 3.2/5 (spectators, 2230 ratings).
Box Office
Worldwide: $29,934,477 – Domestic: $17,266,359 – International: $12,668,118
Quote
Ray: "What would you say if I told you that you were married to a very brilliant man?"
Frenchy: "I'd say I'd have to be a bigamist."
Woody Allen Interview
10 Things About Small Times Crooks
Woody Allen's Next and Previous Movies
Previous:  Sweet and Lowdown – Next: The Curse of the Jade Scorpion