Manhattan Murder Mystery is a 1993 American black comedy mystery film directed by Woody Allen, co-written by Allen and Marshall Brickman. The film began as an early draft of Annie Hall, which Allen co-wrote with Brickman. Eventually, the script evolved and principal photography took place in 1992, in the titular city.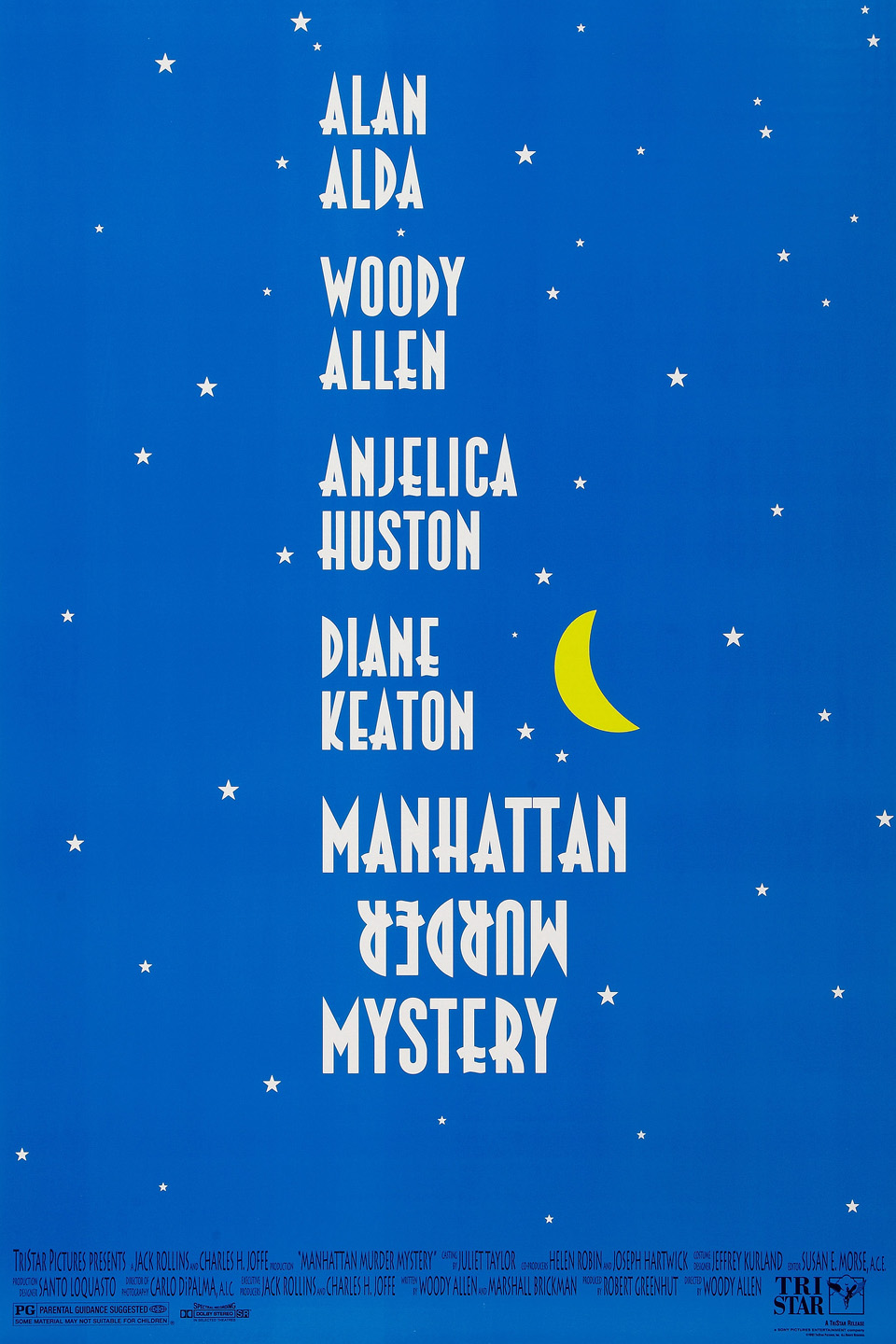 Trailer
Cast
Manhattan Murder Mystery full cast.
Clips
Restaurant Scene
I am Your Husband, I Command You to Sleep
Elevator Scene
Soundtracks
Sing Sing Sing – The Benny Goodman Orchestra
Big Noise From Winnetka – The Bobcats
Take Five – Dave Brubeck
Playlist on Youtube
Manhattan Murder Mystery soundtracks.
Manhattan Murder Mystery: Critical Response
IMDB
"This is the sort of movie I can watch over and over. In one word I would say it is clever. A combination of mystery, suspense, drama, and Allen's ingenious humor, Manhattan Murder Mystery is my favorite Woody Allen movie. Perhaps my favorite movie – period."
Rotten Tomatoes
On Rotten Tomatoes, the film holds an approval rating of 93% based on 30 reviews and an audience score of 84% based on 18061 ratings.
AlloCiné
On French AlloCiné, it gets 3.7/5 (spectators, 2595 ratings).
Box Office
Worldwide: $11,330,911 – Domestic: $11,330,911 – International: 
Quote
Larry Lipton: "I can't listen to that much Wagner, ya know? I start to get the urge to conquer Poland."
Mia Farrow wanted still to make Manhattan Murder Mystery after she had accused Woody Allen of child molestation
The day after she allegedly learned of her child's molestation, Mia Farrow made a date with the costume designer of Manhattan Murder Mystery.
"She accused me of child molestation on August 4th, right?" Allen told "60 Minutes" that November. "And August 5th, 6th, 7th, 8th, 9th — you know, the week after, she's fully saying, 'When do we begin our new movie? I'm going for my costume fitting next week' . . . And I said, 'Are you kidding? You're accusing me of child molestation, and you think we're just going to go on with the movie? . . . This is insane.' " (the video below begins directly with Woody Allen speaking about Mia Farrow still expecting to make a movie with him after she has accused him of child molestation)
The fact is confirmed by Kristi Groteke in her book, "Mia & Woody: Love and Betrayal" pg 225: "She had just accused her lover in public of molesting their daughter, and she expected that he would overlook this while they made a movie together. Get real, Mia."
Eventually, Woody Allen told his lawyer to inform Mia Farrow that she has been replaced by Diane Keaton.
RELATED CONTEND. 40 Undeniable Facts About Mia Farrow.
10 Things About Manhattan Murder Mystery
Woody Allen's Next and Previous Movies
Previous: Husbands and Wives – Next: Bullets Over Broadway