Mighty Aphrodite is a 1995 American comedy film written, directed by, and co-starring Woody Allen. The screenplay was inspired by the story of Pygmalion and is about Lenny Weinrib's (Allen) search for his genius adopted son's biological mother, ultimately finding that she is a dim-witted prostitute named Linda Ash (Sorvino).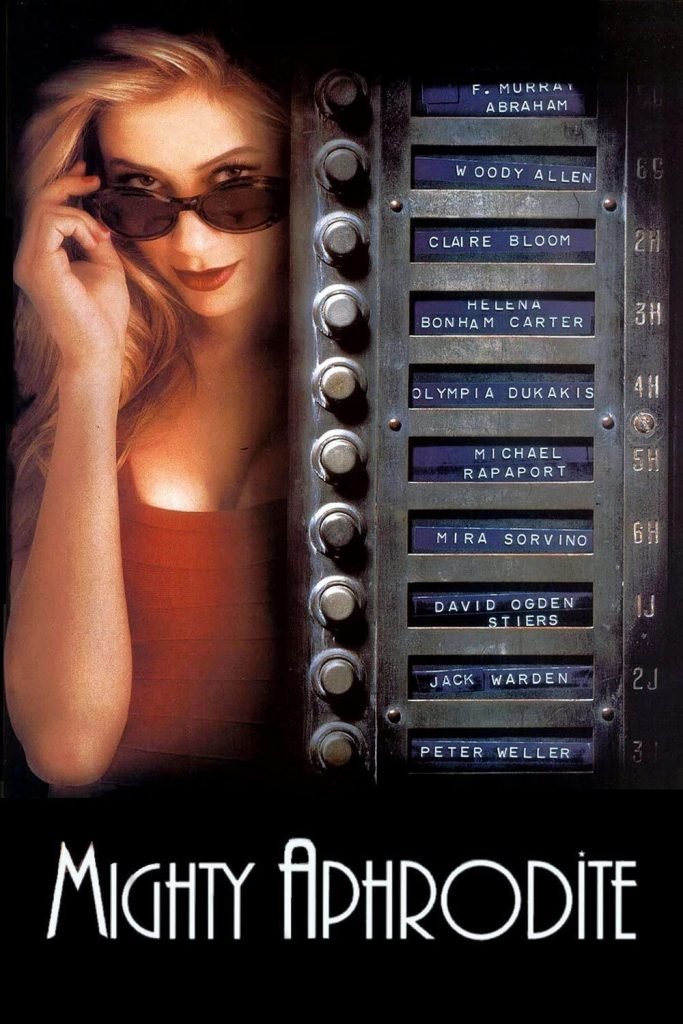 Trailer
Cast
Clips
Soundtrack
Neo Minore
I've Found a New Baby
Playlist on Youtube
Mighty Aphrodite : Critical Response
IMDB
"This movie is an excellent example of Woody Allen's sheer skill as a writer. Essentially a tale of a failing marriage, Allen frames it as a textbook Greek tragedy, complete with masked chorus and deus-ex-machina. To prevent this from being one long joke that outstays its welcome, he structures the movie brilliantly so that it becomes funnier as it goes along. It is a superb piece of writing, shot through with hilarious one-liners and sight-gags."
Rotten Tomatoes
On Rotten Tomatoes, the film holds an approval rating of 78% based on 36 reviews and an audience score of 73% based on 21095 ratings.
Metacritic
Metacritic reported the film had an average score of 59 out of 100, based on 16 reviews and an user score of 8.6 based on 44 ratings.
AlloCiné
On French AlloCiné, it gets  3.0/5 (spectators, 570 ratings).
Box Office
Worldwide: $6,468,498 – Domestic: $6,468,498 – International:
Quotes
Lenny Weinrib: "Achilles only had an Achilles heel, I have an entire Achilles body."
Mira Sorvino Despicable Behavior
With the role of Linda Ash, Mira Sorvino won the 1995 Academy Award for Best Supporting Actress, as well as a Golden Globe Award, New York Film Critics Circle Award, Critics' Choice Movie Award, National Board of Review Award, and a Dallas–Fort Worth Film Critics Association Award.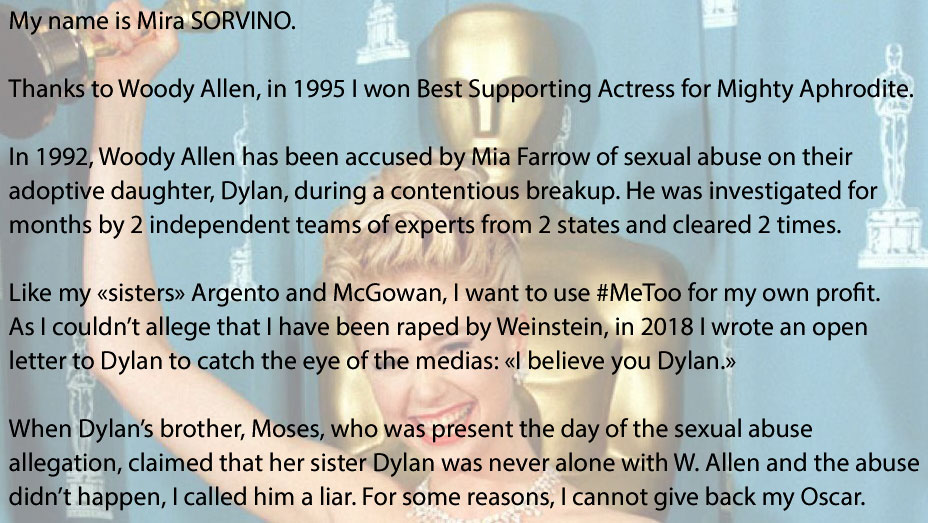 It didn't came as a surprise: Actors and Actresses are always exceptionally good in Woody Allen's movies. In 2014, Cate Blanchett was seventh Oscar Winner from Woody Allen's films.
Like her "sisters" Asia Argento (now out of the game) and Rose McGowan (always ready to attack and slander Woody Allen), Mira Sorvino wanted to use the MeToo movement for her own profit. As she couldn't allege she has been raped by Weinstein, on January 11, 2018, she wrote an open letter to Dylan Farrow to catch the eye of the medias:
In December I called your brother Ronan, sharing about the aftermath of my and other women's coming forward about Harvey Weinstein. (…) I told him I wanted to learn more about you and your situation. He pointed me toward publicly available details of the case I had ruefully never known of, which made me begin to feel the evidence strongly supported your story. That you have been telling the truth all along.
On May 23, 2018, Moses Farrow published a long essay on his blog: "I was present for everything that transpired in our house before, during, and after the alleged event." (…) "Strangers on Twitter pose me this question all the time: 'You weren't there to witness the assault, so how do you know it didn't happen?" But how could anyone witness an assault if it never happened?"
Still, few hours later, Mira Sorvino was not ashamed to write this tweet:
One of them is telling the truth. I believe it to be Dylan, who has stuck by her story her whole life and was the only withness to the crime besides the perpetrator.

— Mira Sorvino (@MiraSorvino) May 24, 2018
Read the full article: Mira Sorvino Betrayed Woody Allen and Stabbed Him in the Back
10 Things About Mighty Aphrodite
Woody Allen's Next and Previous Movies
Previous: Bullets Over Broadway  – Next: Everyone Says I Love You