Go directly to Leah Sweeney new article, Hollywood Should Step Aside From The #MeToo Movement.
On Jun. 28, Leah McSveeney wrote Can We Talk About Toxic Femininity, a brilliant must read article about Anthony Bourdain suicide, shameless exploited by Asia Argento and Rose McGovan for their self-promotion:
What is brave about manipulating a narrative surrounding a man's death? What is courageous about having McGowan speak on Argento's behalf, while Ottavia Bourdain has to tell her 11-year-old daughter that her father is never coming home? I can't even find a word to describe what that is. It is stomach-turning. To hide behind the story of being a rape survivor and to shelter one's self with the #MeToo movement is disgusting.
Now, Leah McSveeny is back with Hollywood Should Step Aside From The #MeToo Movement, an other powerful article denouncing the opportunism and hypocrisy of a third-class actresses group, ready for all manipulations and lies to use MeToo as a springboard against their dwindling career. Essentially, Rose McGowan, Asia Argento, Mira Sorvino.
Asia Argento Sexually Assaulted Jimmy Bennett in 2013, when he was 17
Since Leah first article, things have changed:
On August 19, the world learned that the Italian actress/director was paying hush money to Jimmy Bennett, a former child actor who Argento allegedly sexually assaulted in 2013, when Bennett was 17.

As if the bombshell news wasn't bad enough, Argento denied the allegations and decided it would be best to drag the name of her late boyfriend, Anthony Bourdain, into the mess she created, putting the blame on him along with her alleged victim.

But then, one day later, TMZ published a series of leaked text messages between Argento and a friend, along with a photo of Argento and Bennett in bed, confirming the allegations.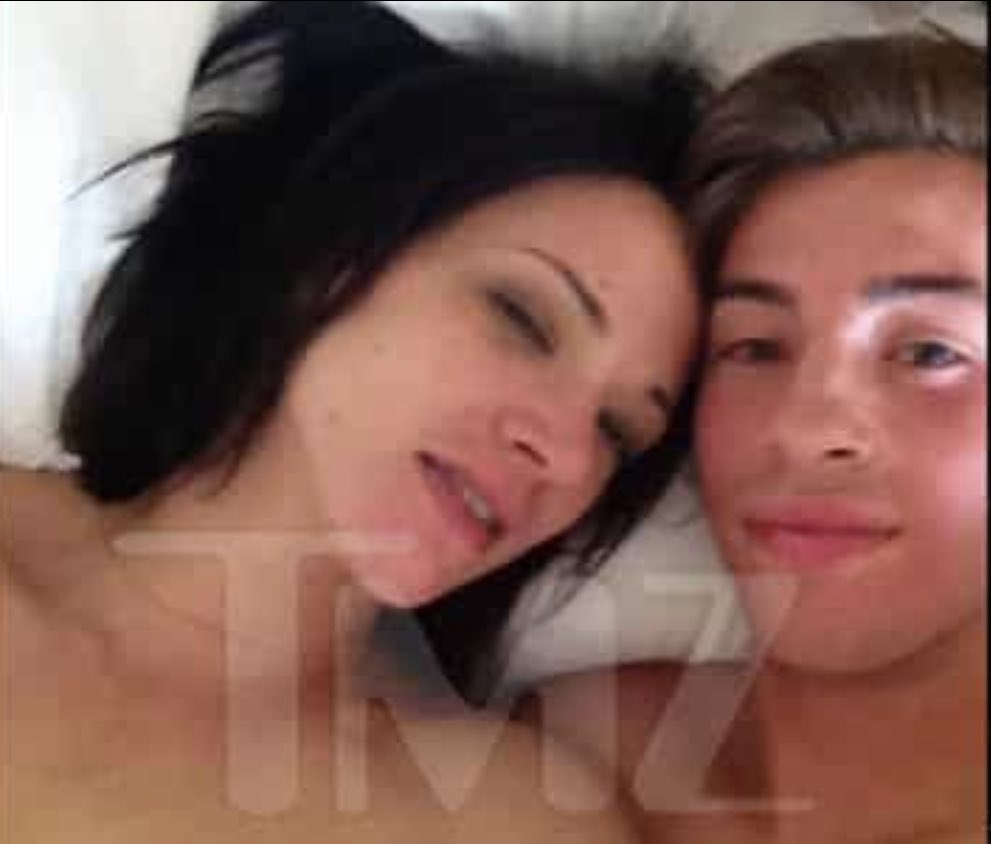 The hypocrisy of Mira Sorvino, Rosanna Arquette and Rose McGowan
Always prompt to encourage mob trial, Rose McGowan asked people to be "gentle" with Asia Argento. Following backslash, she deleted her tweet.
Mira Sorvino tweeted "Time will clarify things and perhaps she will be exonerated, but if true, there is no lens that makes it better." Rosanna Arquette tweeted "Stop until you hear all the facts this a set up".
These women have slandered Woody Allen
All these actresses "believe" Dylan Farrow and have attacked Woody Allen. Rose Mc Gowan called him a "child rapist", Mira Sorvino said Moses Farrow was not telling the truth and Argento tweeted that Ronan Farrow was defending her sister in tribunal, a grossly stupid lie (Ronan was 5 years in 1993).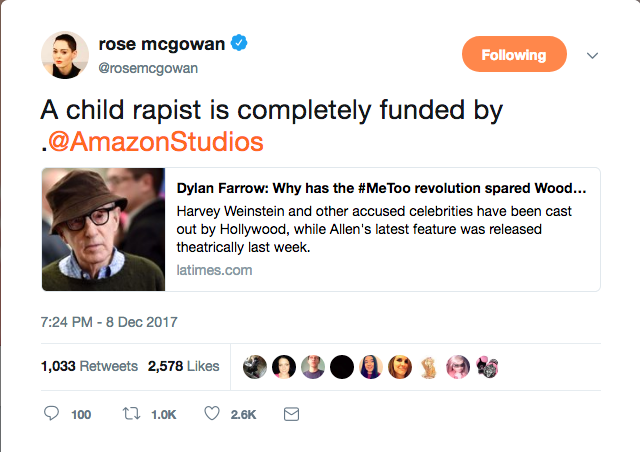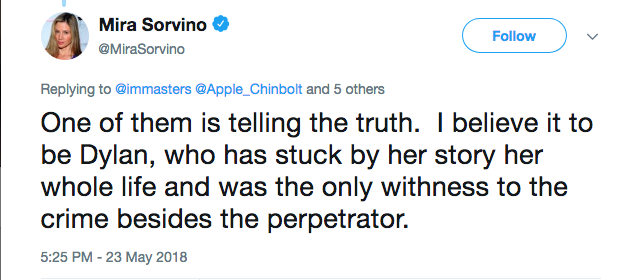 Then Rose McGowan quickly distanced herself from Asia Argento
Following the backlash, not only Rose McGowan distanced herself from Asia Argento, but her partner was the one who leaked Argento's text to TMZ:
But what I find even more pathetic and most telling is how quickly McGowan has distanced herself from Argento. She quickly tweeted that she only got to know Asia in the last ten months — when last November Argento was calling McGowan "my sister." Later, after TMZ leaked the incriminating text messages between Argento and a "source" (who turned out to be McGowan's partner, Rain Dove), McGowan got on her digital soapbox to reprimand her so-called friend.
Leah Sweeney denounces another hypocritical excuse advanced by these actresses: victims become victimizers. But as Leah has previously written, Argento "had a sexual relationship with Weinstein which resulted in a transactional, consensual union, because—let's be honest—that's how Hollywood works. Fast-forward a few years and Argento saw a bigger opportunity: She could brand herself as a survivor."
Read Leah Sweeney full article now.
Learn more about Asia Argento and Rose McGowan toxic femininity
Argento
Mc Gowan