Among those who know nothing about the case but "believe" Dylan Farrow, an overwhelming majority cites as evidence Woody Allen's relationship with Soon-Yi Previn, Mia Farrow's wé& years old adoptive daughter.
Of course, it's silly: young women or even teenagers are not 7 years old prepubescent little girls! However, we should remember that the association between Soon-Yi and Dylan was used from the beginning by Mia Farrow herself.
Mia Farrow Accused Woody Allen to Have Molested Soon-Yi
On July 11, 1992, while attending Dylan's birthday party, Allen finds the following note (confirmed in her book by nanny Kristi Groteke to have been written by Mia Farrow) attached to the door of a bathroom near the guest room where he slept (more accurately, the door of a bathroom near the guest room where he slept):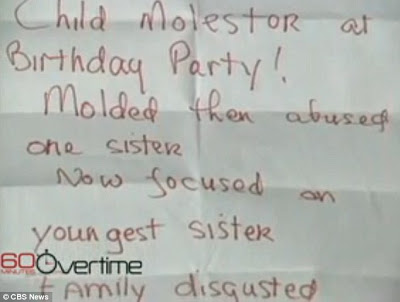 The note is also mentioned in the interview given by Woody Allen to Steve Kroft in 1992 (the video below begins directly by talking about the note):
The View that Woody Allen had Molested Soon-Yi and was a Potential Molester of Dylan Permeated the Household
The Doctor John Leventhal who headed the Connecticut investigation into whether Woody Allen molested his 7-year-old daughter, Dylan, theorized that the child either invented the story under the stress of living in a volatile and unhealthy home or that it was planted in her mind by her mother, Mia Farrow: "Even before the claim of abuse was made last August, the view of Mr. Allen as an evil and awful and terrible man permeated the household. The view that he had molested Soon-Yi and was a potential molester of Dylan permeated the household."
Eventually, Mia Farrow herself confirmed in his memoir that she wanted to use Woody's relationship with Soon-Yi who was between 19 and 21 years old, as an evidence that Woody Allen could sexually abuse a 7 years old child:
Now I viewed his [Woody Allen] behavior with Dylan in a complete different light. I no longer believed he could control himself. I no longer believed he was dealing with his problems responsibly. I was no longer sure that his "inappropriate" and "intense" behavior with Dylan was not sexual. At exactly what point does it become child abuse?
Mia Farrow. A Memoir. What Falls Away – Page 281
Woody Allen has Mentioned the Attempt to Make the Link
The video below will begin exactly when Woody Allen speaks about people trying to link is relationship with Soon-Yi with the sexual abuse allegation:
Mia Farrow Asked to Stacey Nelkin to Lie About her Age
And if it wasn't enough, Mia Farrow tried to convince Stacey Nelkin to lie by telling she was underage when she was dating Woody Allen:
So, as silly – and both disgusting and despicable – it could be, maybe we shouldn't be surprise that so many people believe that Woody Allen sexually abused his 7 years old adoptive daughter, Dylan Farrow, because he was romantically involved with Soon-Yi Previn.