Who is Ronan Farrow's father ? In an interview with Mia Farrow for Vanity Fair, in November 2013, Maureen Orth asked her if Ronan was the son of Frank Sinatra. "Possibly," answered Mia Farrow who in the same interview, claims that she and Sinatra "never really split up".
Mia Farrow endless hypocrisy: she was dating Sinatra when she was 16 years old
Mia Farrow has always tried to link the alleged sexual abuse of Dylan Farrow, a prepubescent 7 years old little girl, to the relationship between Woody Allen and Soon-Yi Previn who was 21 years old when they began their romantic relationship.
She has multiplied lies to convince people that Soon-Yi wasn't 21 but much younger and her representatives asked to Stacey Nelkin to lie and says she was only 15 when she was dating Woody Allen.
The official version claims that Mia Farrow met Frank Sinatra when she was 19, and he was nearing 50. Mia Farrow was on the 20th Century Fox lot filming Peyton Place when she ran into the crooner, who was shooting WWII film Von Ryan's Express.
But first, in her autobiography, What Falls Away, Mia Farrow wrote she met Frank Sinatra when she was 11 years old: "Pretty girl" he had joked and my father returned, "You stay away from her".
And second, during a shoot with photographer Tom Palumbo, Mia Farrow, 16 years old, said she was dating Frank Sinatra, "but don't tell my mother"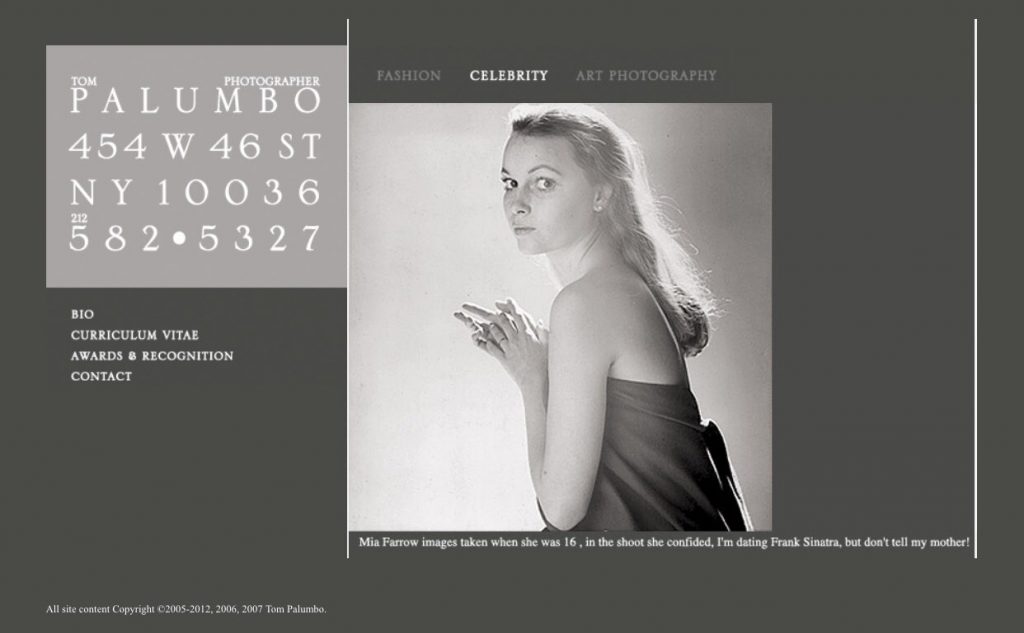 So, since he met her when she was 11 years old, how long Frank Sinatra stayed away from Mia Farrow?
RELATED CONTENT. Is Mia Farrow a Pedophile Like Her Brother, a Convicted Child Molester?
Does Woody Allen Thinks he's Ronan Farrow's Father ?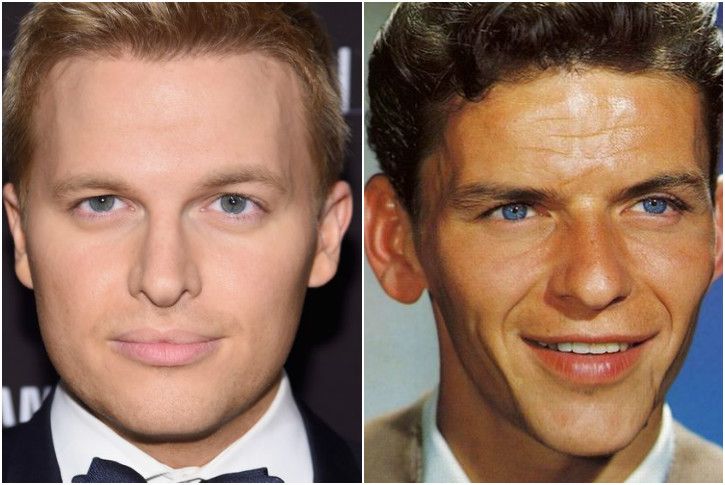 In his autobiography, Apropos of Nothing, Woody Allen writes: "One day Mia announced she was pregnant, I naturally assumed it was by me and the wolfsbane had finally kicked in; and despite her suggesting (Ronan) was Frank Sinatra's child, I think he's mine, though I'll never really know."
Related content. Woody Allen Sex Abuse Allegation: 20 Undeniable Facts.
Ronan Farrow Looks Like Sinatra but the Blue of his Eyes is Fake
Sure, Ronan Farrow can looks like Frank Sinatra but he also looks like her mother when she was young and she looks like… Frank Sinatra !
Furthermore, his "Sinatra's Blue Eyes" are fake: he wears colored contact lenses to make his eyes a brighter blue.
RELATED CONTENT. Video: The Sad Hypocrisy of Ronan Farrow.
Sinatra's family or manager doesn't believe it or says it's impossible
Ronan Farrow isn't Frank Sinatra's son, daughter Tina Says Singer had a Vasectomy
Tina Sinatra laughed when I asked if Mia Farrow's son Ronan (with Woody Allen) was her brother. Mia let that slip in November 2013 and the rumor caught fire. "Couldn't be," Tina told me. "Frank had a vasectomy before that. I don't know whose son Ronan is." Mia Farrow had been invited to the dinner but was a no-show. Tina added that Ronan looks "just like Mia's late brother." Read more on Showbiz 411.
Frank Sinatra is Definitely not Ronan Farrow's Father
That's because, at the time, Sinatra was incapacitated and impotent following a major abdominal surgery three months earlier that involved removal of 12 feet of intestine. He was recovering in Hawaii with his fourth wife, Barbara, and wearing what was essentially a colostomy bag, Kaplan said. Read more on The Mercury News.
Tony Oppedisano, Sinatra's manager and confidente says there is no way that Sinatra could have fathered Farrow's son Ronan
In Sinatra and Me: In the Wee Small Hours Tony Oppedisano tells how he became Frank Sinatra's manager and confidante.
Ronan was born in December 1987 meaning he would have been conceived in late March or early April of that year.
But at the time Sinatra had emergency diverticulitis surgery at the Eisenhower Medical Center in Rancho Mirage, California.
After coming out of hospital he had to wear a colostomy bag until he recovered – hardly the time to be carrying on an affair behind his fourth wife Barbara's back.
Highly Unlikely Frank Sinatra is Father of her Son with Woody Allen
Farrow hates Allen now. But she wrote in her book, "What Falls Away," that during that time she and Woody "were in each other's company constantly."
Plus, Sinatra was married to Barbara Marx, his last wife. He was 71 years old. Barbara didn't let Frank out of her sights for a minute. Sinatra toured all year. When Ronan was born he was doing shows with Liza Minnelli in New Jersey. He wasn't stupid. And Frank Sinatra would certainly have claimed a child, a son. Read more on Showbiz 411.
Some questions and remarks
Why did Mia Farrow Wait that Sinatra was Dead to Make her Allegation ?
Related content. Mia Farrow, Her Family, Woody Allen: 40 Undeniable Facts.
Mia Farrow said her and Frank Sinatra "never really split up". But if Sinatra is Ronan's father, it means that not only she cheated on Woody Allen, not only Woody Allen spent money for Sinatra's son, but she lied in Court under oat.
"I paid for child support for him for his whole childhood, and I don't think that's very fair if he's not mine. Also, she represented herself as a faithful person, and she certainly wasn't." – Woody Allen
Mia Farrow he's not a woman that you can trust. In fact, according to the Child Sexual Abuse Clinic Evaluation of Dylan Farrow by the Yale-New Haven Hospital, Mia Farrow could have influenced or coached her adoptive daughter to make the sexual abuse allegation against Woody Allen: "…and third, that Dylan was coached or influenced by her mother, Ms. Farrow."
Related content. Moses Farrow: A Son Speak Out.
Why did Mia Farrow wait so long to suggest Ronan could be Frank Sinatra's son ? Why did she wait that Frank Sinatra was dead and couldn't confirm or infirm her allegation that he was Ronan Farrow's father ?
During the Custody Battle Against Woody Allen, Mia Farrow Could Have Speak out that Ronan was Sinatra's son
While Mia Farrow ultimately won the custody battle against Woody Allen, she wasn't sure to win, especially after the Yale report suggested that she has coached her adopted daughter Dylan to make the sexual abuse allegation against Woody Allen. She could have grandly improved her chances to get Satchel (Ronan) custody if Woody Allen wasn't the father.
Why Ronan Farrow doesn't take a DNA test ?
Ronan Farrow hates Woody Allen. Why doesn't he take a DNA test ?
But when pressed as to why he just doesn't take a DNA test to end the chatter once and for all, the 25-year-old lawyer and human rights activist dismissed the idea, preferring to talk about his new gig instead. Read more on E!
More about Ronan Farrow
The video won't begin at the beginning but at 1:36:10: it's all about Ronan Farrow.