Hollywood Ending is a 2002 American comedy film written and directed by Woody Allen, who also plays the principal character. It tells the story of a once-famous film director who suffers hysterical blindness due to the intense pressure of directing.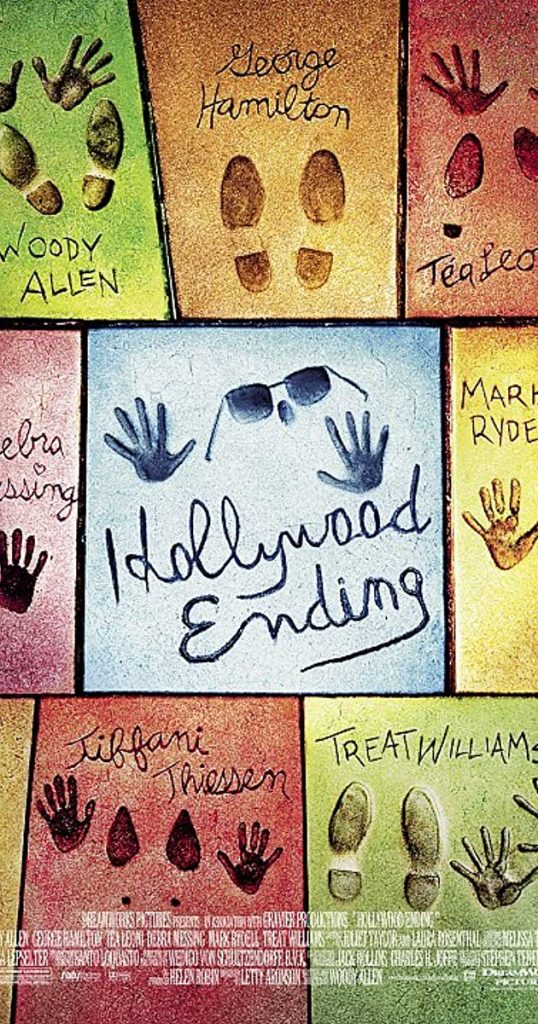 Trailer
Cast
See Hollywood Ending full cast.
Clips
Soundtracks
It's Been So Long
Serenade in Blue
Hooray For Hollywood
Hollywood Ending: Critical response
IMDB
"I love Woody Allen films, and this brilliant offering is no exception. Full of quick wit and humour with one-liners that have you laughing out loud. A wonderful movie that I rented first and loved so much that I went out and bought the dvd. Super!"
Rotten Tomatoes
On Rotten Tomatoes, the film holds an approval rating of 46% based on 134 reviews and an audience score of 49% based on 10506 rating.
Metacritic
Metacritic reported the film had an average score of 46 out of 100, based on 37 reviews and an user score of 6.9 based on 18 rating.
AlloCiné
On French AlloCiné, it gets 3.8/5 (press, 21 reviews) and 3.4/5 (spectators, 1043 ratings).
Box Office
Worldwide: $14,569,744 – Domestic: $4,850,753 – International: $9,718,991
Quote
Val: "You know, I would kill for this job, but the people I want to kill are the people offering me the job."
Woody Allen's Next and Previous Movies
Previous: The Curse of the Jade Scorpion – Next: Anything Else