Shadows and Fog is a 1991 American black-and-white comedy film directed by Woody Allen and based on his one-act play Death. It was filmed on a 26,000-square-foot (2,400 m2) set at Kaufman Astoria Studios, which was the biggest set ever built in New York. It was also Allen's last film for Orion Pictures.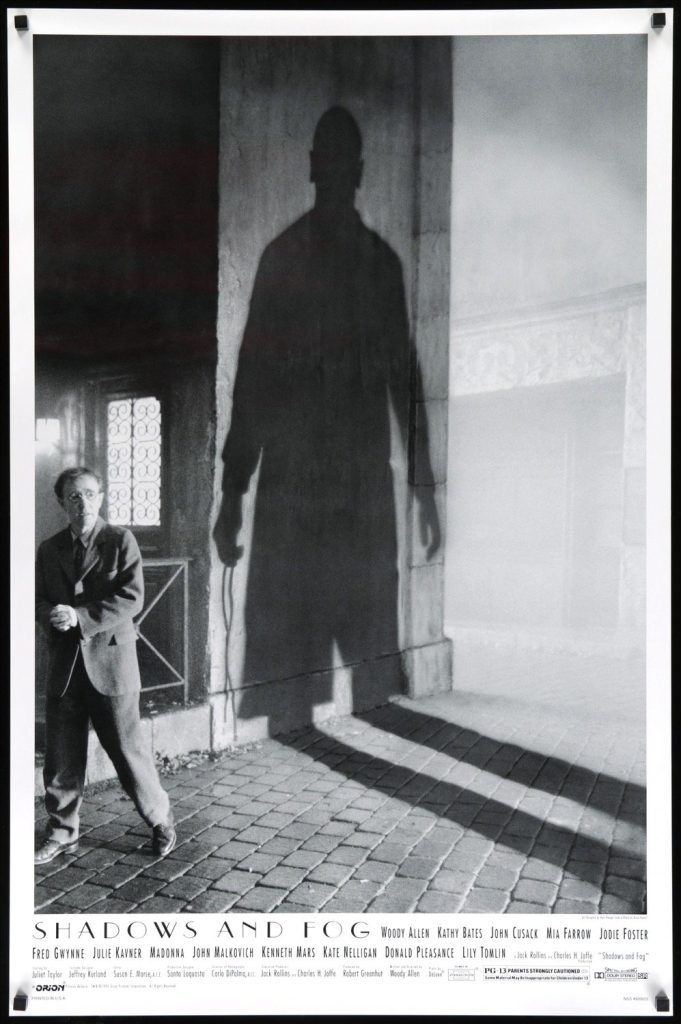 Trailer
Cast
See Shadows and Fog full cast.
Clips
Madonna/John Malkovich
Soundtracks
The Cannon Song from Little Threepenny Music – Kurt Weill
Moritat from the Three Penny Opera – Kurt Weill
Prologue from the Seven Deadly Sins – Kurt Weill
Playlist on Youtube
Shadows and Fog: Critical Response
IMDB
"Shadows and Fog" is Woody Allen's tribute to German Expressionism, and it's very interesting, often funny, and at times downright strange."
Rotten Tomatoes
On Rotten Tomatoes, the film holds an approval rating of 52% for 27 reviews. The audience score is rated 55% for 5000+ ratings.
AlloCiné
On French AlloCiné, it gets 3.5/5 (spectators, 547 ratings).
Box Office
Quote
Clown: "We're not like other people, we're artists, you know with great talent comes responsibility."
10 Things about Shadows and Fog
Woody Allen's Next and Previous Movies
Previous:  Alice – Next: Husbands and Wives