The Curse of the Jade Scorpion is a 2001 American crime comedy film written, directed and starring Woody Allen. The plot concerns an insurance investigator and an efficiency expert who are both hypnotized by a crooked hypnotist into stealing jewels.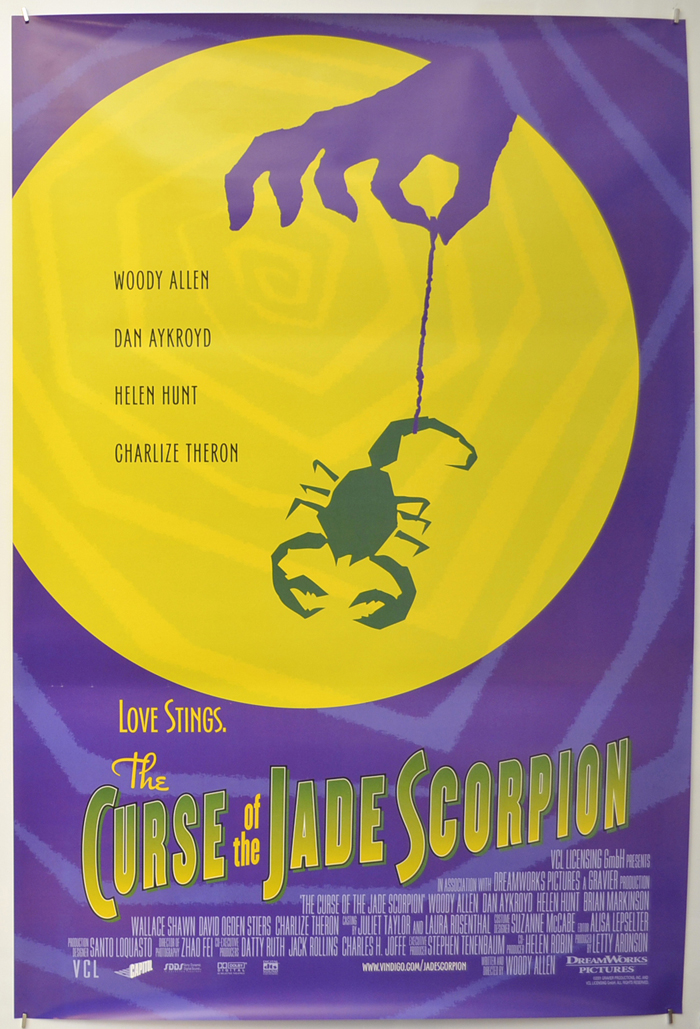 Trailer
Cast
The Curse of the Jade Scorpion full cast.
Clips
Soundtracks
The Curse of the Jade Scorpion : Critical Response
IMDB
"This is one movie that I'm glad I finally got to see! Woody Allen has proved time and again that he is one of the funniest actor/directors ever. This movie re-affirms that. Great casting as always. I wonder if stars come to Woody and ask if they can be in his movies."
Rotten Tomatoes
On Rotten Tomatoes, the film holds an approval rating of 46% based on 123 reviews and an audience score of 53% based on 16533 rating.
Metacritic
Metacritic reported the film had an average score of 52 out of 100, based on 31 reviews and an user score of 6.5 based on 20 rating.
AlloCiné
On French AlloCiné, it gets 3.7/5 (press, 23 reviews) and 3.4/5 (spectators, 1680 ratings).
Quote
C.W.: "Are you divorced or widowed? Did your husband commit suicide? I could understand that."
Interviews
Hélène Hunt
Elisabeth Berkley
Woody Allen's Next and Previous Movies
Previous: Small Time Crooks – Next: Hollywood Ending