Manhattan is a 1979 American romantic comedy film directed by Woody Allen and produced by Charles H. Joffe. The screenplay was written by Allen and Marshall Brickman. Allen co-stars as a twice-divorced 42-year-old comedy writer who dates a 17-year-old girl (Mariel Hemingway) but falls in love with his best friend (Michael Murphy)'s mistress (Diane Keaton). Meryl Streep and Anne Byrne also star.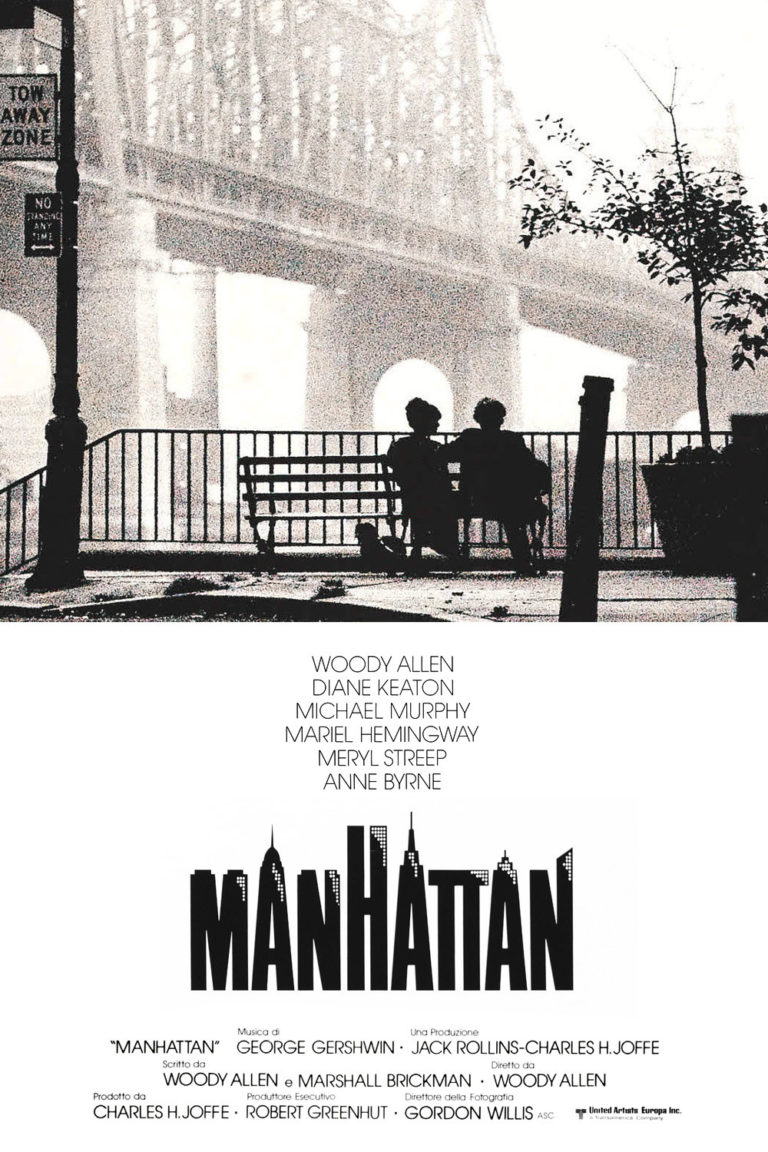 Trailer
Cast
Movie Clips
Soundtrack
Rhapsody in Blue
He Loves and She Loves
Love is Sweeping the Country
About Manhattan music by Georges Gershwin
All titles of the soundtrack were compositions by George Gershwin. They were performed by the New York Philharmonic under Zubin Mehta and the Buffalo Philharmonic under Michael Tilson Thomas.
30 seconds of music by Wolfgang Amadeus Mozart
Manhattan: Critical Reception
IMDB
Rotten Tomatoes
On Rotten Tomatoes the film holds an approval rating of 96% for 67 reviews. The audience score is rated 92% for 51819 notes.
Metacritic
Metacritic reported the film had an average score of 83 out of 100, based on 10 reviews and an user score of 8.2 based on 123 ratings.
AlloCiné
On French AlloCiné, it gets 4.6/5 (press, 10 reviews) and 4.0/5 (spectators, 5318 ratings).
Box Office
Worldwide: $40,194,067 – Domestic: $39,946,780 – International: $247,287
Quotes
Chapter one
Isaac Davis: Chapter One: He adored New York City. To him it was a metaphor for the decay of contemporary culture. The same lack of individual integrity that caused so many people to take the easy way out was rapidly turning the town of his dreams in – no, it's gonna be too preachy, I mean, you know, let's face it, I wanna sell some books here. 
So beautiful
Isaac Davis: "My analyst warned me, but you were so beautiful I got another analyst."
Interstellar perversion
Isaac Davis: "I had a mad impulse to throw you down on the lunar surface and commit interstellar perversion."
Scripts & Clips
Behind the scene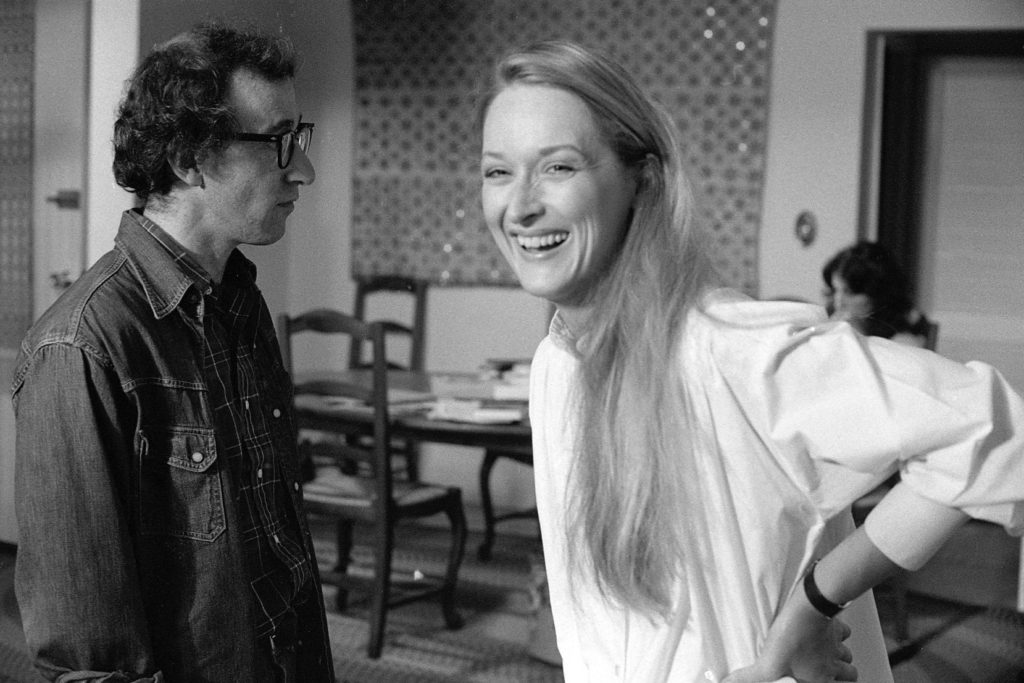 Manhattan as the evidence that Woody Allen sexually abused his 7 years old adoptive daughter
Ike used the age difference with Tracy to avoid the complexities of another adult relationship. By the end of Manhattan, she's stepping into adulthood without him. That's what the film is about. – You're Watching Manhattan Wrong – Michael Maiello
Many people, usually the nobody mob trial apologists and despicable MeTooWitchHunt groupies, are not ashamed to say that a 42 years old character dating a 17 years old teenager is the evidence that Woody Allen is a pedophile who sexually abused his 7 years old prepubescent adoptive daughter, Dylan Farrow.
Related content. Confusing a prepubescent child and a teenager may suggest pedophilia.
"In real life, Woody and I didn't have a romantic relationship, but he did make me feel incredibly intelligent," she said to W. "He took me to museums and concerts. He gave me his wisdom, and you can see that in the character." – Mariel Hemingway
Ya know what I take it back. Woody Allen is just a man who loves to "tell stories" about having sex with underage children. Not a sexually abusive man who in fact did have sex with underage children…oh wait he also did that. Okay wait, but he's funny. Okay that's why it's okay! pic.twitter.com/d00XuAOCSL

— Kelsey Caine (@kelsey_caine) April 11, 2020
A He Said/She Said situation between a grown man and a 7-yr-old. And he's handing the benefit of the doubt to the grown man who married his partner's adopted daughter, a girl he met when she was 8. And he made Manhattan. Pretty damning portrait of the man he chooses to believe. pic.twitter.com/K0zkMj5rRJ

— Lindsay Katai (@lindsaykatai) April 3, 2020
For years I was not principled about W*ody Allen; I liked his movies & Soon-Yi was before my time, maybe it was ok?? Then Dylan Farrow retold her truth & I realised I knew all along who he was,esp when I'd felt confused &disgusted at the plotline w/Mariel Hemingway in "Manhattan"

— Clare (@shneafumor) March 6, 2020
Mariel Hemmingway was a 17 year old actor on MANHATTAN when 44 yr old Woody Allen groped her without prior consent under cover of making a movie. I believe Dylan Farrow 😀

— Brad Barnes (@BradBarnes17) October 21, 2018
…he molested his daughter, Dylan Farrow; made sexual advances on Mariel Hemmingway during filming of Manhattan. Woody Allen's a narcissistic weirdo, always sexual themes in his movies all about him…creepy.https://t.co/R0WaGbvEmG

— Just sayin' (@mrmjustsayin) June 4, 2018
So Manhattan is a movie about #WoodyAllen wanting to fuck a 17 year old…played by a 16 year old…who he makes out with, lusts over, and this film is held in high regard…and you want to call #DylanFarrow a liar. I think I fell asleep on Woody Allen day in film class…wow.

— Sanguine Lunari (@BloodMoonbeam) January 24, 2018
Mariel Hemingway and Woody Allen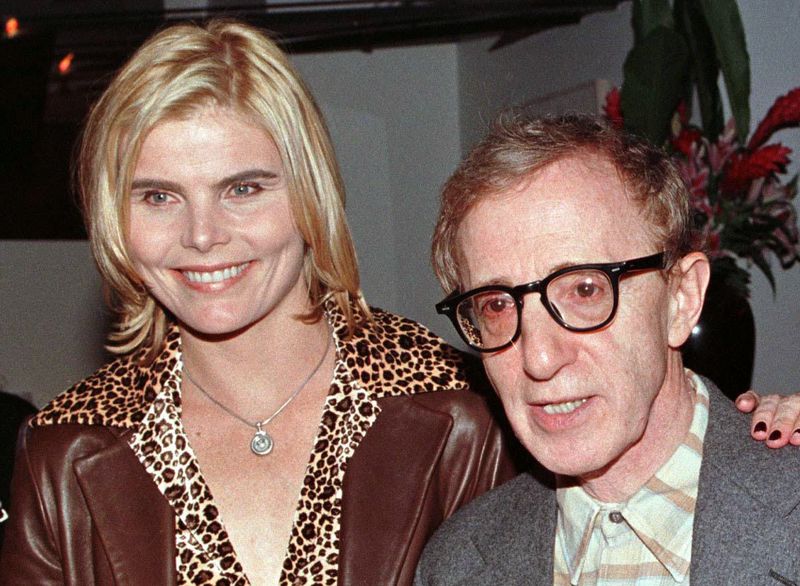 Hemingway said that Allen wanted to take her to Paris, but she said non, merci and that was that.
While Hemingway says Allen seemed inclined to pursue a romantic relationship, she valued his friendship. "In real life, Woody and I didn't have a romantic relationship, but he did make me feel incredibly intelligent," she said to W. "He took me to museums and concerts. He gave me his wisdom, and you can see that in the character." – Entertainment Weekly
"I had an amazing time making that film," said Hemingway. "Woody Allen was wonderful to me. Did he like me? Yeah, he liked me. I didn't have a relationship with him though. He respected that I didn't want to have that." – Mediaite (the article is lying about Mariel Hemingway's age, she was 17, not 16)
Stacey Nelkin is Manhattan inspiration, not  Christina Engelhardt
In Allen v. Farrow, Christina Engelhardt is interviewed and claims she was the inspirational source for Tracy character : it's a lie. The true inspirational source for Tracy character is Stacey Nelkin.
RELATED CONTENT. Mia Farrow representatives asked to Stacey Nelkin to say she was 15 years old when she was dating Woody Allen.