Scoop is a 2006 romantic crime comedy film written and directed by Woody Allen and starring Allen himself. Except "Crisis in Six Scenes", a TV series, it's Woody Allen penultimate appearance in one of his own films before To Rome With Love. The film was released in the United States by Focus Features on July 28, 2006.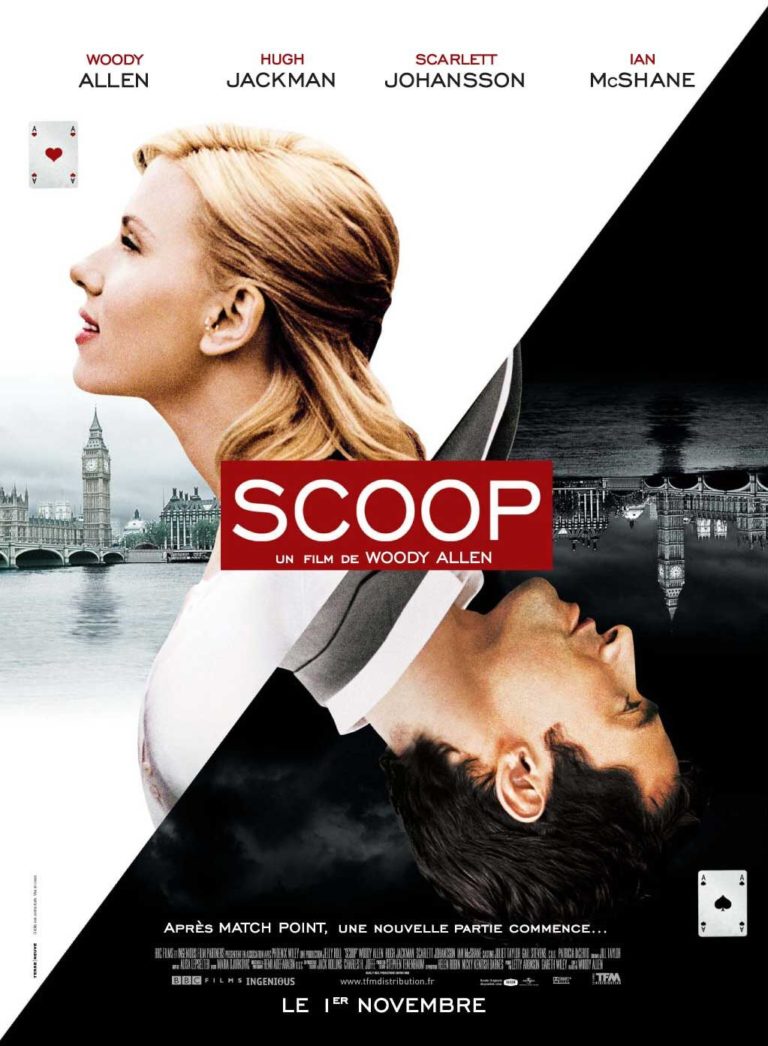 Trailer
Cast
Clips
Soundtracks
Swan Lake
Playlist on Youtube
Scoop: Critical Response
IMDB
"Reading a wide variety of Scoop reviews over the past few days, I walked into the theater prepared for a subpar outing from Woody. Happily, I couldn't have been more wrong. Granted, Woody the performer is slowing down a touch or two, but Woody the writer/director is in fine form – and found a credible way to integrate his 70-year old self into the story."
Rotten Tomatoes
On Rotten Tomatoes, the film holds an approval rating of 41% for 149 reviews. The audience score is rated 55% for 70201 notes.
Metacritic
Metacritic reported the film had an average score of 48 out of 100, based on 35 reviews and an user score of 6.5 based on 102 rating.
AlloCiné
On French AlloCiné, it gets 3.7/5 (press, 26 reviews) and 3.6/5 (spectators, 12131 ratings).
Box Office
Worldwide: $39,220,946 – Domestic: $10,525,717 – International: $28,695,229
Quote
Sid Waterman: "I was in the lounge, I heard you drowning, I finished my tea and scones and came immediately!"
Interviews
Scarlett Johansson
Hugh Jackman
Scarlett Johansson on Woody Allen's innocence
"I love Woody. I believe him, and I would work with him anytime. I see Woody whenever I can, and I have had a lot of conversations with him about it. I have been very direct with him, and he's very direct with me. He maintains his innocence, and I believe him."
Read the full article on National Post.
Woody Allen's Next and Previous Movies
Previous: Match Point – Next: Cassandra's Dream