Mira Sorvino's Oscar for Best Supporting Actress was won with Mighty Aphrodite, written and directed by Woody Allen. With the role of Linda Ash, she won the 1995 Academy Award for Best Supporting Actress, as well as a Golden Globe Award, New York Film Critics Circle Award, Critics' Choice Movie Award, National Board of Review Award, and a Dallas–Fort Worth Film Critics Association Award.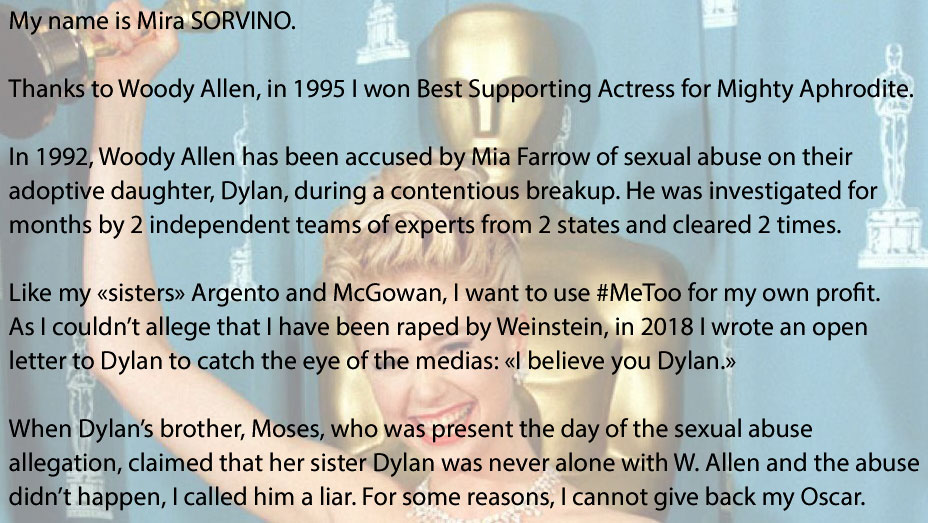 It didn't came as a surprise: Actors and Actresses are always exceptionally good in Woody Allen's movies. In 2014, Cate Blanchett was seventh Oscar Winner from Woody Allen's films.
Mira Sorvino was an adult when Woody Allen was investigated and cleared for sexual abuse
Mira Sorvino is born on September 1967. Her age was close to 25 years old when in August 1992, Woody Allen was accused by Mia Farrow of having sexually assaulted his 7 years old adoptive daughter, Dylan Farrow.
RELATIVE CONTENT. Woody Allen Sex Abuse Allegation: 20 Undeniable Facts.
Woody Allen, who has always denied the accusations, was investigated for months by two independent team of experts on sexual abuse: The Yale-Haven Hospital in Connecticut and the New York State child welfare in New York. Both of them didn't find any reasons to charge him and the Yale report suggested that Dylan Farrow was coached or influenced by her mother, Mia Farrow.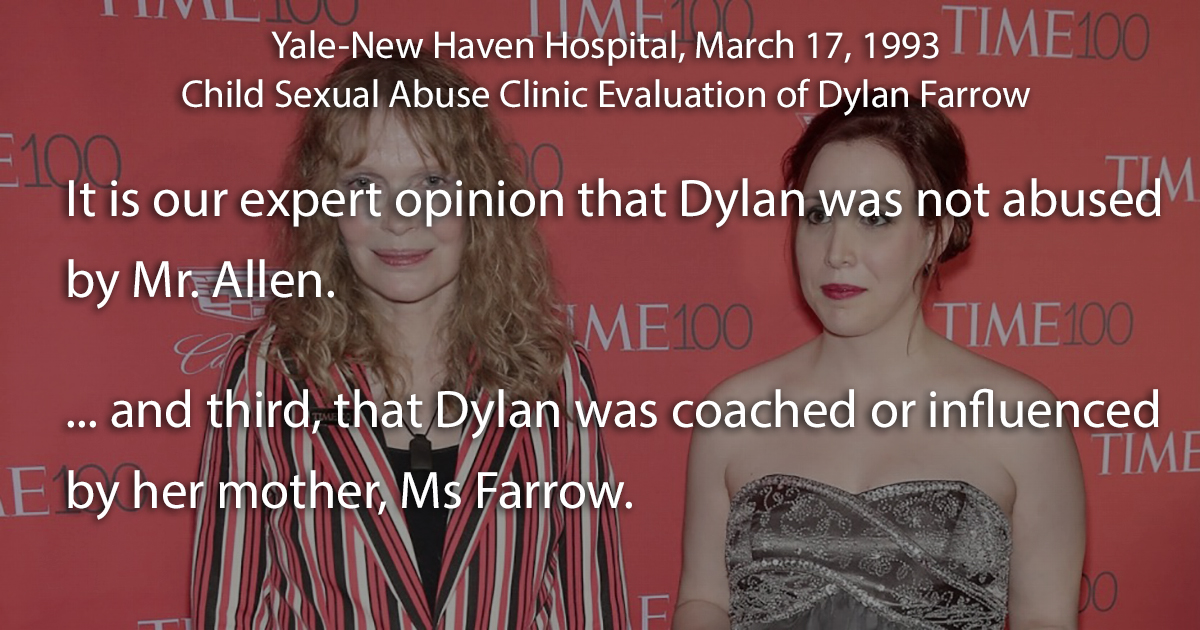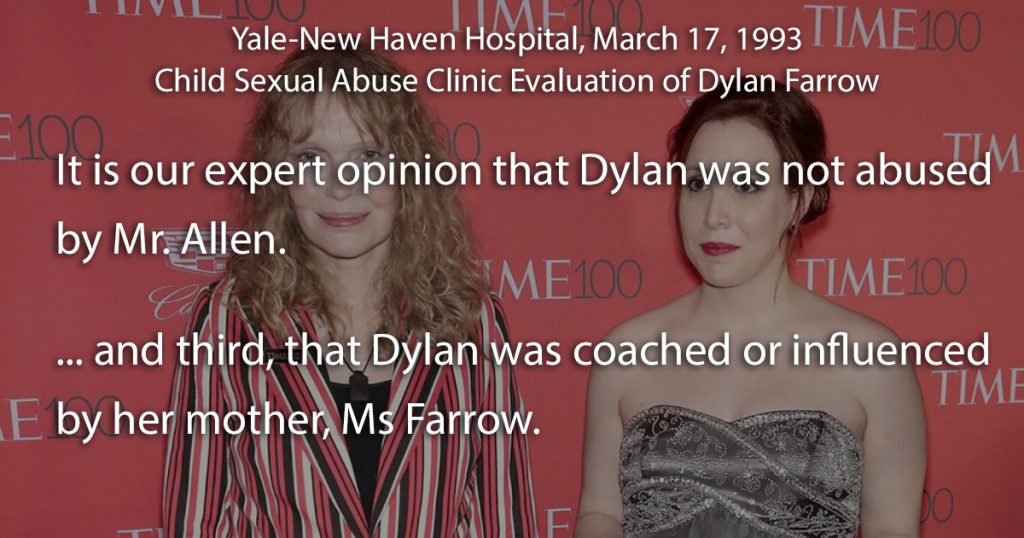 Moses Farrow is the adoptive son of Mia Farrow and Woody Allen. Since 2014, he has confirmed many times that her mother has coached his 7 years old sister to say she was abused by Woody Allen.
So many times I saw my mother try to convince her that she was abused – and it has worked. Some day, I hope Dylan can escape from my mother, confront the truth and begin her own healing. #truthislouder

— Moses Farrow (@MosesFarrow) January 18, 2018
More about Mira Sorvino and Moses Farrow later.
Mira Sorvino's open letter to Dylan Farrow
RELATIVE CONTENT. Mia Farrow, Her Family, Woody Allen: 40 Undeniable Facts .
Like her "sisters" Asia Argento and Rose McGowan, Mira Sorvino wanted to use the MeToo movement for her own profit. As she couldn't allege she has been raped by Weinstein, on January 11, 2018, she send an open letter to Dylan Farrow to catch the eye of the medias.
Hello. I apologize for this being the first time I address you in print, what will be the first of several apologies today. I am writing to express my belief in and support of you.
And Mira Sorvino wrote:
As a young actress I landed the dream role of Linda Ash in "Mighty Aphrodite," and the artistic license he allowed me to create the character was thrilling. We were friendly though not close, but in no way did he ever overstep his bounds with me; I never personally experienced what has now been described as inappropriate behavior toward young girls. (…) In December I called your brother Ronan, sharing about the aftermath of my and other women's coming forward about Harvey Weinstein. (…) I told him I wanted to learn more about you and your situation. He pointed me toward publicly available details of the case I had ruefully never known of, which made me begin to feel the evidence strongly supported your story. That you have been telling the truth all along.
Ronan Farrow is Dylan Farrow's brother (Dylan was adopted by Mia Farrow and Woody Allen, Ronan is the only biological child from Woody and Mia). The Sunday Times ran a profile on Ronan Farrow describing him as "The man who took down Weinstein." Beside Mira Sorvino (the Time has published an article where she speaks out against Weinstein), more than 80 women have accused Weinstein of inappropriate to criminal behavior ranging from requests for massages to intimidating sexual advances to rape.
Ronan Farrow supports his sister's accusation: born on December 19, 1987 he was 4 years old in 1992 and was raised in hatred of Woody Allen by Mia Farrow.
Some questions for Mira Sorvino
Ronan Farrow allowed you to speak out against Weinstein, was you free to not believe his sister when he was listening and believing you?
Woody Allen has a sister and a wife, why didn't you ask them to point you toward "publicly available details" of the case? Was it because you was sure that these "details" will have been the same as the ones pointed by Ronan Farrow ?
Why didn't or don't you use Google and search on Woody Allen's case by yourself, instead of letting Ronan Farrow to choose for you what you must read and what you don't ?
Mira Sorvino does not cite any of the details she had ruefully never known of, which made her begins to feel the evidence strongly supported Dylan story.
So, what are these publicly available details pointed by Ronan Farrow?
Is it the Supreme Court document?
Because of Woody Allen celebrity and because he wasn't showing remorse about his love relationship with Soon-Yi Previn, Mia Farrow 's 19 years old adoptive daughter, Justice Wilk's conclusions are skewed by barely concealed revulsion toward him. Worst, as if that was not enough to make it biased, he was married to an attorney who advocates for abused women and children and "believes the victim".
Wilk challenged ALL the testimonies saying that Woody Allen didn't abuse Dylan: the Dr. Susan Coates (a woman), the Dr. Nancy Schultz (a woman) the Yale-New Haven team (see below), the expert Richard Marcus, formerly head of the Manhattan Sex Crimes Unit.
Without explanation, Wilk also challenged a previous testimony by Mia Farrow praising Woody Allen as a good father: Mr. Allen's reliance on the affidavit which praises his parenting skills, submitted by Ms. Farrow in connection with his petition to adopt Moses and Dylan, is misplaced. Its ultimate probative value will be determined in the pending Surrogate's Court proceeding. In the context of the facts and circumstances of this action, I accord it little weight.
Still, at the end, he was forced to say that The evidence suggests that it is unlikely that he could be successfully prosecuted for sexual abuse.
Both people believing Dylan and Dylan herself, constantly quote Wilk's words, stating that "Mr. Allen's behavior toward Dylan was grossly inappropriate and that measures must be taken to protect her." as an evidence that Woody Allen abused Dylan.
But the full sentence says an other story:
The credible testimony of Ms. Farrow, Dr. Coates, Dr. Leventhal and Mr. Allen does, however, prove that Mr. Allen's behavior toward Dylan was grossly inappropriate and that measures must be taken to protect her.
Woody Allen didn't testify against himself. And both the Dr. Coates and the Dr. Leventhal thought Woody Allen didn't abuse Dylan. So, the "grossly inappropriate" behavior wasn't about the sexual abuse allegation. Seriously, when somebody is convicted of rape or sexual abuse, do you think that the Judge is going to call his crime a "grossly inappropriate behavior" ?

Without surprise, Dylan's believers don't quote that He (Woody Allen) did not bathe his children. He did not dress them, except from time to time, and then only to help them put on their socks and jackets.
A "damning" fact against a man accused to be a pedophile, isn't it Mira Sorvino?
Is it The Child Sexual Abuse Clinic Evaluation of Dylan Farrow by the Yale-New Haven Hospital?
The New-Haven Hospital report is publicly available for everybody. Is it one of the detail pointed to Mira Sorvino by Ronan Farrow?
The Yale-New Haven investigation was conducted over a six-month period by Dr. Leventhal, a pediatrician; Dr. Julia Hamilton, who has a Ph.D. in social work; and Ms. Jennifer Sawyer, who has a master's degree in social work. They interviewed Dylan Farrow 9 times and also met Woody Allen, Mia Farrow, two babysitters and two psychotherapists.
It is our expert opinion that Dylan was not sexually abused by Mr. Allen. Further, we believe that Dylan's statement on videotape and her statement to us during our evaluation do not refer to actual events that occurred to her on August 4, 1992.
One of the hypotheses to explain Dylan's statement was that Mia Farrow has influenced or coached Dylan.
Mira Sorvino can also read an article "Doctor cites inconsistencies in Dylan Farrow's Statement" from the NYT about the Yale report where Dr. Leventhal said it was "very striking" that each time Dylan spoke of the abuse, she coupled it with 'one, her father's relationship with Soon-Yi, and two, the fact that it was her poor mother, her poor mother,' who had lost a career in Mr. Allen's films.
Is it The state Department of Social Services child welfare investigation?
It's certainly an other detail pointed to Mira Sorvino by Ronan Farrow.
The state Department of Social Services informed Mr. Allen in a letter dated Oct. 7 that it had closed the 14-month-old investigation. "No credible evidence was found that the child named in this report has been abused or maltreated," the letter said. "This report has, therefore, been considered unfounded."
Is it John Maco's STATEMENT OF DECISION SEPTEMBER 24, 1993?
Here is John Maco STATEMENT OF DECISION SEPTEMBER 24, 1993, a publicly available for everybody.
Did Mira Sorvino read the full statement? Or only an article mentioning that the prosecutor John Maco said he has "probable cause" to press charges against Allen but declined to prosecute, due to the fragility of the "child victim"?
John Maco never said what the "probable cause" was. Nor in 1993, nor in 2014. But anybody reading the full statement instead of isolating "probable cause" understand the true reason. If John Maco wanted to avoid the unjustifiable risk of exposing a child to the rigors and uncertainties of a questionable prosecution it was because…
…even Justice Wilk, in doubting the success of a criminal prosecution and working in the framework of an evidentiary standard less severe than proof beyond a reasonable doubt, could not definitely conclude that sexual abuse had occurred.
In others words, Maco was sure to loose against Woody Allen.
And did Mira Sorvino also read this article in the New York Times, Woody Allen Asks Connecticut to Discipline Prosecutor? It's certainly one of the details publicly available pointed out by Ronan Farrow.
Current and former prosecutors said they could not see Mr. Maco's basis for rejecting his own experts. They also questioned why he kept the case open until more than six months after the hospital delivered its report.
Woody Allen sued Maco: a panel judged Maco's actions was inappropriate, unsolicited and potentially prejudicial and also violated the prosecutor's obligation to the accused. The case ran until 1996. Maco was suspended for much of that time, losing his living, and costing the states hundreds of thousands of dollars in defence.
Is it Monica Thompson testimony about her doubts and Moses Farrow doubts?
The testimony by the nanny Monica Thompson is reported by the Los Angeles Time, February 2, 1993.
The nanny said that on several occasions the actress "asked me if I would be 'on her side.' Ms. Farrow has tried to get me to say that I would support her with these accusations."

Thompson added that on one occasion almost immediately after the alleged incident, Moses, 14, another child Allen and Farrow adopted, indicated doubts about what, if anything, had taken place.

"Moses came over to me and said that he believes that Ms. Farrow had made up the accusation that was being said by Dylan," Thompson said in an affidavit.
This is the kind of detail accessible to the public that should have interested Mira Sorvino. Was it pointed out to her by Ronan Farrow? No? Why? Yes? And still Mira Sorvino is saying that Moses Farrow is lying?

Mira Sorvino isn't ashamed, using the most stupid rhetoric, to say that Moses Farrow is lying
Moses Farrow was in the house watching Woody Allen on August 4, 1992, and as we know by Thompson's testimony, never believed that his father abused his sister Dylan Farrow.
On February 5, 2014, four days after Dylan Farrow's open letter to The New York Times, Moses Farrow spoke on People magazine to defend Woody Allen. In her answer, Dylan Farrow said "My brother is dead to me." How nice when you know that her sister Lark became a drug addict and died in poverty from AIDS at 35, her sister Tam committed suicide at 21, her brother Thaddeus killed himself at 27.
On May 23, 2018, Moses Farrow published a long essay on his blog, claiming again that his mother Mia Farrow was abusive with him and the others children, especially Soon-Yi.
About the sexual abuse allegation on August 4, 1992, Moses wrote:
I was present for everything that transpired in our house before, during, and after the alleged event.

Strangers on Twitter pose me this question all the time: 'You weren't there to witness the assault, so how do you know it didn't happen?' But how could anyone witness an assault if it never happened?
Still, few hours later, Mira Sorvino was not ashamed to write this tweet: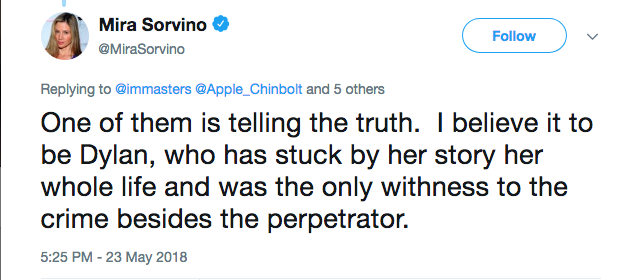 Why not:
One of them is telling the truth. I believe it to be Woody Allen, who has stuck by his denial his all life and is the only witness to the imaginary crime beside the accuser found not credible by two independent teams (Connecticut, New York) of experts on sexual abuse.
No?
But anyway, Dylan didn't stuck by her story her whole life. QUITE THE OPPOSITE!
First, Dylan has changed her story many times when she was a child.
According to the experts on sexual abuse who interviewed her 9 times, Dylan Farrow changed her story from one interview to another, like whether Mr. Allen touched her vagina and even said I like to cheat on my stories.
Dylan's statements in interviews at the hospital contradicted each other and the story she told on a videotape made by Miss Farrow, Those were not minor inconsistencies. She told us initially that she hadn't been touched in the vaginal area, and she then told us that she had, then she told us that she hadn't.
Second, as an adult, she has also changed her story many times.
Dylan changed her alleged abuse from "Aggravated Sexual Assault First Degree"  (finger penetration, no evidence) to "Sexual Assault First Degree" (just touching).
This is extremely important as there is no statute of limitations for "Aggravated Sexual Assault First Degree".
Statute of limitations: Dylan Farrow is misleading all survivors.
But there is more: Dylan Farrow brought in the narrative a toy train circling around the attic. But before 2014, neither the court document, the prosecutor's statement, the Yale-New Haven report (nine interviews), nor any document or article in the press refers to Dylan Farrow or Mia Farrow reporting the presence of an electric train in the attic.
As it wasn't enough, Moses Farrow stated:
The idea that the space could possibly have accommodated a functioning electric train set, circling around the attic, is ridiculous.
So Mira Sorvino, how could you tweet that Dylan has stuck by her story her whole life? Did you miss all these publicly available details proving that she has changed her story many times, both as a child and an adult?
Did you also miss all her lies in the medias? They are publicly available and now to help you, there is also an article about some of them (not all): Dylan Farrow, 8 lies in 9 paragraphs about Woody Allen's sexual abuse allegation.
Do you believe Dylan Farrow against the facts because she's a White girl and Moses Farrow an Asian man ?
Both Tarantino and is girlfriend Sorvino stayed quiet for decades about Weinstein
Mira Sorvino is Quentin Tarantino former girlfriend. On Harvey Weinstein, Tarantino said "I know enough to do more than I did." He admits he knew about an alleged assault involving Mira Sorvino, and says he wishes he had taken responsibility.
What does it means? It means that both Tarantino and Sorvino knew from the beginning about Weinstein and both have chosen to stay quiet, letting him abuse more women.
Mira Sorvino and Michael Jackson
Both Mira Sorvino and Vanity Fair have slandered Woody Allen. I believe people should know about this tweet and read the answers to it :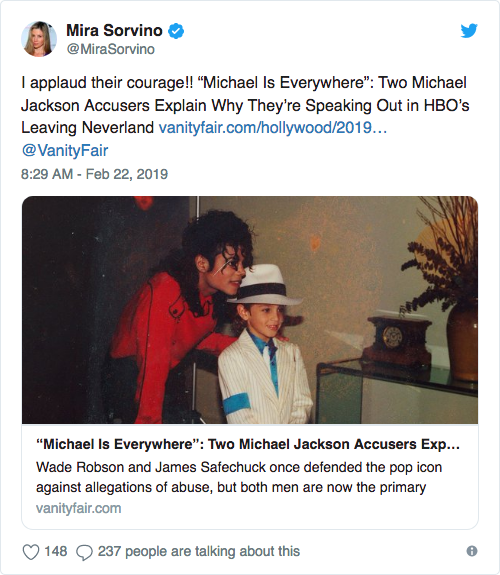 Mira Sorvino is even worst than Asia Argento and Rose McGowan
Just like her "sisters" Asia Argento and Rose McGowan, Mira Sorvino dreamed to be a star. And just like them, she's a third class actress using the MeTooWitchHunt movement for her own profit.
Asia Argento and Rose McGowan are two despicable, hypocrite and opportunist human being. They both tweeted stupid lies against Woody Allen. But at least, they didn't work with him and didn't win an Oscar thanks to him.
Woody Allen was the only director able to transcend her. Without any shame, Mira Sorvino betrayed him and stabbed him in the back.
Now, Mira Sorvino is a disgusting traitor and a despicable mob trial apologist. And always a third class actress.