In the wake of MeToo and Dylan Farrow's CBS-TV interview, since the beginning of 2018, a number of actors have publicly declared they would no longer work with Woody Allen. Some have even donated their wages earned from "A Rainy Day In New York."
Actors who have publicly "expressed regret" for working with Woody Allen…
The following actors have publicly "expressed regret" () for having worked with Woody Allen (in fact, some gave their salary to MeToo or TimesUp but didn't express regrets and not all ruled out the possibility of working with him again):
Hayley Atwell (Cassandra's Dream, 2007),Rachel Brosnahan (Crisis in Six Scenes, 2016), Timothée Chalamet (A Rainy Day in New York, 2018), Colin Firth (Magic in the Moonlight, 2013), Greta Gerwig (To Rome With Love, 2012), Rebecca Hall (A Rainy Day in New York, 2018; Vicky Cristina Barcelona, 2008), David Krumholtz (Wonder Wheel, 2017), Griffin Newman (A Rainy Day in New York, 2018), Ellen Page (To Rome With Love, 2012), Peter Sarsgaard (Blue Jasmine, 2013), Mira Sorvino (Mighty Aphrodite, 1995), Evan Rachel Wood (Whatever Works, 2009).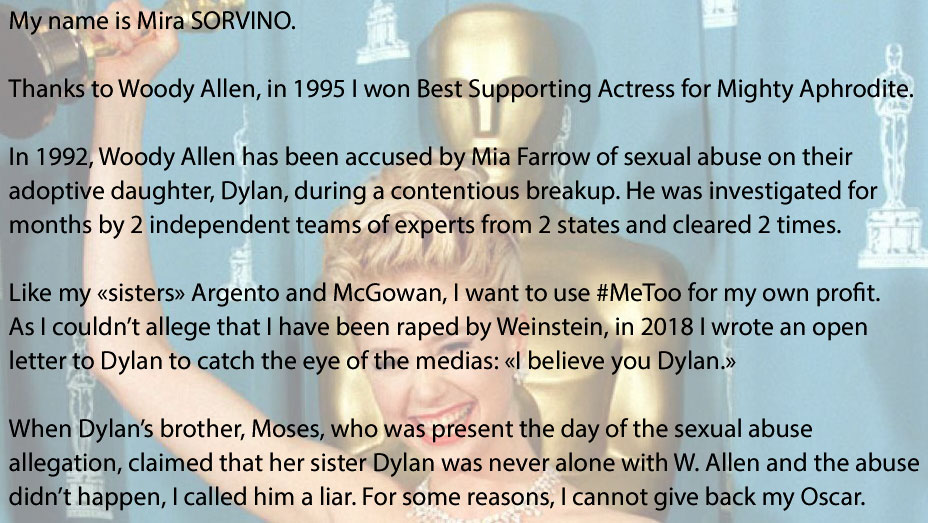 If some of these names sound unfamiliar, don't be surprised; many of them are third-class actors, like Freida Pinto, even if some bigger names like Susan Sarandon, Jessica Chastain, Natalie Portman (Everyone Says I Love You) said they won't work or won't work again with Woody Allen.
…didn't say why they believe Dylan Farrow rather than Woody Allen. But some have nuanced their words.
Firstly, it must be noted that Woody Allen hasn't asked these actors to work with him, or to work with him again! Actors exclaiming "I won't work with him again," when Woody Allen didn't even ask them, appear more than a little ludicrous.
Second, these actors didn't say WHY they believe Dylan Farrow rather than Woody Allen, or the Yale-New Haven report, or the New York State Child Welfare Dept., the Supreme Court document, or prosecutor Frank Maco's full Statement of Decision, date September 24, 1993. Or Moses Farrow's who was present on August 4, 1992.
Third, some of these actors have subsequently nuanced their words or retracted, but the press do not report it, or worse, if the "journalist" does not respect the ethical rules of their profession, which is extremely common, they may voluntarily alters the actors' words. For example:
Rebecca Hall: " I didn't [donate my salary] to make a public judgment. I did it because my conscience was affected when I became aware that a woman felt indirectly invalidated by my decision to work with a man whom she believes assaulted her."
Many actors support Woody Allen and don't believe Dylan Farrow's allegation
Jeff Goldblum : "I think there is a presumption of innocence until proven guilty. (…) I would consider working with him again, until I learned something more (negative)."
Scarlett Johansson (Match Point, Scoop, Vicky Cristina Barcelona): "I love Woody. I believe him, and I would work with him any time."
Gina Gershon is working on Woody Allen's new movie, Rifkin's Festival, on San Sebastian. "I don't believe that to be true. You should really do all of the research and read all of the articles before believing that. It's really important to make up your own mind and not go by what the masses claim. I've done extensive research and I can say with very clear conscience that I'm so happy to be working with him. This man is not a sexual predator!"
Dianne Wiest was in five Woody Allen's movies (The Purple Rose of Cairo, Hannah and Her Sisters (won the Academy Award for Best Supporting Actress), Radio Days, September, Bullets Over Broadway (won her second Academy Award for Best Supporting Actress).  There was no hesitation in her answer: "People often ask me (would she work with him again) and I say, "Oh, my God, in a second." When asked if she felt any professional uneasiness about her association with Allen after the scandals with Farrow and the children, she made clear where her loyalty lies. She says she doesn't believe the evidence supports the allegation that Allen sexually abused Dylan Farrow, thinks the media has "obscured" the truth and doesn't see this as having anything to do with the #MeToo movement.
Anjelica Huston was in two Woody Allen's movies: Crimes and Misdemeanors and Manhattan Murder Mystery. After remembering that two states have investigated Woody Allen and neither of them prosecuted him, at the question: will you work with him again, she answered: "Yeah, in a second."
Alan Alda (Everyone Says I Love You, Manhattan Murder Mystery, Crimes and Misdemeanors) "I'd work with him again if he wanted me. I'm not qualified to judge him. I don't know all the facts. I don't know if he's guilty or innocent. But you can be uncertain — that's what I go on. I just don't have enough information to convince me I shouldn't work with him. And he's an enormously talented guy."
Michael Caine (Hannah and her Sisters): "If he had a trial and someone proved he had done something, I wouldn't do it. No. But I didn't read of him being on trial and being found guilty or fined or sent to prison or anything. This is all things that people say. You can't go on hearsay the whole time." See also: Caine's comments contrast with those he made in 2018.
Diane Keaton (Sleeper, Love and Death, Annie Hall, Interiors, Manhattan, Radio Days, Manhattan Murder Mystery): "Woody Allen is my friend and I continue to believe him."
Alec Baldwin (Alice, To Rome With Love, Blue Jasmine): "The renunciation of him and his work, no doubt, has some purpose. But it's unfair and sad to me. I worked w WA 3 times and it was one of the privileges of my career."
Javier Bardem (Vicky Cristina Barcelona): "If there was evidence that Woody Allen was guilty, then yes, I would have stopped working with him, but I have doubts. I'm very shocked by this treatment. Judgments in the states of New York and Connecticut found him innocent. The legal situation today is the same as in 2007."
"At the time I did Vicky Cristina Barcelona, the allegations were already well known for more than 10 years, and two states in the U.S. deemed he was not guilty," Bardem said. "If the legal situation ever changes, then I'd change my mind. But for now I don't agree with the public lynching that he's been receiving, and if Woody Allen called me to work with him again I'd be there tomorrow morning. He's a genius." (master class at Thierry Fremaux's Lumiere Festival in Lyon, France)
Ray Liotta: The actor was asked, "if you could drop everything and work with any director you've never worked with, who would you choose?" He immediately replied: "Woody Allen. I don't think he did what they accuse him of. For his particular case, I don't buy it."
Wallace Shawn (Radio Days, Shadows and Fog, The Curse of the Jade Scorpion, Melinda and Melinda): "Of the people I've known, he's one of those I've respected most. And for that reason, I personally would have to say that it would take overwhelming evidence to convince me that he had sexually abused a child, just as it would take overwhelming evidence to convince me that Desmond Tutu, Franklin D. Roosevelt or Doris Lessing had sexually abused a child."
Léa Seydoux (Midnight In Paris): "I believe that he is not always being treated correctly. An investigation was conducted, and he was not prosecuted. At some moment we must decide to trust the juridical system. I find it awful how there is some 'trial' being held outside the courtroom, and that people – even actors – act like he has been found guilty", she says. "We should not persevere in anger. Sometimes a case takes on hysterical proportions, and all reason is lost. Harvey Weinstein is rightfully dealt with in a harsh way, but with Woody Allen things are certainly not as clear. I do not want to judge him. And I don't want to be led on by some sort of consensus."
Cate Blanchett (Blue Jasmine): "If these allegations need to be re examined, that in my understanding they've been through court, then I'm wholeheartedly in the support of that. Social media's fantastic about raising awareness about issues but it's not the judge in jury."
Statute of Limitations: Dylan Farrow answers Cate Blanchett by misleading all abuse survivors.
Some others actors have chosen to be "neutral" about the sexual abuse allegation but still will work with Woody Allen
Miley Cyrus (Crisis in Six Scenes): "I had moved, and the only thing that I brought into my new house was a picture of Woody Allen." "From the way I saw him with his family, I never saw him be anything but an incredible person and a really great dad."
Blake Lively (Café Society): "I didn't care if it was one line, one scene, or playing a janitor. He's one of the few filmmakers who really, really knows how to write for women. They're fully realized women; they're not one thing or the other. You're not hired to be the intellect or the bimbo…"
Charlotte Rampling (Stardust Memories): Production on Stardust Memories lasted several months, with Rampling travelling in and out from Paris for extra shooting as the project (one of Woody Allen's more experimental films) evolved. "It was a joy. He (Allen) was enchanting."
Emily Mortimer (Match Point): "I believe in due process. I am the daughter of a criminal defence barrister and I think these things really need to go through all the legal processes before anyone can judge. I don't really have an answer to those questions." "I do believe he is a great artist. And as for the ins and outs, I don't have a position yet."
Penelope Cruz (Vicky Cristina Barcelona, To Rome with Love): "We have a collection of headlines saying this actor would work with him again, and this one said they wouldn't – this doesn't change anything. This doesn't add anything good to the situation. We're supposed to believe in justice, and this was looked at years ago, and it's not clear. It should be looked at again, and then I can give an answer."
Kristen Stewart (Café Society): "At the end of the day, Jesse [Eisenberg] and I talked about this. If we were persecuted for the amount of shit that's been said about us that's not true, our lives would be over. The experience of making the movie was so outside of that, it was fruitful for the two of us to go on with it."
Diego Luna  (A Rainy Day in New York): Asked by a "journalist" – who was claiming that Dylan Farrow was Woody Allen's stepdaughter before some people educated about the facts correct him – "Would you still work with him in the future", he answered: "It's not as simple as that. I'd have to sit with you for another half an hour to get into that."

It should be noted that the following actors have also chosen NOT to denigrate Woody Allen:  Emma Stone (Magic in the Moonlight, An Irrational Man), Selena Gomez (A Rainy Day in New York), Elle Fanning (A Rainy Day in New York), Justin Timberlake (Wonder Wheel), Rachel McAdams (Midnight in Paris), Barbara Hershey (Hannah and her Sisters),  Juno Temple (Wonder Wheel), Judy Davis (Husbands and Wives, Deconstructing Harry, Celebrity, To Rome with Love), Sally Hawkins (Cassandra's Dream, Blue Jasmine), Naomi Watts (You Will Meet a Tall Dark Stranger), Helena Bonham Carter (Mighty Aphrodite) as well as many others; it's nearly impossible to name them all.
Jude Law (A Rainy Day in New York): "I didn't really want to get involved, to be honest. I just don't feel like it was my place to comment, and it's too delicate a situation. I feel like enough has been said about it. It's a private affair. [As for working with Allen again], I don't know. I'd have to consider carefully."