Some people write on Twitter: "Woody Allen is a pedophile." Or, "Woody Allen is a child molester." Just like Mia Farrow's brother, the possibility that people accusing Woody Allen  are themselves real pedophiles is high.

John Charles Villers-Farrow, Mia Farrow's brother, has been sentenced to 25 year for sexual abuse on children
Real pedophiles like to hide by accusing others of being pedophiles. We have a good example with Mia Farrow's brother, John Charles Villers-Farrow, who has been sentenced to 25 year in prison for sexually abusing two boys in his Maryland neighborhood.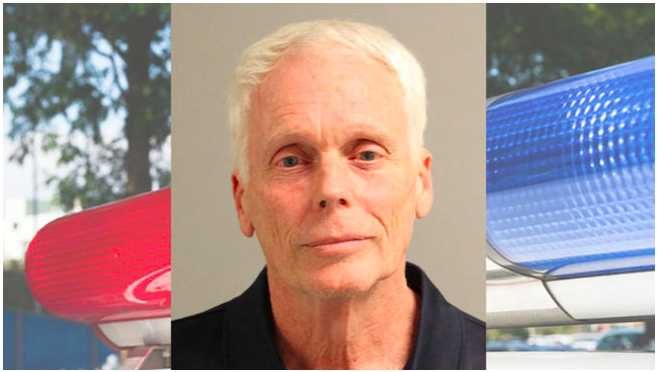 John Charles Villiers-Farrow made headlines in 1992 when he commented on the controversy surrounding sister Mia's custody battle with Woody Allen, and Allen's relationship with Farrow's adopted daughter Soon-Yi. At the time, John Farrow suggested that Woody Allen is a pedophile: he told People magazine, Allen "is going to be indicted, and he's going to be ruined. I think when all of it comes out, he's going to go to jail."
RELATED CONTENT. Is Mia Farrow a Pedophile Like Her Brother, a Convicted Child Molester?
John Charles Villiers-Farrow, 67, was sentenced to 25 years in prison, with 15 years suspended. He served only 7 and was released on February 12, 2020, even though he destroyed the lives of two young men who have to live with what he did to them.
By the way did you remember Ronan Farrow speaking out when Uncle John had part of his sentence suspended ?
Carl Beech, VIP Paedophile Ring Accuser, Jailed for 18 Years
Of course, Mia Farrow's brother is not alone. For example, more recently, in May 2019, the court was told how Carl Beech was himself a "committed and manipulative paedophile" who, at the same time as he was claiming to police to be a victim of abuse, viewed indecent images of young boys and covertly recorded a child using the toilet.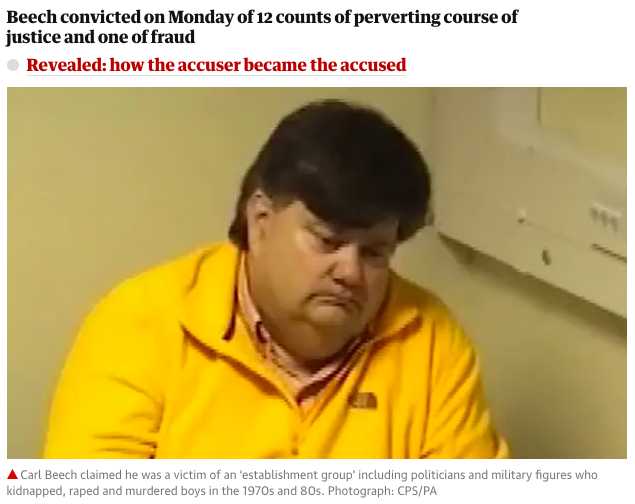 Joel A. Davis who fought sexual violence faces child sex crime charges
In 2015, Joel A. Davis was nominated for the Nobel Peace Prize after he helped to found Youth to End Sexual Violence. The Spectator report says that Davis was once the chairman for the International Campaign to Stop Rape and Gender Violence.
Prior to his arrest, Davis had been in contact with an undercover FBI agent, according to documents in the case. The Ivy League student allegedly asked the agent for explicit photos and videos of the officer's 9-year-old daughter. Davis is also alleged to have described the sexual acts he would like to perpetrate with the girl. Davis is also accused of planning to engage in sex acts with the 2-year-old child of the agent's girlfriend.
Joel Davis now faces up to life behind bars for his sick crimes, Manhattan US Attorney Geoffrey Berman announced.
Paedophile "hunter", Cameron Battisson, 21, downloaded 1,700 child porn images
On June 2019, a paedophile hunter who downloaded over 1,700 images of child abuse over two years after becoming attracted to the sickening photographs has been arrested.
And yet another self-appointed 'paedo hunter' vigilante caught & prosecuted. This obsessive offender pleaded guilty. How many more of these dangerous hypocrites are out there?

Paedophile hunter downloaded over 1,000 child porn images https://t.co/zn0BIvzcPy via @MailOnline

— Simon Warr (@bbcsimonwarr) August 22, 2019
'Trusted' paedophile hunter policeman Lee Vincent Kelly caught with nearly 1,000 child porn images
A respected policeman who helped to hunt paedophiles was caught with nearly 1,000 ­indecent images of children.
Lee Vincent Kelly, 50, had been due to receive a commendation from his chief constable to mark 19 years of outstanding service.
Read more about Lee Vincent Kelly.
Woody Allen is not a Pedophile, what about people calling him a pedophile or a pedo?
Woody Allen has been investigated for months by two teams of experts on sexual abuse and cleared two times, people claiming that Woody Allen is a pedophile haven't been investigated. Not yet.
Holy shit, that's outrageous. No way I would be jealous of a pedo.

— Wanyoung Kim, Ph.D. (@astralmonad) December 1, 2019
There is a full post about Wanyoung Kim.
I'd rather be accused of slander than have anything to do with a child rapist, but that's just me. You have fun financing pedophiles you creep.

— Fritz Striker 🏳️‍🌈 RESISTS 👍☕🖖 (@FritzStriker) August 26, 2019
So, in response to being caused to confront your rationalizing pedofilia you throw in the anti Semitic card. You wd look awfully foolish if I gave you more facts, but keep scratching, and attacking as it reveals to others the degree some cling to the sickness of pedofilia.

— Loretta Stiles (@loretta_stiles) August 25, 2019
No one else think it's weird that pedophile Allan Stewart Konigsberg chose 'Heywood' and 'Woody' as nicknames?#WoodyAllen #Epstein pic.twitter.com/sYZnS8UIog

— Gomez (@GotPropaganda) August 25, 2019
The little girl on the left is Bechet Allen, the adoptive daughter of Soon-Yi Previn and Woody Allen. Check the post How to attack Woody Allen and Asian women with racist, stupid, and disgusting lies.
A marriage, a victim, two pedophiles and a man in a suit. pic.twitter.com/aj0w2cHTd0

— Gomez (@GotPropaganda) April 8, 2019
Not only there is no proof that Allen and Epstein were together but Epstein has been accused to have sex with underage girls, maybe as young as 14, never with prepubescent children.
You reaally want to defend Woody, don't you?

It doesn't have to be your blood-daughter to be pedophilia.

He didn't just became sexually attracted to an 18 y/o, knowing her since she was 10 years old..#plsStop

— Gomez (@GotPropaganda) August 26, 2019
What does it means when somebody says that because you're attracted by a 21 years old girl – to say she was 18 is a new lie – you was also automatically attracted by her when she was a child ? Only somebody attracted by a 10 years old child can think this way.
So because I'm proving to you Woody Allen is a pedophile, you're accusing me of being a pedophile?

Are you self projecting?

— Gomez (@GotPropaganda) August 26, 2019
Gomez was asked if he's in contact with children but didn't answer.
He shared life with her since she was 8/9/10 years old… As a +40 year old man.

You are very very suspicious, tbh.

Going through your likes and replies, tells me you're self projecting.

— Gomez (@GotPropaganda) August 26, 2019
Pedo Perv Woody Allen's Latest: Joined Ronan's Mama Mia Farrow for Threesome With a 16 Year-Old https://t.co/9HDKvWtgP1

— Lionel🇺🇸 (@LionelMedia) December 20, 2018
A personal assistant to Jeffrey Epstein, with ties to arms dealer Adnan Khashogi, pedo, Woody Allen & Federico Fellini, the filmmaker who sparked violent controversy with La Dolce Vita, exposing elite perversion & corruption, the Italian Eyes Wide Shut.https://t.co/ul74eQVLFE

— 🌐❤️Nimboni ❤️🌐 (@la_nimboni) August 17, 2019
Mia Farrow married Woody Allen. Depa ni Brangelina zaman dulu. He molested a few of her adopted kids, and ended up marrying one! Every year Ronan Farrow *the son/brother* will tweet a traumatizing happy Father's Day oops brother in law day. Yg rasa nak jadi GF pedo take note.

— Marina Gamba (@marinagamba1909) August 22, 2019
https://t.co/Th88zlbmrf
Kes anak Mia Farrow, Dylan yg abused by pedo bapak angkat inilah perjuangan abang dia Ronan Farrow yg membawa ke hashtag metoo and believe women.

— Marina Gamba (@marinagamba1909) August 22, 2019
Woody Allen is a child rapist no wonder he was found with Epstein

— child of God (@daizy51855513) August 24, 2019
U like sexual predators & pedophiles i get it now piss off😒🖕

— Daami (@daamiedwards) August 23, 2019
Je ne calomnie personne. Vos insultes montrent que vous etes blessé personnellement par mon dégout pour les pédophiles. Et, ça en dit long sur votre personne. Woody Allen qu'il soit pédophile ou pas fait parti de l'entourage d'Epstein. Je crois de plus en plus Dylan Farrow

— Soumia (@soumia_e) August 23, 2019
I do not slander anyone. Your insults show that you are personally hurt by my disgust for pedophiles. And, that says a lot about you. Woody Allen whether he is pedophile or not part of Epstein's entourage. I believe more and more Dylan Farrow

Vous semblez très affecté, blessé,…vexé par le dégoût que suscite les pédophiles 🤔. Si vous vous sentez concerné allez voir un psy avant de passer à l'acte. Si c déjà fait, soyez humain et allez vous dénoncer à la police. Les victimes en ont besoin pour se reconstruire.

— Soumia (@soumia_e) August 24, 2019
You seem very affected, hurt, … vexed by the disgust aroused by pedophiles. If you feel concerned go see a shrink before acting out. If you have already done so, be human and go to the police. Victims need it to rebuild.

There is plenty of information out there. He was very good friends with Jeffrey Epstein. Probably a little too good. The hammer needs to come down on Woody Allen. I believe he's 100% pedophile. And if he's not, he's an enabler for damn sure!https://t.co/Tlcl5AcoeZ

— ᗯᗩᑎᗪᗩ ᗯᕼITE ☕️ 🚬 (@WandaIsWhite) August 20, 2019
Is it about pedophiles?

— John Browning (@johnfbrowning37) August 21, 2019
woody allen is a predator thanks bye https://t.co/kxjv2bPS26

— امنه خان (a.k.a. jay) ☪️/🏳️‍🌈/⚧ (@jaythenerdkid) August 19, 2019
where better for Ghislaine Maxwell to seek refuge than the Hollywood/LA "safe zone" for pedophiles & child molesters, where sex criminals & serial abusers such as Stephen Spielberg, David Geffen, Woody Allen perpetrate their crimes in total impunityhttps://t.co/IyqyMkA78P

— Cú Chulainn (@Cukullen) August 15, 2019
Read em and weep, pedophile enabler: https://t.co/wvshVJlmnO

— Momus Operandi (@DeathPuppy3) July 27, 2019
if u still think Woody Allen is not a pedo, you're delusional https://t.co/4aimPzRLb2

— Brendan Michaels (@genuinebrendan) July 25, 2019
Imagine harassing teens in twitter who are most likely UNDERAGE for you to pushing a clown ass opinion on defending a rapist

— Hanna (@astro_hoax) July 25, 2019
Bro I'm not gonna read this shit, wanna know why? CAUSE I DON'T CARE please get off of my mention since you out here harassing other people for calling out a pedo

— Hanna (@astro_hoax) July 25, 2019
In all honestly please fuck off and I don't give a single fuck about your dumbass website of you defending a vile pedo so please do me a damn favor and please block me and get out of me and my mutuals mentions thanks

— Hanna (@astro_hoax) July 25, 2019
Defending paedos, I see…smh

— ⊗ // нєєяα saw ffh 3⎊⎊⎊ (@hiira_Rana) July 25, 2019
HAHAHA you incels and your clownery defending a paedo who married his kid lmaooo (add this to your shitboard too)

— ⊗ // нєєяα saw ffh 3⎊⎊⎊ (@hiira_Rana) July 25, 2019
who wants films from paedophiles? you, apparently

— 📻 Dr I.M. Pagliacci (@nailheadparty) July 11, 2019
probably because he's a child rapist

— 📻 Dr I.M. Pagliacci (@nailheadparty) July 11, 2019
Don't let that distract you from the fact that Woody Allen is a kidy fiddler 😉

— طارق بن سعود بن حمد الجابري (@nomadarab) July 11, 2019
A fan of kiddy fiddling Peter?

— طارق بن سعود بن حمد الجابري (@nomadarab) July 11, 2019
Pathetic response from a pedophile. They all protect each other don't they?

— Czarcastic1 (@czarcastic1) July 9, 2019
Pedophiles rarely do.

— Luxe Chronicles (@LuxeChronicles) July 9, 2019
so, he's not only a paedo who makes boring movies
he's also a self centered dumbass
cool. expected.

— isa (@poesieenlarue) July 9, 2019
I'd prefer not to think about known paedophiles who carry on creating art freely, without justice having been served, but here we are having to witness this ding dong uttering words

— Just Fez For Now (@Wonder_and_Live) July 9, 2019
In 2010 when pedophile Jeffrey Epstein was released from prison for sex crimes against kids he had a dinner party. @GStephanopoulos, @chelseahandler, Woody Allen and @katiecouric all attended. Why? What person in their right mind goes to have a dinner party with a pedophile? pic.twitter.com/PKVDAf7mmG

— Robby Starbuck (@robbystarbuck) July 7, 2019
You must be a sick perv pedophile too. And therefore a criminal!

— PGQue 🇺🇸 (@PGQue) July 4, 2019
are you a member of the p*dophile community?

— ً (@batkniqht) July 4, 2019
Literally not what either of those say but I get it you wanna defend pedophiles so you can watch his mediocre self-insert unoriginal filmography and still feel good about yourself. Go forth.

— edmure tully deserved the iron throne (@beemorgs) May 28, 2019
imagine sucking woody allen's dick so hard that you think that being a pedophile is okay

— bee loves axel 💞 (@beefannin) May 30, 2019
the difference between me and woody allen is that woody allen is a pedophile and i'm not pic.twitter.com/GGOCOFZXWU

— bee loves axel 💞 (@beefannin) May 29, 2019
It's not hypocritical to not favor a pedophile. You're mentioning Frank's connection to the Mafia as if that changes the fact Woody targeted a little girl. That's far from hypocritical, it's common sense

— Vintage Threads ⏳ IG: Vintagexpast (@vintagexpost) May 26, 2019
"What's that? You think a proclamation of love means it's fine for grown adults to date teenagers? Aka children? Noted." pic.twitter.com/rG0ohfb1rK

— Tam (@EmtnlSupprtOxen) May 25, 2019
Guess its pedo season on HBOGo…. damn near evey Woody Allen movie is on the site…. how grossly obtuse of them

— Taz (@taznotes) May 24, 2019
FiLiA 2018

'How and why pedo-criminals such as Woody Allen or Roman Polanski have been praised worldwide and almost washed of their crimes for nearly half a century?'

By Lise Bouvethttps://t.co/Bm3qsWNl5A pic.twitter.com/uvvU9o8UBp

— FiLiA (@FiLiA_charity) May 20, 2019
did this guy really just defended woody allen? pic.twitter.com/iKurlkmNqO

— zuleika (@zooleykuh) May 20, 2019
you all are acting like any of these facts makes getting caught with naked polaroids of your decade long girlfriend's college freshman daughter okay. Through the absolute most rose-colored glasses he's a creep. Common sense tells us he's a child molester.

— Steven Delpome (@NA_Dellsey) May 19, 2019
Stop giving work to rapists

— Alton Brumley (@Zamorabynature) May 17, 2019
James Charles sexually manipulated straight guys. Woody Allen fucked with a whole CHILD and it's been known he was a pedophile since the 90s. pic.twitter.com/OEoVAutioz

— demi • is • coming (@demiwillthrive) May 11, 2019
You're manipulating kids into having sex with you.

— Ev (@LoudResister) May 11, 2019
As long as predators like you exist, abortions will too.

— Ev (@LoudResister) May 11, 2019
Umm….you're comparing yourself to Woody Allen….a known child sex predator! pic.twitter.com/znBWOwSFKq

— BitingOnTinfoil (@TrumpDownfall) May 9, 2019
A hard stance on pedophiles? Woody Allen is in your bio.

— Taylor Haga🌞🌱🌷 (@t_haga19) May 9, 2019
Why can't it be the case that a gross pedophile made some great films?

— Tripemonkey (@asskickerofyou) May 9, 2019
The suspicious account @Dawinderpal below seems obsessed by "pedophiles". It also multiplying tweets and lies to slander Woody Allen.
A fan website dedicated to talking about how much a celebrity is not a pedo is a good way to point out how much he is.

— Ev (@LoudResister) May 4, 2019

This is @Efinnjer's Twitter profil: "…Pro-science, pro-fact, (…), happy to engage with people who disagree on politics, but who care about truth…" And below, this is the real @Efinnjer: calling somebody a pedophile apologist because he is supporting WA with facts:
Ok pedo apologist. Deal with being wrong, I bet you're used to it.

— Ev (@LoudResister) May 1, 2019
I don't really want to click on your weird fan club link. Woody Allen is a sexual predator period.

— Chris (@cjgrant) May 1, 2019
This account is also calling pedophiles people supporting Woody Allen with facts:
No, it isn't. He's been arguing for having sex with children. I called him a child molester. Report it to whoever you want, it's not against the law to figure out that 1 + 2 = 3.

— Chris (@cjgrant) May 9, 2019
Why does Woody Allen still have work? He's definitely a pedophile.

— Jules Rivera (@julesrivera) April 4, 2019
The truth is that it's really funny that you have nothing better to do on a Sunday morning than to cape for a pedophile. https://t.co/5LbT9y2uQO

— Desperado D. Mayor (@Overmayor) March 31, 2019
Never been investigated because i dont do nasty shit with children. Know who did? Woody Allen

— Big Bearded Whiskey Man (@chadklumpp) March 8, 2019
God forbid people dislike a child molester

— roby saw baywatch x52 (@iamthatroby) February 14, 2019
Bryan Singer: Rapes little boys
Woody Allen: Known pedophile
Joss Whedon: Used power to constantly cheat on his wife
James Gunn: Jokes about pedophilia

Yall: 😴😴

Zack Snyder: Make movies & minds his own damn business

Yall: "Zack Snyder is a terrible person."

— Rob Julien (@WayTooWitty) February 6, 2019
I just got a royalty check that will cover my rent AND people are finally ready to admit Woody Allen is a pedophile! It really IS Christmas!

— Emma Arnold (@iamaroadtrip) December 18, 2018
Woody Allen is a pedophile..who knew?

Oh right..all of Hollywood.

— 🎅🏼HoRiotHoGrl🎅🏼 (@ErinLea7) December 17, 2018
ok mate

woody allen is a child molester and he deserves to rot

— rob-e (@iamthatroby) March 12, 2018
Assholes are saying Dylan Farrow wants be famous from #MeToo movement. STFU.

Fact: Dylan first told her mom at 7 yrs old. Was she trying to be famous then?

Fact: Woody Allen is a PEDOPHILE who just happens to be a talented writer/director.#DylanFarrow

— nicki 🌊 (@nickiknowsnada) January 18, 2018