Mia Farrow is one of the worst human beings alive. She's a complete disgrace for women and for humanity.
Mia Farrow adopted 7 Asian children: 2 have reported multiple abuses, 3 are dead (2 by suicide).
People supporting Mia Farrow and supporting her proven abuses and slanderous lies must be known and not forgotten: they are the first cause true survivors are not believed.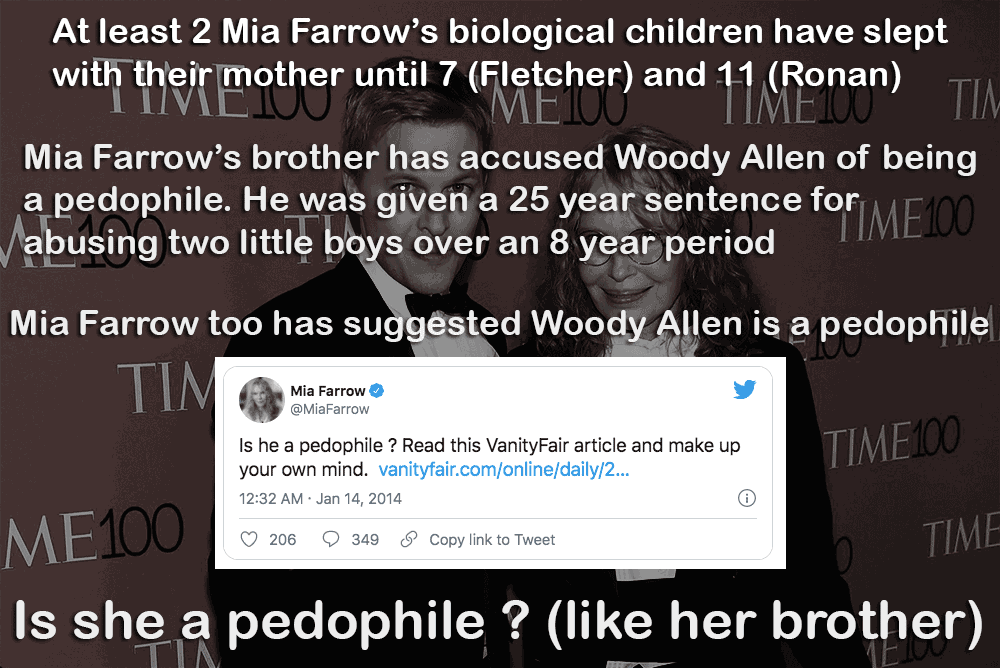 Twitter
Caitlin Flanagan
How much responsibility does Mia Farrow have for what happened to her daughter?

Children should never be hostages to their mother's romantic hopes.

Sadly, it happens a lot.https://t.co/LD1AvM2pw6

— Caitlin Flanagan (@CaitlinPacific) June 10, 2021
Jackie Strause
In this post-#AllenvFarrow chat, the trio behind the docuseries reveal their biggest behind-the-scenes discussion and explain what would prompt them to do another episode https://t.co/mM600w2txZ

— Jackie Strause (@jackiedstrause) May 27, 2021
Jane McManus
Exactly. How can you enjoy those scenes knowing what he did to Farrow's family? The exculpatory dialog he wrote for Hemingway was so self-serving. https://t.co/43zpvJIgrj

— Jane McManus (@janesports) April 23, 2021
Emma Vigeland
Would highly recommend Allen v. Farrow on HBO. Not a single soul can sit through the miniseries and not believe Dylan. I also loved learning about the beautiful person and mother that is Mia Farrow… and on a shallow note, I am now obsessed with her country home in Connecticut.

— Emma Vigeland (@EmmaVigeland) April 11, 2021
Amber Tamblyn
The 3rd episode of #AllenVFarrow is SO damning, beyond the act of what happened to Dylan Farrow. It shows how corruptible all systems can be against any woman who dares to speak up. Hospitals and media alike were rigged to paint Mia Farrow as a monster. Incredibly disturbing.

— Amber Tamblyn (@ambertamblyn) March 9, 2021
Michael Salter
Child abuse expert Michael Salter on 'Allen v. Farrow', its similarities with the 2019 documentary 'Leaving Neverland' and how both explore the collision of child sexual abuse allegations with power, wealth and elitism in the 1990s. https://t.co/sMM24ZpH1h

— The Saturday Paper (@SatPaper) April 8, 2021
RELATED CONTENT. Even Mia Farrow's Own Expert Criticized the Videotape
Julie Klausner
Good morning to everybody who is not Bob Weide, who put together this image/caption set for his blog which claimed Dylan Farrow was wrong about being sexually abused because she did not describe the correct kind of toy train she stared at during her trauma https://t.co/SKHPqgbwR7 pic.twitter.com/V23XIFwj1x

— Julie Klausner (@julieklausner) April 3, 2021
Mark Harris
These deaths were the subject of an unbelievably callous and ugly assertion in Woody Allen's book. This statement, from a woman who lost three children, deserves to be widely seen. https://t.co/vgtgZUDWwR

— Mark Harris (@MarkHarrisNYC) April 1, 2021
Jon Lovett
Jon Lovett is Ronan Farrow's boyfriend: he has repeatedly attacked and slandered Woody Allen.
Does 42West still represent Cecil B DeMille award recipient Woody Allen? I don't know the answer. https://t.co/dRO9p3o3l7

— Jon Lovett (@jonlovett) March 16, 2021
Celia Bedelia
Woody Allen's proclivity for teenagers/much younger women is literally written into his movies. Y'all can deny it all you want but he's literally not hiding that shit.

— "Celia" (@_celia_bedelia_) March 28, 2021
Sophia Benoit
The Woody Allen HBO doc reveals him to be even more of a psychopath than I even imagined.

— Sophia Benoit (@1followernodad) March 22, 2021
Anna Khachiyan
What choice do we have https://t.co/TGucFgh7Vz

— Anna Khachiyan (@annakhachiyan) March 23, 2021
Cheryl Strayed
Watching "Allen v. Farrow" and feeling furious and heartsick. It's so powerful. If you ever bought into the "woman scorned" narrative, I do hope you'll watch it.

— Cheryl Strayed (@CherylStrayed) March 26, 2021
Cheryl Strayed – and her followers – is so smart that she believes in US you can marry your own child:
Woody Allen denying any sexual relationship with his daughter—with the defense being—that's he's in a sexual relationship with his other daughter. Watch #AllenVFarrow and explain to me why anyone works with this man, ever. So sickening.

— Chelsea Handler (@chelseahandler) March 31, 2021
Ethan Klein
Seeing how the likes of Woody Allen was able to continue his career despite raping his own daughter has me motivated not to see this trend continue in our community. Predators must be called out or there will be more victims and I refuse to be complicit, even if it costs me fans.

— Ethan Klein (@h3h3productions) March 18, 2021
Carol Cadwalladr
I believe Dylan Farrow

— Carole Cadwalladr (@carolecadwalla) March 21, 2021
Moira Donegan
"The very repetitiveness and predictability of sexual abuse are part of why the disbelief of women is often expressed as a refusal of pattern recognition." I wrote about Woody Allen: https://t.co/A9vCYvpjFB

— Moira Donegan (@MoiraDonegan) March 13, 2021
Greg Olear
"It is oft noted that Woody Allen's oeuvre is rife with young women coupling with older men; less remarked upon is the prevalence of crazy jilted exes who must be disposed of."https://t.co/YvXfpeosCM

— Greg Olear (@gregolear) March 19, 2021
Mara Wilson
Woody Allen really did an interview thirty years ago where he said that if he were a child molester he would have already done it, that he'd "had plenty of opportunities" and thought that would make him look LESS suspicious

— Mara "Get Rid of the Nazis" Wilson (@MaraWilson) March 15, 2021
Dom Nero
i wrote about woody allen and a part of the conversation i haven't really seen that i think a lot of us are very afraid to address: the way in which we are taught by older men not to believe women https://t.co/CoC8i3PJ1b

— dom nero (@dominicknero) March 17, 2021
Nancy Lee Grahn
Diane Keaton & I both studied at The Neighborhood Playhouse in NYC with Sandy Meisner. I'd so rather have spent 35 lucky yrs in Daytime television than have become an Academy Award Actress so beholden to Woody Allen that I ignored my moral compass in support of him.

— Nancy Lee Grahn (@NancyLeeGrahn) March 16, 2021
Laurie Davy
Whoever uses the bs that he wasn't prosecuted so he is innocent needs to watch the last episode #AllenVFarrow. That is WA spin and it's an outright lie. @BobWeide #IBelieveDylan

— Laurie David (@Laurie_David) March 16, 2021
Caroline Manzo
I don't understand why Woody Allen isn't in jail. #AllenVFarrow #IBelieveDylan

— Caroline Manzo (@CarolineManzo) March 15, 2021
Shannon Watts
Woody Allen started having sex with his stepdaughter when she was a teenager. That alone should have even enough to remove him from his Hollywood perch. Repulsive. #allenvsfarrow #allenvfarrow

— Shannon Watts (@shannonrwatts) March 15, 2021
Soon-Yi Previn wasn't Woody Allen stepdaughter and was 21 years old when she began to date the director. – Sources
Mary L. Trump
I believe Dylan Farrow.

Thank you @RealDylanFarrow for your extraordinary courage. I am so sorry the system failed you and your family so horribly. #MeToo @MiaFarrow @RonanFarrow

— Mary L Trump (@MaryLTrump) March 15, 2021
Learn more about Mary L. Trump: Is Mary Trump Very Smart or Hypocrite ? Is she Racist?
Andrew C Laufer
Woody Allen, Harvey Weinstein, Bill Cosby, & Michael Jackson, still revered by millions & supported by the entertainment industry.Why? Money.These predators, their memories, & creations must be shunned.This isn't cancel culture but a consequence for sexual assault & rape. #MeToo

— Andrew C Laufer, Esq (@lauferlaw) March 15, 2021
Patricia Arquette
For years the "train in the attic" controversy has swirled. Just watched episode 4 of Allen vs farrow they put that to rest.

— Patricia Arquette (@PattyArquette) March 15, 2021
Learn more about Patricia Arquette: Patricia Arquette Lies to Slander Woody Allen
Chrissy Teigen
fuck woody allen and his quirky dumb shit that I'm proud to say I always found dumb and self-jerking https://t.co/aQUzekkrch

— chrissy teigen (@chrissyteigen) March 16, 2021
Nell Scovell
Last week's moment when Mia is asked to give a statement and simply says, "I will always stand by my children" is one of the most beautiful displays of maternal love that I've ever witnessed.

— Nell Scovell (@NellSco) March 14, 2021
Kiersten Warren
I believe @RealDylanFarrow and apologise for the disastrous system that betrayed 7 yr old you.
Sending a hug to @MiaFarrow. You're a great Mom, a loving soul.
I salute @RonanFarrow for being a relentless advocate for Dylan and countless other sexual abuse victims. #FarrowVAllen pic.twitter.com/ZYdXgiuav0

— Kiersten Warren (@KierstenWarren) March 15, 2021
Hilary Rosen
The brilliant documentarians ⁦@AmyZiering⁩ and #KirbyDick have done it again. This time telling the real story of how #WoodyAllen has spent years lying about his abuse of @dylanfarrow and attacking @miafarrow for being a protective and proud mother. https://t.co/Oe1v7k9dkw

— Hilary Rosen (@hilaryr) February 18, 2021