On May 23, 2018, Moses Farrow published a long essay about himself, her abusive mother Mia Farrow, his sister Dylan Farrow and his father Woody Allen.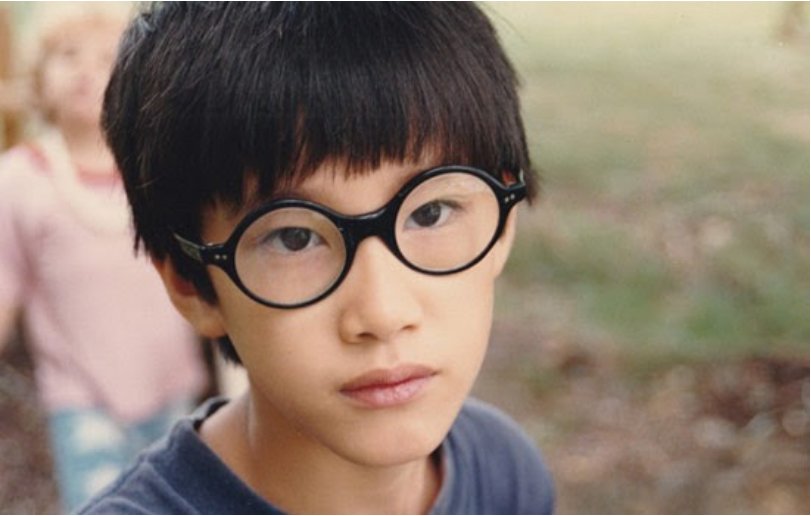 I'm a very private person and not at all interested in public attention. But, given the incredibly inaccurate and misleading attacks on my father, Woody Allen, I feel that I can no longer stay silent as he continues to be condemned for a crime he did not commit.
I was present for everything that transpired in our house before, during, and after the alleged event. Now that the public hysteria of earlier this year has died down a little and I have some hope that the truth can get a fair hearing, I want to share my story.
Moses was born in Korea in 1978, afflicted with cerebral palsy. He was abandoned in a telephone booth, taken to an orphanage, and adopted by Farrow when he was two. In 1985 she adopted Dylan; in 1991 Woody became his adoptive parent as well. (Robert Weide)
Moses Farrow is Dylan Farrow's and Ronan Farrow's brother. Even if he didn't speak before 2014, he never believed that Woody Allen abused his sister Dylan.
Just as suggested by the Yale-New Haven, Child Sexual Abuse Clinic Evaluation report, Moses Farrow has affirmed that Dylan has been coached by their mother to believe she has been sexually abused by Woody Allen.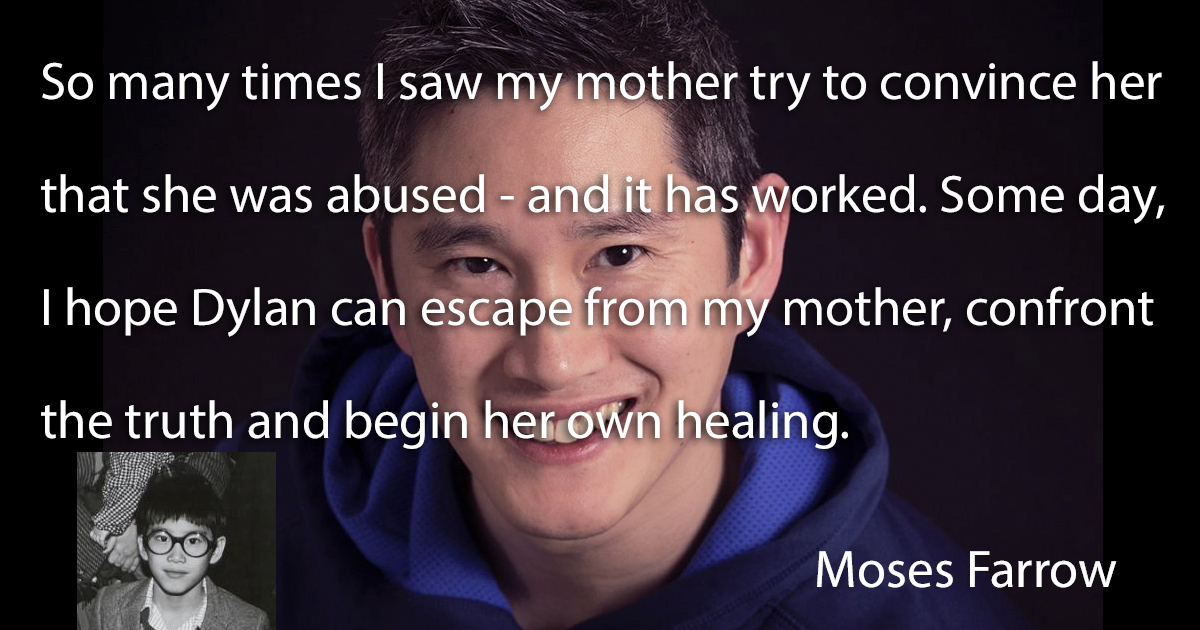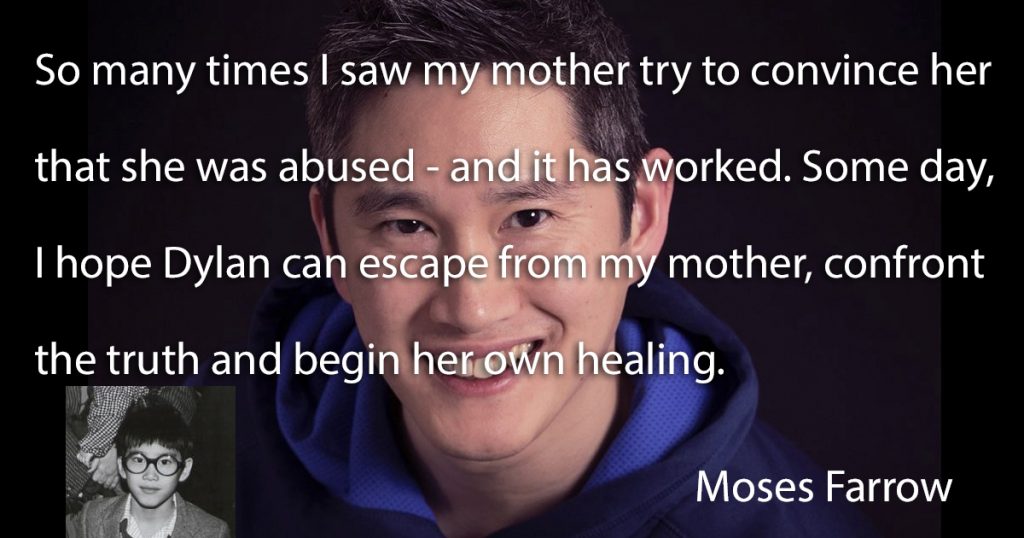 Moses was 14 years old in 1992, when Mia Farrow accused Woody Allen to have sexually abused Dylan, 7 years old (Ronan Farrow was only 5 years old).
Moses, now a 40 years old photographer and a family therapist, said he was abused by her mother Mia Farrow who succeeded in creating an atmosphere of fear and hate towards Woody Allen.
Seeing Dylan walking down the driveway at our mother's house during her interview, I'm faced with my own childhood abuse. https://t.co/CszYErxw0c #truthislouder

— Moses Farrow (@MosesFarrow) January 18, 2018
On February 1, 2014, 22 years after the 1992 allegations, thanks to Nicholas Kristof, Mia Farrow close friend and columnist, The New York Times has published An Open Letter From Dylan Farrow:
"…when I was seven years old, Woody Allen took me by the hand and led me into a dim, closet-like attic on the second floor of our house. He told me to lay on my stomach and play with my brother's electric train set. Then he sexually assaulted me. (…) I remember staring at that toy train, focusing on it as it traveled in its circle around the attic. To this day, I find it difficult to look at toy trains."
But in the book "Start to Finish – Woody Allen and the Art of Moviemaking"  by Eric Lax, Moses says:
"I assure you, there was no electric train set in that attic. There was nothing practical about that space as a place for kids to play, even if we wanted to. It was an unfinished attic with exposed fiberglass insulation. It smelled of mothballs, and there were mouse traps and poison pellets left all around. My mother used it for storage where she kept several trunks full of hand-me-down clothes, that sort of thing. The idea that the space could possibly accommodate a functioning electric train set, circling around the attic, makes no sense at all. One of my brothers did have an elaborate model train set, but it was set up in the boys' room, a converted garage on the first floor. Maybe that was the train set my sister thinks she remembers."
According to the nanny Monica Thompson's testimony, in 1992, on one occasion almost immediately after the alleged sexual abuse, Moses, who was 14, indicated doubts about what, if anything, had taken place: "Moses came over to me and said that he believes that Ms. Farrow had made up the accusation that was being said by Dylan."
A SON SPEAKS OUT By Moses Farrow – May 23, 2018
Nanny says Moses have reservations about the sexual abuse allegation – Los Angeles Times, February 2, 1993
Moses Farrow Speak Out – This Mortal Coil, Eric Lax, January 4, 2018
Woody Allen's Adopted Son Claims Mia Farrow 'Brainwashed' Him and Was Physically Abusive – People, September 29, 2017
Dylan Farrow's Brother Moses Defends Woody Allen – People, Alicia Denis, February 5, 2014
Dylan Farrow Continues to Attack Woody Allen Despite Her Brother Disagreeing – Showbiz 411, Roger Friedman, January 9, 2018
Moses Farrow defends Woody Allen over child abuse accusations – The Guardian, Andrew Pulver, February 5, 2014
New Book About Woody Allen Alleges Abusive Parenting by Mia Farrow – The New York Times, Sopan Deb, September 29, 2017
What breaks my heart the most is while I know that my sister, Dylan, believes what she says, I also know from my own experience, that it simply never happened. #truthislouder

— Moses Farrow (@MosesFarrow) January 18, 2018
Moses Farrow Facebook account – Moses Farrow Twitter account