Lying by omission is when a person leaves out important information or fails to correct a pre-existing misconception in order TO HIDE THE TRUTH from others.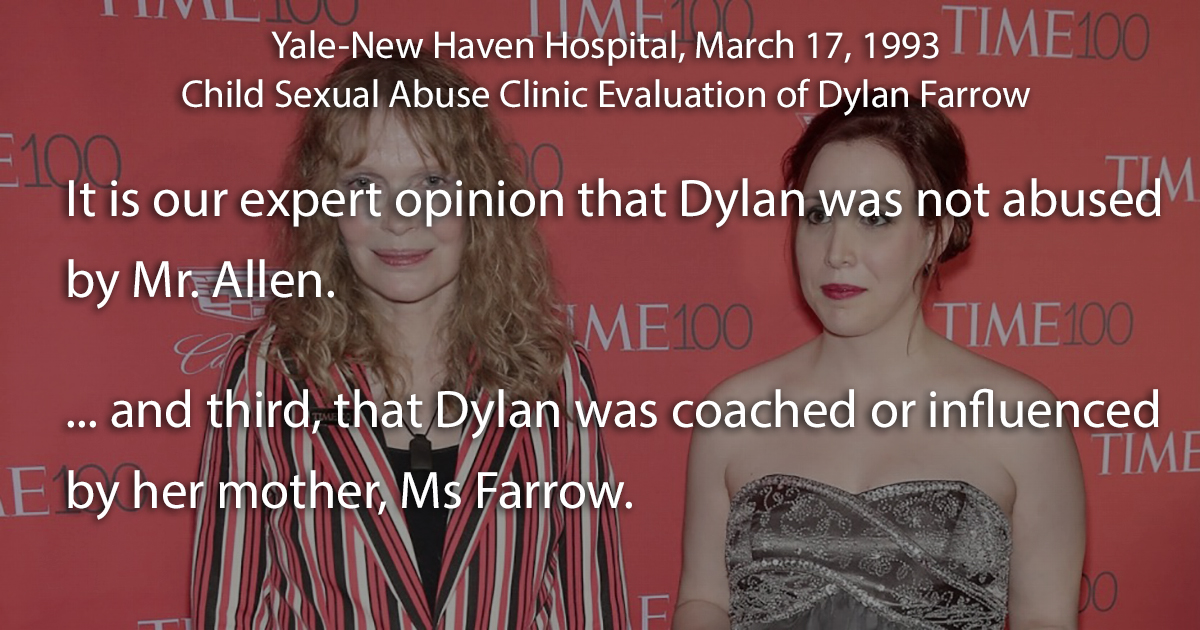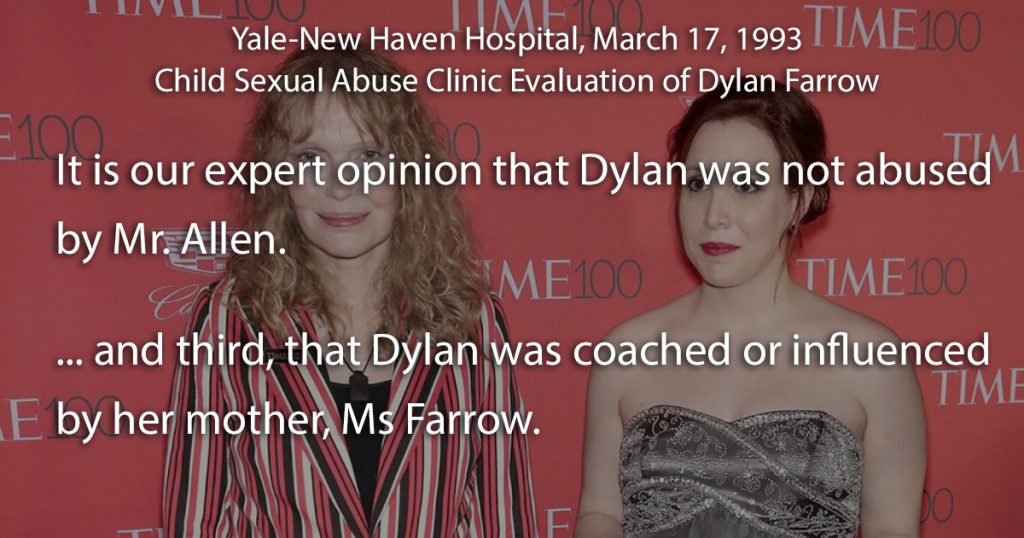 The people below have written an article about Woody Allen's sexual abuse allegation and "forgotten" to mention:
– the two teams of independent experts on sexual abuse who have investigated the allegation for months and found it no credible
– Moses Farrow's testimony: "I was present for everything that transpired in our house before, during, and after the alleged event."
When a "journalist" forgets either of these two facts – usually both – you should immediately stop giving it any credibility. The probability this fake journalist is misleading you only one time is close to zero.
Alissa Wilkinson
Woody Allen's strange, delayed new movie, explained
A "review" for A Rainy Day in New York. A great part of the review is about Dylan Farrow's sexual abuse allegation. Alissa Wilkinson forgot both the two investigations and Moses Farrow's testimony.
Many people pointed out that Alissa Wilkinson was misleading her readers and followers but it seems she's also a coward: she didn't answer.
In fact, Alissa Wilkinson has used her fake review to spread many lies: select the tweet below to open it in Twitter and read the full thread.
Guess who has a new movie out? That's right: Woody Allen! Except it's been delayed by years. I explained why, and why it matters. https://t.co/rYvjHyAniE

— Alissa VVilkinson (@alissamarie) October 8, 2020
Marlow Stern
An interview with Mariel Hemingway. It's not just about Woody Allen but just with the choice of the title, you know that the "journalist" wants to attack Woody Allen:
Mariel Hemingway Reckons With Mental Health, Woody Allen, and 'Manhattan': 'I Was a Kid'
Marlow Stern tries desperately to get some bad comment from Mariel Hemingway about Woody Allen but the "Manhattan" star has only sweet words for the director: "Woody Allen was wonderful to me. Did he like me? Yeah, he liked me. I didn't have a relationship with him though. He respected that I didn't want to have that. I was too young."
And of course, Stern writes:
The role has been thrown into sharper relief given the subsequent abuse allegations against Allen—by Babi Christina Engelhardt, the 16-year-old model who inspired Manhattan, and Allen's adopted daughter Dylan Farrow, who claims he molested her when she was 7.
Not a word about the two investigations, not a word about Moses Farrow's testimony. Not even the usual: "Woody Allen has always claimed his innocence." !
Furthermore, Stern has selected Babi Christina as the inspiration for Manhattan. But Stacey Nelkin is by far, a more commonly accepted hypothesis.
Amy Zimmerman
Amy Zimmerman has "reviewed" Dylan Farrow's book, Hush. The review seems a pretext to  bring Dylan Farrow's sexual abuse allegation. Amy Zimmerman wants to be sure her readers believe that Woody Allen has molested his 7 years old adopted daughter, so she forgot both the two investigations and Moses Farrow's testimony (she also forgot that before 2014 and the open letter in the NYT – published thanks to Nicholas Kristof, Mia Farrow's close friend – the toy train never existed.)
RELATED CONTENT. Did the Attic Abuse Allegation Came From a Song ?